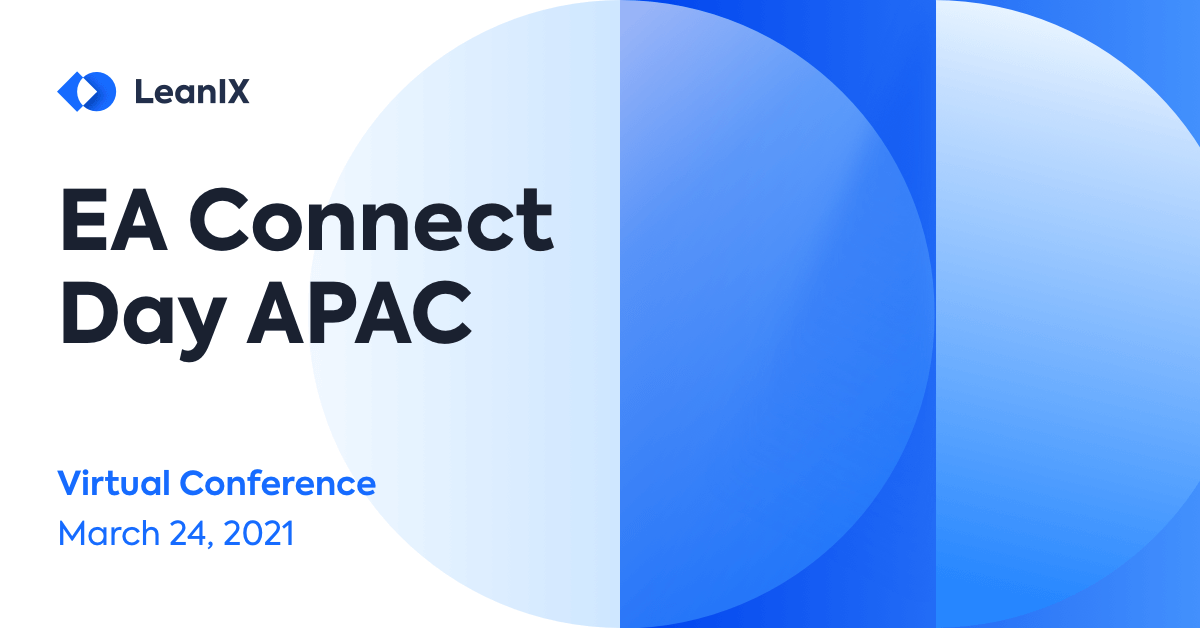 LeanIX's EA Connect Days is no longer just Europe and North America's best conference for enterprise architecture (EA) and multi-cloud governance. On March 24, IT professionals across the Asia-Pacific can virtually attend EA Connect Days APAC to discuss region-specific trends in enterprise technology. Registration is completely free and open to those worldwide.
EA Connect Day APAC, March 24: Register here!
An agenda update will arrive in the coming days, but attendees of EA Connect Days APAC can expect a half-day's worth of keynote presentations and EA success stories shared by industry experts. Every participant will also receive access to a live chat feature plus a Slack workspace for networking with presenters, visitors, and LeanIX representatives.
Presentations will focus on key EA use cases (e.g., application portfolio management, technology risk, integration architecture, cloud governance, cloud migration) and how to use modern EA tools to facilitate continuous transformation. Of note, two of LeanIX's biggest partners — Signavio and Citadel — are helping run the inaugural event and will contribute thought leadership content.
LeanIX launched its EA Connect Days series in 2014 to showcase the latest technologies and strategies for business-focused IT architectures. Since then, in parallel to the growth of LeanIX's software-as-a-service for managing enterprise architecture and multi-cloud environments, EA Connect Days — both the European and U.S. edition — have reached record-setting audiences in each consecutive year. EA Connect Days APAC is the first of many LeanIX meet-ups in the region for fans of the data-driven platform.
Check out some presentations from the European EA Connect Days in 2020 here and below.
---
EA Connect Days in 2020
"Making it Count: Driving Value with Enterprise Architecture"
"Architecture for Business Transformation - Process over Capabilities"
"IT Merger & Acquisition: Use LeanIX to Accelerate Integration Planning"