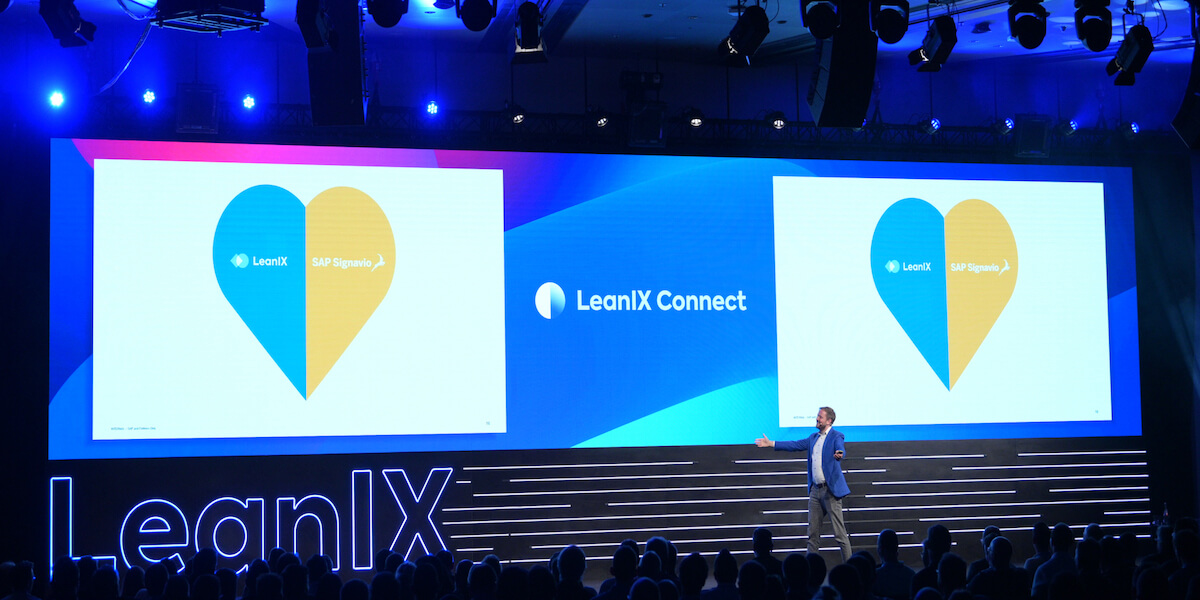 SAP Signavio presented at LeanIX Connect about the importance of digital transformation and how an enterprise architecture management tool can support it. Let's recap the presentation and explore how LeanIX can help you transition to a culture of continuous transformation. SAP Signavio's General Manager, Dr Gero Decker recently spoke at our LeanIX Connect Europe summit 2023 about transformation. Continuous transformation, of course, being the biggest concern of modern enterprise.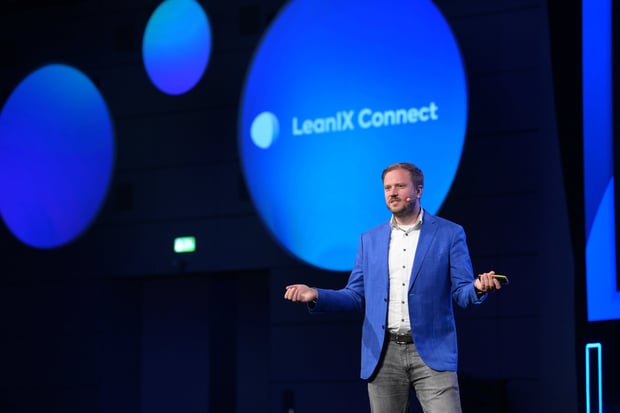 Nobody enjoys change, as a quick show of hands by the audience at Connect illustrated. People want the benefits of change, but it's not as easy as flipping a switch, as it requires their investment and time.
"Not everybody will say: 'change? Hell, yes! Let's do it! Another change: great! We haven't changed anything in the last two months. I'm in!' Most likely, you're not going to get that reaction from everybody."

Dr Gero Decker, SAP Signavio
The key to selling the need for transformation, Gero explained, is transparency. You need to clearly illustrate to all stakeholders the objective necessity of the change and encourage them to participate and feed back on the process.
This is the best way to overcome objections to change, and earn the support you need to succeed, according to Gero. The only way to do that is to offer an independent source of truth, accessible to everyone in your organization.
That source of truth is the LeanIX Enterprise Architecture Management (EAM) platform. The EAM lets you crowdsource and verify data about your application portfolio and IT landscape, then visualizes all that information in a way that everyone in your organization can view.
This empowers you to work collaboratively with your stakeholders to drive your transformation. This is a key tool for creating a culture of continuous transformation within your organization.
To find out more about the LeanIX EAM, book a demo:
SAP Signavio's 3 principles and 2 metrics of transformation
Gero explained that SAP Signavio had partnered with companies to support hundreds of thousands of transformations. Those experiences taught them that there are repeating patterns and lessons to learn.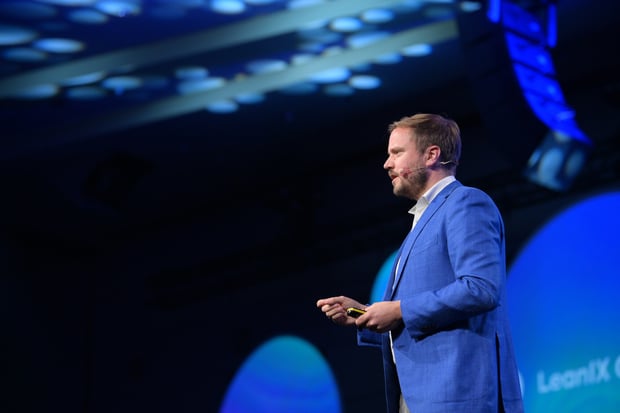 SAP Signavio has seen three common aspects in every transformation:
All three of these aspects must be transformed in order for an enterprise to change. The LeanIX Enterprise Architecture Management (EAM) platform is a tool for optimizing systems, but it can be used to help streamline processes and win over people as well.
Looking at a visual map of how systems interconnect can illustrate some quick wins for process optimization. Meanwhile, utilizing a collaborative, single source of truth gives a focal point for your efforts and provides evidence of success.
The two primary phases of any transformation are understanding how you need to change, and changing to meet those requirements. As such, SAP Signavio have identified two key metrics for classifying the success of transformations by the speed at which you complete these two phases:
Time to insight
Time to adapt
One of SAP Signavio's strengths is the hundreds of built-in key performance indicators (KPI) the platform offers for benchmarking and tracking improvement. Together with best-practice guidelines, collaborative process design options, and continuous process improvement features, these KPIs have your process improvement covered.
On the other hand, LeanIX offers similar best-practice support for your systems and applications, while SAP Signavio and LeanIX support each other in democratizing both business processes and enterprise architecture management for the people in your organization. This covers all three of the elements of transformation.
This means that using both platforms together, you can gain instant clarity on your processes and systems, accelerating your time to insight on your transformation need. This allows you to optimize your transformation roadmap and take the shortest route to success, reducing time to adapt.
As one of Gero's colleagues put it:
"Linking enterprise architecture with business process management connects strategy with execution and helps us continuously drive transformation and value realization"

Marco Michel, Chief Enterprise Architect, SAP
SAP Signavio and LeanIX: The Perfect Partnership
Gero summarized his speech by noting the perfect partnership that LeanIX and SAP Signavio have in supporting, not just one digital transformation, but a culture of continuous transformation. This is what the pace of change is demanding of enterprise.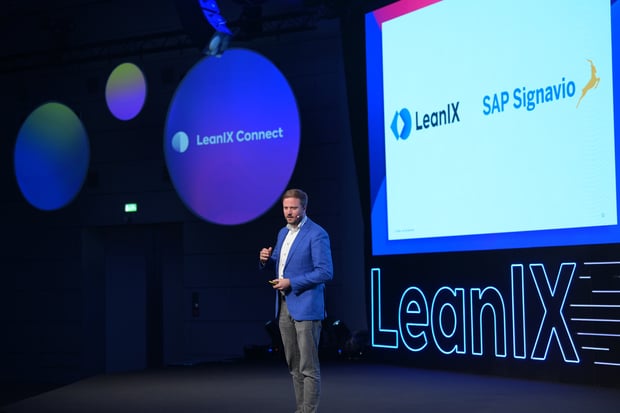 He explained that successful transformations run from the current state, through business process transformation into enterprise architecture management (EAM), to the target state of intelligent, sustainable enterprise. This is why SAP Signavio and the LeanIX EAM work perfectly together to bridge the gap:
1 Business Process Transformation With SAP Signavio
2 Collaboration between SAP Signavio and LeanIX
3 Enterprise Architecture Management With LeanIX
By following this process and using both tools, you can achieve:
Process improvements aligned with existing and future architecture
Root cause analysis with transparency on business processes and IT landscape
Holistic business continuity management
That's why the LeanIX EAM is an SAP endorsed application. As Gero put it:
"LeanIX is a solution that you need and a solution that you should have."

Dr Gero Decker
Looking forward
To conclude his talk, Gero offered a celebration of more than ten years of partnership with LeanIX. He looked forward to continued mutual success in the future.
To revisit Gero's talk along with the many other video on-demand presentations from the LeanIX Connect summit Europe 2023, register for free: