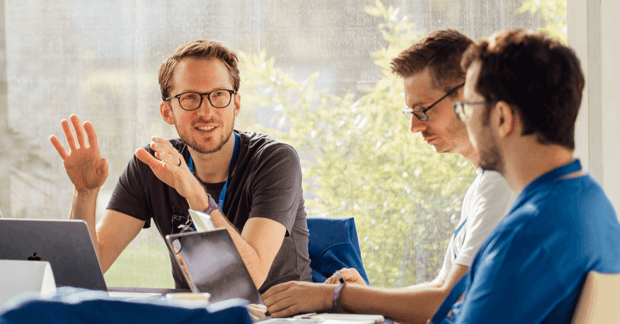 Solution architect is a natural next step for developers to take in their career, moving from building software solutions to designing and conceptualizing them. It's a role with higher compensation, and solution architects are in demand right now, with opportunities expected to grow over the next decade.
Let's find out more about the benefits of the role and how you can make the transition to solution architect.
Quick takeaways
Solution architecture professionals identify business challenges and design IT solutions to solve them

Solution architect represents a career path that can be a natural step for developers but involves a different range of responsibilities, many that are more customer facing

Skills needed to be successful include foresight, a wide range of IT knowledge, effective communication, and innovative thinking
What is a solution architect?
Solution architects, also known as solutions architects, are responsible for identifying and understanding the challenges faced by their organization or clients. They then design IT solutions to solve these challenges and oversee the development and delivery process. This process can either involve using existing assets or building new ones.
Architecting a solution requires both a holistic and a granular view of the enterprise. You need to understand the business' overarching strategic direction, but also the inner workings of the IT infrastructure that supports it.
The role falls between two other important positions - enterprise architect and technical architect:
Enterprise architects

operate at the highest level. They determine what the IT infrastructure will look like for an organization.

Technical architects

are almost solely executional. They troubleshoot hardware and software problems and generally work to maintain the IT assets in place.

Solution architects

bridge this gap. They leverage IT components strategically to solve specific problems and contribute to an effort toward continuous improvement.
To find out more about the difference between enterprise architect, solution architect, and technical architect, download our free poster.
Other specific responsibilities include:
continually optimizing IT components

working with technical teams to develop applications and software

pro-actively proposing solutions to problems

reporting on IT solutions to leaders like the CEO and CIO

monitoring ongoing project progress
Making the move from developer represents a significant change in day-to-day responsibility. So why should you consider making the jump?
Benefits of progressing from being a developer
Developers have the perfect foundation for succeeding in solution architecture.
The technical skillset required for the position is the most difficult to obtain, and as a developer, you've already spent years honing it. Business savvy and specific knowledge about the various parts of your business can be easier learned with active effort over time.
The solution architect role also involves an equal balance between the strategic and the technical. Without having to focus exclusively on one or the other, you'll enjoy more variety and may experience less of the technical burnout that can come with developing software every single day.
So, let's take a closer look at the skills you need in order to progress from developer to software architect. Some of them you have already acquired as a developer, others you may already possess but not be able to exercise fully in your current role.
Solution architect top skill 1: knowledge
The role of solution architect requires broad technical knowledge that can be applied across many business functions.
While developers focus on individual software products, solutions architects must understand the entire IT infrastructure and its many moving parts. There are many potential solutions to any given problem, and solution architects must have the knowledge to identify and implement the most appropriate and relevant one.
Thankfully, your experience in the software development process means you'll have worked on a variety of different software architecture types. This experience will be key in your new role.
Solution architect top skill 2: foresight
Solutions architects look toward the future. Like enterprise architects, they must keep an eye, not only on the current state of the organization, but also on potential challenges and new opportunities that likely lay ahead.
Further, they need to maintain roadmaps and other guiding documents that outline how the proposed solution will help the organization achieve its goal or target state.
Solution architect top skill 3: communication
As a solution architect, you'll communicate with people in just about every business function at your company, applying IT solutions to all kinds of business problems and working with stakeholders effectively along the way.
You'll already have communication skills from your current role as a developer, but solution architects often need to communicate at a higher level, to a wider segment of the business.
Solution architect top skill 4: problem-solving
As a solutions architect, your entire role revolves around solving problems as well as larger strategic challenges. You can be called on to help people across your organization with a wide range of issues big and small.
Problem-solving should be something you enjoy and have honed a skill set for if you plan to become a solution architect.
Solution architect top skill 5: innovation
Most IT problems are complex in nature, and it's the job of the solution architect to fix them, no matter how challenging that may seem. Doing so requires a healthy dose of innovative thinking to work through roadblocks, come up with creative alternatives, and continually find ways to optimize the IT infrastructure.
Innovation is a highly sought-after skill in the enterprise and it's one that can be tough to learn. The good news is that most developers are naturally innovative, especially in today's world of DevOps and digital transformation.
In other words, a developer's jump to solution architect likely won't bring their first encounter with the innovation imperative.
Solution architect top skill 6: data-driven
Data is everywhere in the software development world, but solution architects need to take it a step further. Specifically, they need to analyze IT data to extract insights, connect it to business problems, and use it to show the potential of proposed IT solutions.
Over time, solution architects need to craft compelling reports for IT leads and other executives that demonstrate the value and impact of IT solutions. This requires a data-driven person who loves digging into software information.
In some ways, this can be the most-difficult skill for a developer looking to level-up to solution architect to master, in part because it relies not simply on collecting data, but also telling compelling stories with it.
Becoming a solution architect
Moving from developer to solution architect is a multi-step process that involves developing and exercising the skills you already have, as well as expanding your skillset with new capabilities.
One thing you can to do better understand the role that individual software solutions play within larger business processes is to familiarize yourself with the principles of value stream management as they apply to the development process.
If you are interested in exploring further, LeanIX offers a VSM platform that connects teams, technology, and processes for efficient software delivery and problem solving within your products and services. As a result, we enable dev teams and those they work with (such as solutions architects) eliminate risks, bottlenecks, and inefficiencies while simultaneously improving business value.