March 7, 2016
Real-time information turns Enterprise Architecture Tool into Application Intelligence Platform
Every LeanIX Customer benefits from new Metrics Add-on with latest LeanIX release 3.0
Bonn, 7 March 2016. LeanIX, provider of the innovative Enterprise Architecture Management (EAM) tool LeanIX as Software as a Service (SaaS) is proud to announce the release of version 3.0. With this release, LeanIX brings the Architecture and Operations domains closer together than ever.
The new Metrics feature is a truly groundbreaking innovation in the Enterprise Architecture (EA) arena. It gives LeanIX users the ability to connect to real-time data, thus enabling them to monitor things like activities, user behavior or availability in relation to the IT architecture that they manage in LeanIX. LeanIX will provide out-of-the-box integrations with applications that provide relevant data but users can also connect their own data sources using open source SDKs provided by LeanIX.
"The combination of operational data and enterprise architecture in LeanIX is unparalleled in the tool market," LeanIX Founders Jörg G. Beyer and André Christ are convinced, "We are raising the bar again in the EA tool market."
Companies of all sizes strive to release new IT applications faster and more frequently to gain competitive advantages. LeanIX provides a platform, where they can store and analyze technical and business metrics directly in context of their IT architecture. This allows them to gather real-time feedback and iterate faster, e.g. understand response times in relation to processed transactions or active users. Traditional Enterprise Architecture repositories do not foster such a market-oriented, iterative way to develop new products, as they mostly rely on static data.
LeanIX will be offering Metrics to all customers automatically for free with a limited number of data points.
Other new functionalities that will be in the new release include a vastly improved Quality Seal for Fact Sheets, automatic notifications on application lifecycle changes and an overhauled Interface Map that visualizes interfaces between applications in an improved way.
Metrics and the other new features will be available automatically in LeanIX from 14 March 2016. LeanIX will be showcasing the Metrics functionality from 14 to 18 March at this year's CeBIT in Hanover, Germany. Interested parties can also learn more about Metrics in a LeanIX webinar on 22 March 2016.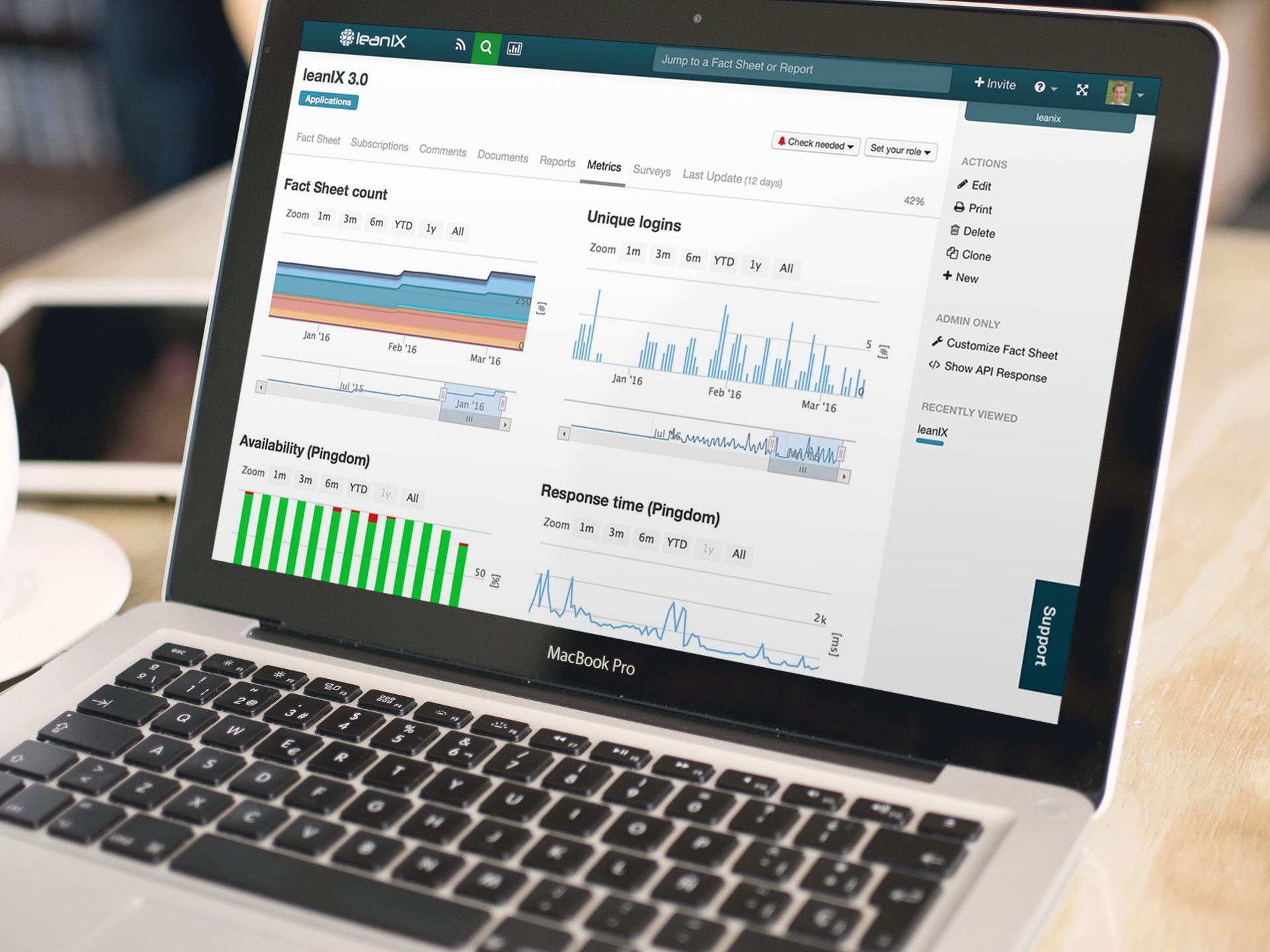 About LeanIX
LeanIX offers an innovative software-as-a-service solution for Enterprise Architecture Management (EAM), based either in a public cloud or the client's data center. The web-based platform has compelling advantages over traditional approaches, including an intuitive interface, flexible reporting and open APIs. This makes it possible to rapidly roll out LeanIX in an enterprise with minimal training required so as to start reaping added value within a short period of time. Both SMEs and large corporations from an array of industries are utilizing the solution – companies like Axel Springer, Helvetia, RWE, Merck and Trusted Shops. Businesses of all sizes are being acquired as customers, firms which used to be reluctant regarding EAM or had had frustrating experiences with cumbersome tools. LeanIX GmbH was formed in 2012 by Jörg G. Beyer and André Christ. With headquarters in Bonn and a subsidiary in the US, the company's large partner network extends throughout Europe and to Australia and the US. LeanIX will be exhibiting at CeBIT from 14 to 18 March 2016 in Hall 5, Booth C28. Additional information is available online at: www.leanix.net.