April 4, 2023
LeanIX Expands Global Advisory Board with the Appointment of Mike Anderson
As LeanIX strengthens its position in the U.S. marketplace, Anderson's 25 years of leadership, innovation and business transformation will help the company grow at scale
Bonn, Germany and Boston – April 4, 2023 – Today, LeanIX announces the expansion of the company's global advisory board with the appointment of its newest board member, 25-year industry veteran Mike Anderson. The move highlights the organization's commitment to expansion in the U.S. and reflects its vision for long-term, strategic growth.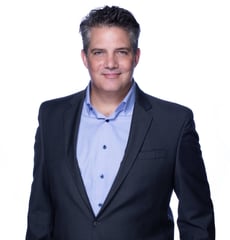 "I am thrilled to join LeanIX's advisory board, especially because LeanIX is a company that addresses problems today's CIOs need to solve. CIOs want to understand what it costs to support specific capabilities from end-to-end, as well as where their company is exposed to risk. By helping companies understand their IT landscape through the lens of business capabilities, LeanIX provides the data needed for intelligent conversations with business owners about the relative health of specific capabilities," said Anderson.
"My experience as a chief information officer and chief digital officer puts me in a solid position to strengthen LeanIX's U.S. presence and provide insight into the C-suite audiences LeanIX is trying to reach."
Anderson currently serves as chief digital & information officer for Netskope. He has a proven track record of leading high-performing teams across operations, business development and information technology as well as leading start-ups and joint ventures from the ground up. Mike has had previous stints as SVP, CIO and digital leader for North America at Schneider Electric, a global fortune 500 company, and as a CIO for CROSSMARK, a service provider to the retail and consumer goods industry.
"I'm delighted for Mike to join LeanIX's advisory board. Mike has first-hand experience understanding what makes CIOs tick and what companies need to succeed in periods of hypergrowth. I see Mike's reputation and expertise helping us engage with IT leaders on the issues that matter most to them," said André Christ, CEO and Co-Founder of LeanIX. "At the same time, I believe he will provide valuable counsel regarding how best to grow our organization to meet customer needs."
LeanIX is poised for continued strategic growth and acceleration with well over 900 customers today. The company's trajectory reflects the critical need for LeanIX's enterprise architecture management tools in organizations looking to drive digital transformation, foster collaboration between business and IT, and speed time to value.
Adding to LeanIX's momentum is the continued global expansion of the company's workforce and global footprint. Recently hiring its 500th employee, LeanIX now operates in nine locations around the world, most recently opening offices in Berlin, London and Paris.
To learn more about LeanIX, please visit www.leanix.net
About LeanIX
LeanIX's Continuous Transformation Platform® is trusted by Corporate IT and Product IT to achieve comprehensive visibility and superior governance. Global customers organize, plan and manage IT landscapes with LeanIX's automated and data-driven approach. Offering Enterprise Architecture, SaaS Management, and Value Stream Management, LeanIX helps organizations make sound decisions and accelerate transformation journeys. LeanIX has hundreds of customers globally, including Adidas, Atlassian, Bosch, Dropbox, Santander and Workday. LeanIX is headquartered in Bonn, Germany, with additional offices in Germany and subsidiaries in Boston (USA), London (UK), Paris (France), Amsterdam (Netherlands) and Ljubljana (Slovenia). For more details, please visit www.leanix.net.