May 2, 2023
LeanIX Wins Four G2 Best Software Awards Based on User Feedback
BONN, Germany and BOSTON, MA, April 28, 2023 – LeanIX is proud to announce it has been awarded Leader Badges for the G2 Spring 2023 Grid® Reports in four different categories: Enterprise Architecture; Application Portfolio Management; Momentum for Application Portfolio Management; and Relationship Index for Application Portfolio Management. This recognition affirms LeanIX's position as the global industry leader in enabling continuous transformation of corporate and product IT.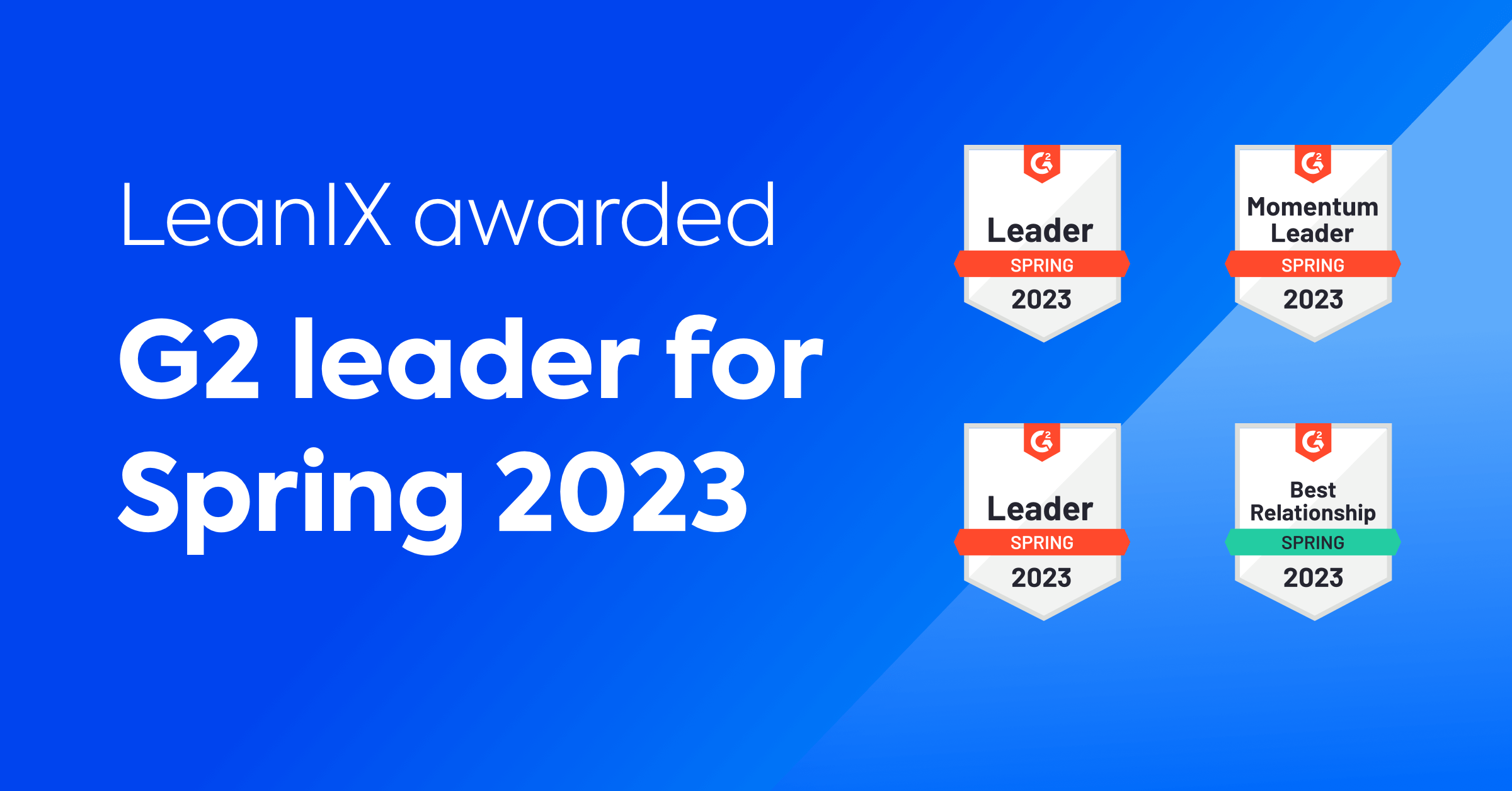 As the world's largest and most trusted software marketplace, G2 is visited by 80 million software buyers each year. Badges are awarded quarterly, and a company must receive at least 50 approved and published reviews during that time in order to be eligible. G2 Badges represent the trust only authentic peer reviews provide.
Enterprises around the world use LeanIX to visualize, plan, and manage their increasingly complex IT landscapes, including all applications and SaaS subscriptions. LeanIX's automated, data-driven approach allows companies to map their "as-is" enterprise architecture, connecting applications to the business capabilities they support, while also designing the ideal architecture they aim to create. The insights provided by LeanIX empower organizations to make informed decisions regarding technology investments and support continuous transformation.
Real-world users selected LeanIX as a trusted Leader in four key areas:
Enterprise Architecture – LeanIX is the only Leader recognized in this category. To qualify for inclusion in the Enterprise Architecture Tools category, a product must:
Facilitate business modeling, management, and structural analysis
Assist in managing processes, requirements, and risks
Provide project management features for business strategy planning
Application Portfolio Management – While not the only Leader recognized in this category, LeanIX is rated the highest. To qualify for inclusion in the Application Portfolio Management category, a product must:
Visually map out applications in use
Track application usage for each team
Rank applications based on their value to the business goals
Identify redundancies, overlap, and organizational inefficiencies
Momentum for Application Portfolio Management – LeanIX is ranked first in this category. A product's Momentum score is calculated by a proprietary G2 algorithm that factors in social, web, employee, and review data. Over the last two years, LeanIX has doubled its customer base to over 1000, opened new offices, and expanded its team to currently over 500 employees worldwide.
Relationship Index for Application Portfolio Management – Badges for the Relationship Index are awarded to products for:
Best Relationship (highest overall score)
Highest Quality of Support (highest overall score)
Easiest To Do Business With (highest score)
LeanIX earned its recognition based on customer reviews such as these on the G2 platform:
"The tool is self-explanatory, but at the same time well documented. Once you get your data in, you can explore it from different perspectives using the reports or the diagrams. Best of all, it evolves continuously."

"During our RFP process, we set a strong focus on platform capabilities (especially a powerful API and eventing model) and ease of use for non-architects. LeanIX fulfills both of those criteria to an excellent level."

"We can model and analyze relationships between our capabilities, systems, processes, and technology components – both as-is and to-be (also, LeanIX Support team is very responsive!)."


"We are honored that so many users chose LeanIX as an industry leader for enterprise architecture tools and application portfolio management," said LeanIX CEO and co-founder André Christ.
"This recognition indicates that LeanIX is addressing the most pressing customer pain points when it comes to enterprise architecture, allowing them to make better, faster, data-driven decisions in support of their business transformation goals. While we appreciate this recognition, we remain committed to continuing our efforts to reinvent, reimagine, and democratize the EA category.'"
Check out the many validated user reviews of LeanIX on G2 now and see first-hand how LeanIX stacks up against the competition.
About LeanIX
LeanIX's Continuous Transformation Platform® is trusted by Corporate IT and Product IT to achieve comprehensive visibility and superior governance. Global customers organize, plan and manage IT landscapes with LeanIX's automated and data-driven approach. Offering Enterprise Architecture, SaaS Management, and Value Stream Management, LeanIX helps organizations make sound decisions and accelerate transformation journeys. LeanIX has a thousand customers globally, including Adidas, Atlassian, Bosch, Dropbox, Santander and Workday. LeanIX is headquartered in Bonn, Germany, with additional offices in Germany and subsidiaries in Boston (USA), London (UK), Paris (France), Amsterdam (Netherlands) and Ljubljana (Slovenia). For more details, please visit www.leanix.net.