Assess your baseline architecture with the TIME model
The anchor of any target architecture is its applications. After gathering the information to understand the "as-is" state, it's time to decide the fate of current applications. A useful method to do so is Gartner's TIME Model, which helps organizations decide whether to tolerate (T), invest in (I), migrate (M), or eliminate (E) the applications hosted in its baseline architecture.
Criteria will vary based on the organization and its needs, but here are our recommendations for best practices:
Tolerate
The application has high technical quality, there is not a lot of time or money invested in support, but it provides a certain amount of value. Since the value is not negligible, is used, and doesn't cost a lot to maintain, the application should be left alone and considered for future improvement.
Invest
The application is stable, doesn't require much support, and is architected well. The business uses it and there is an attributable and recognizable value. These are the applications worth investing in, yielding even better returns or seeing a further reduction in costs.
Migrate
This option is for applications that are low quality but provide high value to the business. Several decisions can be made when pursuing application migration:
Shift users and data to an existing application and discard the instance (in the event of redundant applications)
Blend two applications under a common version or platform
Merge multiple applications (either physical, logical, or both)
Exchange application with an off-the-shelf commercial solution
Eliminate
These applications provide no business value, are unused or used minimally, or are based on obsolete software.
Define your Target Architecture
After motivations are understood, desired business outcomes are clear, and the baseline architecture is set, it's time to map out and define the target architecture. This can be accomplished with three simple steps: Plan, Decide, and Execute.
1. Plan
Get started by establishing the overall business objective(s) and ensuring all stakeholders are on board and moving in the same direction. From there, it's time to break down the objective(s) into tangible IT initiative(s), i.e., migrating specific applications and processes to the cloud.
This information will allow enterprise architects to forecast high-level changes to the IT infrastructure and get a fundamental grasp of the impacts that will need to be addressed. Of note, it's critical to put timelines in place so that teams are accountable and activities follow the plan as was agreed.
2. Decide
Once the plan is in motion, it's time to further segment IT initiative(s) into executable projects and epics. If the internal resources don't exist to meet the deadlines laid out in the planning phase, organizations may bring on consultants to help see their project through.
At this point, enterprise architects can begin visualizing how short-term initiatives align with long-term business objectives. They can do so by creating a transformation roadmap that takes into account more granular architectural changes. Doing so will empower stakeholders to forecast how future changes to applications and IT components will affect business capabilities.
Information on these impacts will help shape key decisions in prioritizing actions toward achieving the target architecture.
3. Execute
Transformation activities are underway. EAs should monitor the progress of evolving business objectives while at the same time measuring stages of completion on individual projects. Regular communication amongst team members is critical to keep items moving forward and on track with the plan.
All architectural changes should be actively documented and reflected in the IT repository to maintain data quality. Although speed is essential, security and proper execution are even more imperative. Ensure projects are broken out into manageable chunks so that nothing breaks.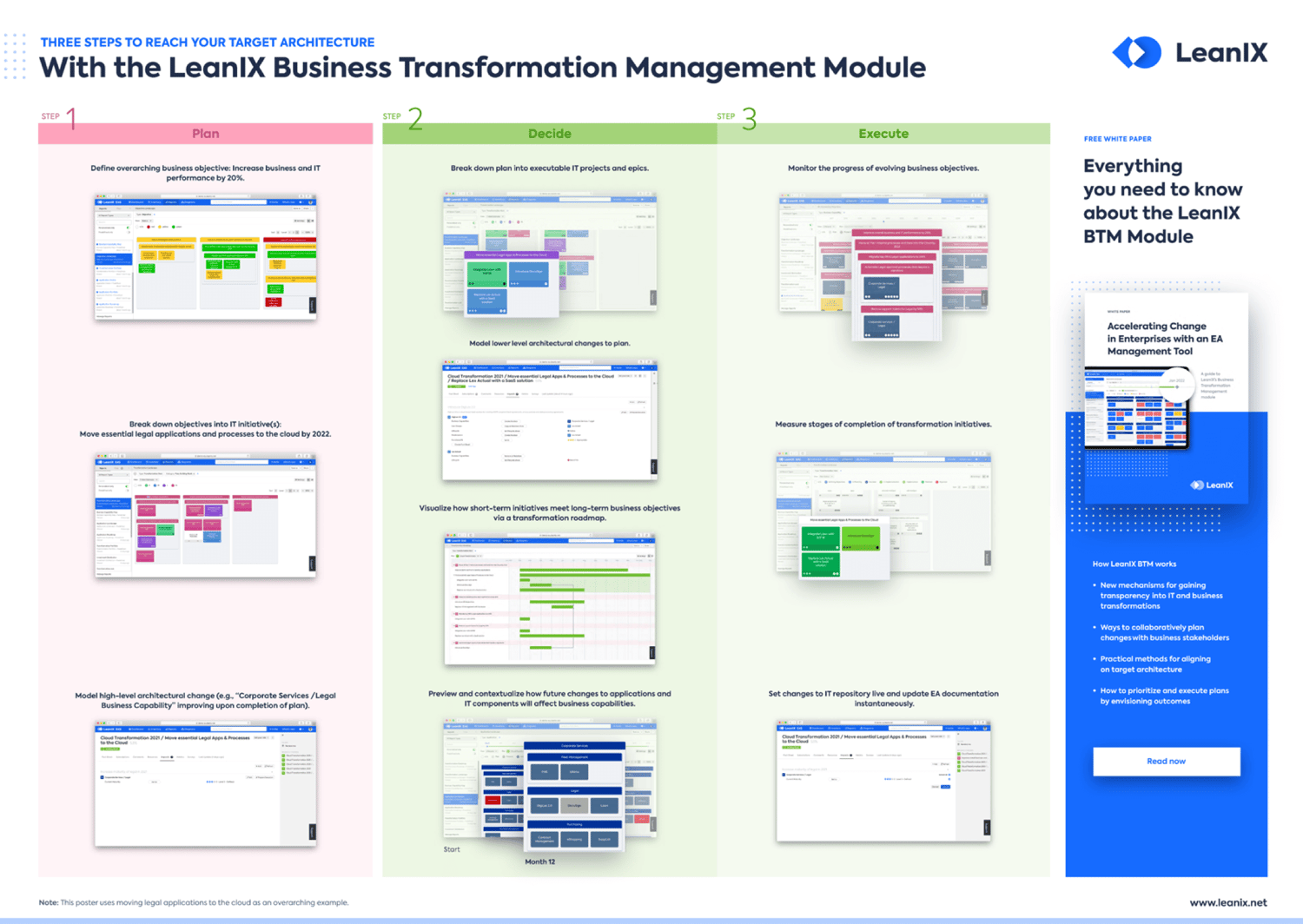 Manage the Migration
Transitioning from a baseline to a target architecture cannot happen within a bubble. Chances are that changes to the IT infrastructure will impact multiple business capabilities and the teams who support them. Engage and involve these stakeholders early on to help communicate the reasons behind changes and the value that they will bring to the organization. Reassure users that decisions are based on data and be transparent about providing the facts to back conversation points.
The LeanIX Business Transformation Management module
To develop a target architecture in secure and efficient manners, the LeanIX Business Transformation Management (BTM) module is designed to elevate business and IT teams' collaborative potential when executing transformation strategies together. As an add-on to the Enterprise Architecture Suite, LeanIX BTM creates a strategic link between business objectives and transformation initiatives to document and visualize how IT changes affect operational processes and capabilities.
The tool provides enterprise architects and CIOs an efficient platform to develop plans and reach their desired target architecture collaboratively. In addition to roadmap planning, BTM allows stakeholders to visualize the impact of hypothetical scenarios before implementing plans. Plotting these details enable teams to maximize the value of their activities, reduce risks, and share easy-to-understand reports and visuals with business leaders. See how it works.
Conclusion
In today's world, the symbiotic relationship between business and technology means that any change can have far-reaching consequences. And, as mentioned previously, organizations must transform to grow. It's what makes a target architecture so critical for any company with future aspirations. This North Star helps to guide strategic IT and business decisions and achieve desired outcomes.