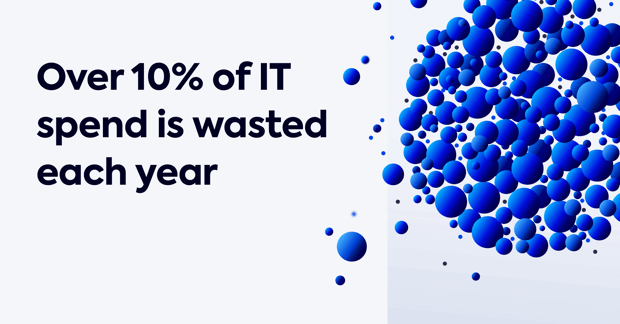 The LeanIX application rationalization cost optimization survey is live. Let's explore the results and see what IT teams are spending their money on in 2023.
At the end of last year, LeanIX carried out its annual cost optimization survey. This looks at how IT departments across the world are planning to spend their budget over the coming year.
We surveyed 153 enterprise architects, customer experience officers (CxOs) and other IT professionals. These were employed by LeanIX customers of all sizes across Europe, the USA, and the APAC region.
The survey confirmed that the primary worry for IT experts right now is the coming global economic turmoil. Primarily, their concern was around the rising inflation rate and how this will impact IT budgets.
Despite this, the business outlook remains good. The majority of IT budgets will not be impacted by the rise in inflation and a good portion are set to actually increase.
What is far more concerning, however, is how much of this annual budget our respondents report to be wasted at a time when every penny may count. Mostly, this is down to poor decision-making due to a lack of oversight on application portfolios.
Application rationalization isn't just about cost optimization, but thriving under these conditions will require optimum efficiency. Therefore, rationalization will be key for IT teams over the next few years.
A Focus On Application Rationalization To Reclaim Wasted Budget
It's no wonder, given the economic woes, that IT teams are focusing on efficiency during 2023. Yet, to succeed with improving performance, better application portfolio management is vital.
Most companies don't engage in regular application rationalization initiatives. Those that do will soon be at a competitive advantage in terms of improved efficiency to ensure effort is spent on initiatives that support strategic goals.
The key to accomplishing these results is two-fold. IT professionals need:
Scalable clarity on the state and interconnectivity of their application portfolio
Better collaboration with the rest of the business
You can achieve these results at the same time by employing a single source of truth that enables anyone in your organization to see the current state of your interconnected IT portfolio and support you in application rationalization initiatives.
The LeanIX enterprise architecture management (EAM) platform is exactly the tool you need. To find out more, watch a recording of our recent webinar:
WEBINAR: Handling Economic Uncertainty Using Enterprise Architecture
In the meantime, let's look closer at the results of our IT cost optimization survey.
74% Say Inflation Is Impacting Their Customers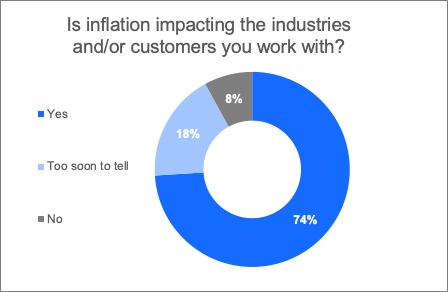 Given the current economic outlook, it's not surprising that 74% of the IT professionals we surveyed said that inflation is affecting their customers. What wasn't expected, however, was that this wasn't harming their performance outlook.
Only 21% of respondents reported a negative outlook to this year's business performance. Confidence remains high that most organizations will be able to ride out the storm.
Indeed, 73% of those we surveyed didn't expect the inflation hike to have any negative impact on their IT budget for 2023. However, most IT professionals report an increased pressure for greater efficiency and reduced costs.
33% of IT Budgets Will Increase, Despite Inflation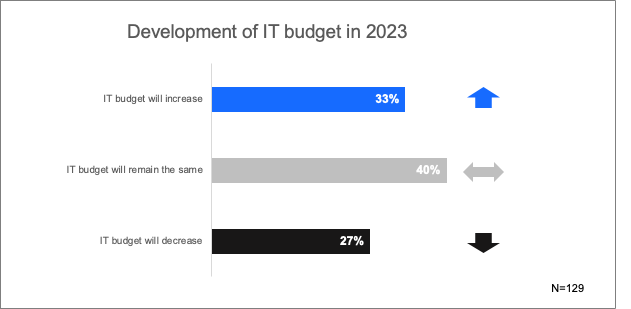 Despite the coming recession, 33% of the IT professionals we surveyed reported their IT budget was larger for 2023 than it was in 2022. 40% say their budget has not been impacted by inflation rates either way.
Only 27% reported that their IT budget would decrease in 2023. Interestingly, however, 12% of respondents said they didn't know what their IT budget would be for this year.
Those who are increasing their IT budget are mainly doing so in order to modernize their IT systems or migrate to the cloud (46%). Another concerning statistic, however, is that 77% of respondents report that over a tenth of that extra budget is being wasted:
54% say 10%-20% of their IT budget is wasted
17% say more 20% of their IT budget is wasted
6% say more than 30% of their IT budget is wasted
P

oor Application Portfolio Management: A Leading Concern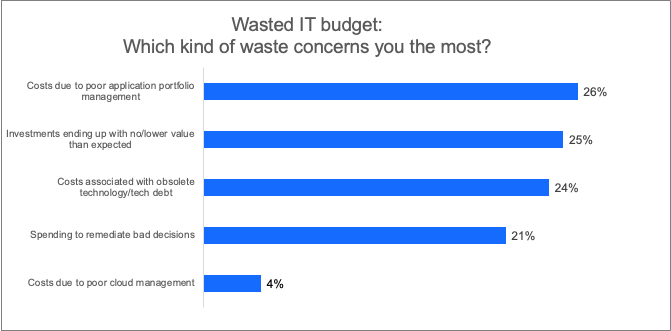 Of course, one would expect a certain portion of any IT budget to be lost to technical debt. Surprisingly, however, this is only ranked third in the list of our survey respondents' issues.
Primarily, the wasted budget comes down to a lack of clarity about the application portfolio. 26% of wasted IT budget is spent on poor application portfolio management, and a further 25% on investments that don't realize their expected value.
An additional 21% is wasted on spending to remediate application portfolio management mistakes. Only 24% of wasted IT budget is allocated to technical debt.
This illustrates just how vital proper application portfolio management is; not just for retiring outdated applications, but also for understanding your application portfolio, how it interconnects, and the impact that changes will have on your tech stack.
The results clearly show that application rationalization is a key aspect in the optimal use of your IT budget. This is equally illustrated by what our customers say about their optimization plans for 2023.
59% lack of visibility on their IT landscape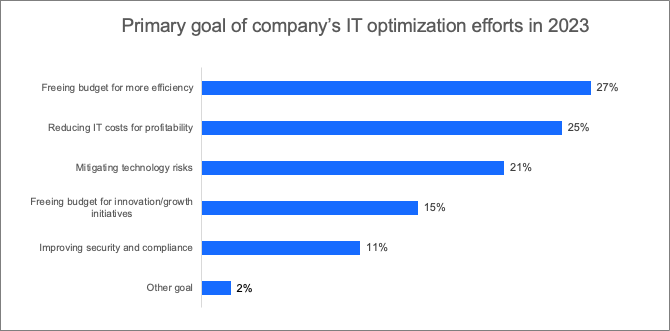 When you ask enterprise architects what their primary goal is for 2023, you would normally expect them to talk about innovation or growth. Yet, only 15% of respondents listed this as their target for the year.
Topping the ranking, 27% said their goal for 2023 was to free up more budget for projects that work to increase efficiency. After that, 25% said their primary optimization goal for 2023 was to cut IT spend to enhance their organization's profitability, while 21% said they wanted to mitigate technology risks.
The majority of our respondents (59%) noted a lack of visibility of the interdependencies of their IT landscape was a significant barrier to achieving their stated goals.
Once again, this shows that it's key for IT leaders to gain a clear overview of their application portfolio to empower strategic application rationalization decisions regarding investment, cost reduction, and risk mitigation.
A complex spreadsheet simply isn't enough to do this correctly. That's why you need an enterprise architecture management tool like the LeanIX EAM. To find out more, download our free whitepaper:
48% Say Collaboration With Business Is Lacking

Acting alone, IT cannot have the insight into every area of an organization to have a full picture of how applications are used. To have a truly accurate application portfolio map, you will need to work with the rest of the business to fill in the gaps, but this is still a struggle for our respondents.
48% of those who took our survey believed that collaboration between their IT team and the rest of their organization wasn't sufficient. Only 30% believed it was at a satisfactory level.
Of course, the key to any collaboration is visibility. If IT and the rest of the business don't have the same clarity on the state of your application portfolio, then you won't be able to work with them to plan the right roadmap for your organization's tech stack.
To see how the LeanIX enterprise architecture management (EAM) platform can enhance the visibility of your initiatives, see dedicated application rationalization use case page:
Only 15% Engage In Application Rationalization
All of this illustrates how crucial application rationalization initiatives are for IT teams in 2023. Yet, despite this, even customers who already have the LeanIX enterprise architecture management (EAM) platform in place aren't carrying out proper app rationalization initiatives.
Only 15% of our survey respondents actually assess their application portfolio on a regular basis. Thankfully, 53% have seen the value of application rationalization and plan to initiate a program to do so this year using the LeanIX EAM.
It's no surprise to see so many IT teams waking up to the value of application rationalization and making it a goal for this year. Those that do so early, however, will gain a crucial competitive advantage over their competitors when they need it most, while laggards may fall behind.
How LeanIX Supports Your Application Rationalization Initiatives
The LeanIX enterprise architecture management (EAM) platform provides you with complete visibility of your tech stack. With a scalable overview of your IT landscape, you can visualize all the information you need to make informed decisions on your application portfolio.
Using a simple interface to view high-quality data, you can make confident decisions on application spend, cost control and alignment with strategic priorities. Best of all, our dynamic EAM platform will keep providing a real-time overview to inform agile decision-making.
For example, one of our customers used the LeanIX EAM platform to rationalize over 275 applications and save over USD 1 million in costs in less than a year.
To find out more about how the LeanIX platform can support you in leveraging application rationalization before your competitors, book a demo.