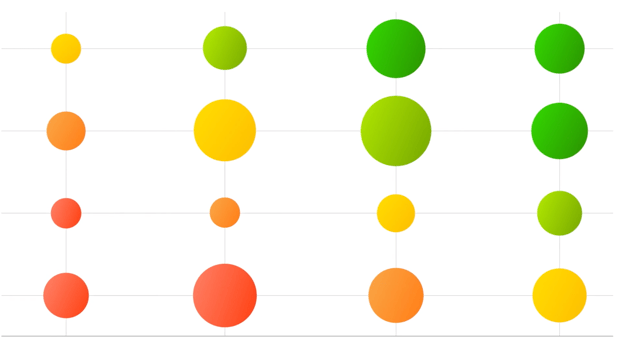 The enterprise architect role is unique — it typically lives in IT, but it directly supports critical functions and strategies across the enterprise. Gartner reports that by next year, 60% of companies will depend on EAs to lead their overall business approach to digital innovation.
Given their central place in developing and executing strategies for the future, it's essential for companies to build the right reporting structures around their EA teams, providing the leadership, guidance, support, and partnership they need to succeed.
In the sections that follow, we'll explore the leadership roles that are commonly included in EA reporting structures, how and why they vary for different organizations, and what to consider as you build one for your new or existing EA team.
Quick Takeaways
The enterprise architect role bridges the gap between IT and other strategic business functions.
Common roles in the EA reporting structure include CIO, VP of Information Technology, Director of IT, and Chief Enterprise Architect.
Some companies include leaders in other business units as secondary supervisors to EAs who support them.
Current EA maturity and leadership structure impact the level of autonomy new EAs should have and the oversight they'll require.
Where does the enterprise architect role fit in the organization?
Enterprise architecture (EA) lives in different places in the organizational structure depending on company priorities, goals, and IT maturity. Today, however, it's mostly considered best practice to make EA a part of overarching IT strategy and operations. Nevertheless, different companies take different approaches. Indeed, whether enterprise architecture belongs in IT or should sit on the business side was one of the topics under discussion at our recent LeanIX Connect Nordics in Stockholm.
Ideally, enterprise architecture serves as the bridge between IT and the rest of the organization, with enterprise architects focused on ensuring that IT infrastructure and assets deliver value to stakeholders in every business function.
Given the central role that technology, especially digital technology, plays in the enterprise today, it's only natural that the work performed by enterprise architects should influence decisions in the C-Suite. Frankly, if we think of the literal meaning of the phrase "enterprise architecture," which ostensibly covers the design of the entire enterprise, one could easily conclude that the CEO, especially the CEO, should take a keen interest in the work of EAs.
As it turns out, there are usually several roles that live between enterprise architect and CEO. In the next section we'll take a look at those roles and most common reporting structures that EAs inhabit.
Common EA Reporting Structures
The person most frequently responsible for keeping the CEO informed regarding EA's purpose and ongoing EA initiatives is the Chief Information Officer (CIO). The CIO effectively acts as the voice of EA on the executive team.
Below the CIO a number of IT leadership roles come into play:
Vice President (of IT, Technology, Operations — this varies) - Reports directly to the CIO and bridges the gap between IT management and executive leadership, communicating strategic vision while overseeing execution at a high level.
Director of IT - Directly supervises IT management and oversees strategy and execution at the ground level.
IT Managers - Oversee specific teams within the IT department and manage individual employee performance.
Chief Enterprise Architect - Director- or manager-level position responsible for leading the enterprise architecture team.
While EAs may report into a VP, and less frequently into a director, in some organizations EAs report directly to the CIO. It depends primarily on the size of the company. A small business or new startup, for example, won't have multiple levels between the C-suite and employees. Large enterprises, on the other hand, require larger EA teams and more robust leadership to manage them.
There are two other factors that determine who an EA reports to within an organization:
Level of experience
The business functions EA supports
Some companies hire EAs with more experience and leadership ability. In these cases, EAs are given higher levels of responsibility and autonomy, and often interact directly with C-level and VP-level leaders. Other companies hire teams of junior EAs who are closely managed by a Chief Enterprise Architect or other manager.
Some companies structure their enterprise architecture teams so that individual EAs support specific IT or business functions. For example, enterprise architect A may focuses on enterprise wide networks, while enterprise architect B focuses on manufacturing or financial systems.
In these cases, the leader of a business unit (i.e. the VP or Director of Operations) may also be part of the EA's reporting structure as a "dotted line" connection, serving more as a client than as a supervisor.
This approach can help larger enterprises keep their EA teams organized, but it also runs the risk of creating siloed EA practices. Companies with a more functional distribution of EA resources should have a designated leader (such as a Chief Architect or VP of IT) who oversees the overall EA strategy for the organization.
Building the Right EA Reporting Structure for Your Organization
Whether you're building a new enterprise architecture team or revamping an existing one, it's important to create a structure that maximizes the ROI of your efforts and positions your EAs to succeed. There are some important questions you can ask to help determine the right structure and level of responsibility your EAs will have:
What is the makeup of our current IT leadership? Can our existing leaders oversee our EA strategy, or do we need to add a new role?
How mature is our current EA strategy and team? Do we need new strategic contributors or executional support?
How do leaders across the organization interact with the EA team? Should they be formally included in the reporting structure?
What level of responsibility do/will our EAs have? What kind of experience will the role require, and what type of management will maximize impact?
The ultimate goal is to ensure your EA team is well-positioned to achieve strategic objectives while supporting the business by ensuring the optimal deployment of technological resources.
Over to You
An Enterprise Architecture Management (EAM) platform provides all the tools your EAs need to succeed. With our solution in place, you can increase speed, reduce costs, and manage technological risk across your organization.
Learn more about LeanIX solutions or schedule your demo today!