Enterprise Architecture is, and has always been, a collaborative subject. Even though Enterprise Architects are responsible for the entire Architecture of the company, it doesn't mean that they are the only stakeholders in the subject.
For Enterprise Architecture to work, it has to have a collaborative approach… but how collaborative is our EA really? When we think of this, answers that come to mind is that EA is very cooperative. Enterprise Architects always have reports onhand to share with all relevant stakeholders in the company… but, is this really collaborative?
I think not… When sharing reports, you are sharing a result or a current state of the company, you are not asking for opinions, you are showing results. This is not a collaboration, it is just an effective way to let stakeholders understand what you are doing and how your work has improved or how your company has developed over a period of time.
Moreover, a collaboration is real-time, being open to input on the go, opinions and even changes from stakeholders during the process.
So what is the truly collaborative Enterprise Architecture approach?
Imagine, if stakeholders could give feedback on-the-go while EA is being worked on. This would eliminate over 70% of issues with delays. So how can this be done? Surely not by sending excel files via email, as these can get lost, aren't updated and do not send real-time-data back the Enterprise Architect.
The correct way towards a collaborative Enterprise Architecture is via a tool, where all stakeholders can collaborate in-tool, seeing real-time data and metrics and most important, only up-to-date information.
This does not only let you collaborate in real-time between offices but also between different office locations. Even if you are abroad or traveling, a browser based SaaS like LeanIX, will let you log-on from wherever you are, and still be able to give inputs to the Enterprise Architecture.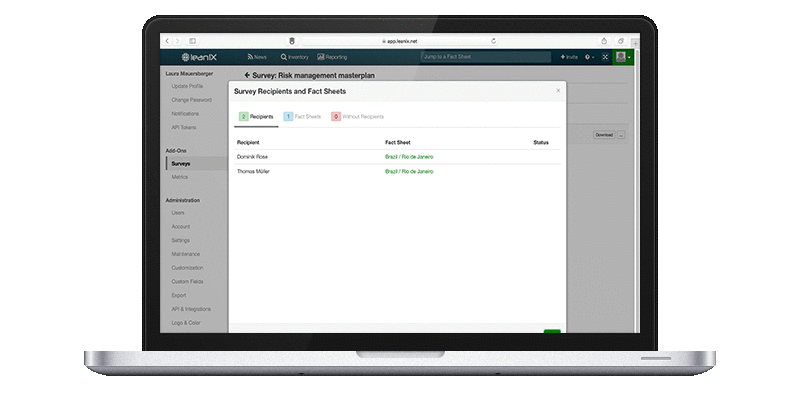 Get real-time notifications in your Enterprise Architecture News Feed. Here you can see the latest updates on what has happened while you were away. You can also mention colleagues here and in factsheets to comment on anything that comes to mind.
In case you are starting a new project for example, and want to get all the data necessary you can use Surveys. Importing data alone is not an easy task, as it takes up a lot of time and one single Enterprise Architect probably doesn't have all the information of the company... but, with Surveys, one can collaboratively ensure complete and up-to-date data. Just create a Survey on the topic at hand, for example the business criticality of applications, and send it out to all users. These users will fill out a quick Survey and provide you with accurate and up-to-date information.
Top Benefits of collaborative Enterprise Architecture
Agility
Keeping data up to date in your EA is much easier with a bigger engagement and collaboration from all relevant stakeholders. This allows for decisions to be made quickly and reliably.
For a long time now, the top analysts in the area have expressed the need for agile EA. Even though, most companies still use a report-based collaboration as it had been the common standard amongst EA in the past. To create these reports, EAs usually exported the collected data to an outside report, where it could only be used in a passive way. One could not manipulate or re-work this report once finalized.
The method almost always means that there is duplication in the process. Enterprise Architects, IT Architects and others will later have to make changes to the reports to ensure they are aligned across the platforms.
A real collaborative tool will avoid this. It will allow everyone to make changes on-the-go or comment sections where they have a different opinion or see a potential risk. This also encourages people to use the tool and comment, creating a log of the thought process put into certain decisions.
Motivating Stakeholder buy-in
It has always been difficult to get management on board, sometimes decision makers and stakeholders might not realize the full value of Enterprise Architecture.
With the acceleration, we see in the digital area, companies need to realize that, now, more than ever, Enterprise Architecture is essential for steering this acceleration. To do this, it needs the support of management.
With a collaborative tool like LeanIX, those in charge of the budget are also directly involved in your Architecture, as it has an intuitive UI where stakeholder can easily be able to see everything in one place and comment on issues as they come up. As they are involved directly, they will be more open and appreciative to why Enterprise Architecture needs an increase in budget for example.
In the past, stakeholders and Enterprise Architects had to learn how to use complex tools to do this, but nowadays there are other options. LeanIX makes sure that in less than 30 minutes, everyone can use the tool and get a complete overview of all things involved in the Architecture, such as where costs are coming from, what risks exist and be able to address them directly. In case they want to share this view with other decision-takers, they can mention them (with @Person) or directly send them an URL to the exact point of interest.
And there is a ton of other benefits like…
Stakeholders don't like to feel left out; therefore in LeanIX they can contribute to the Architecture themselves. Every single decision maker in a company has knowledge that only he may know. In a collaborative Enterprise Architecture Management tool, they can fill in missing information or update outdated attributes.
Another big problem is that, when we share an excel file, various people might work on it at once. Thus, data can be duplicated or re-written causing people headaches as they will have to later review the whole sheet and merge it correctly… taking up hours of time. In a real collaborative tool, you can see when other people are working on the same factsheets, avoiding any confusions.
Of course, another problem is security. Excel files can simply be shared and often by mistake or get sent to the wrong people. In modern tools, you can avoid this by creating permissions for certain people such as "super admins", who can do anything or simple viewers, etc. In addition, you can distribute permissions by location, so that people at the European division get access only to data related to Europe.
There are many other insights to a perfect Enterprise Architecture synergy … Are you interested in the ideal tool for this? Then get a free personal and expert session on collaborative Enterprise Architecture. Just fill out the form here.