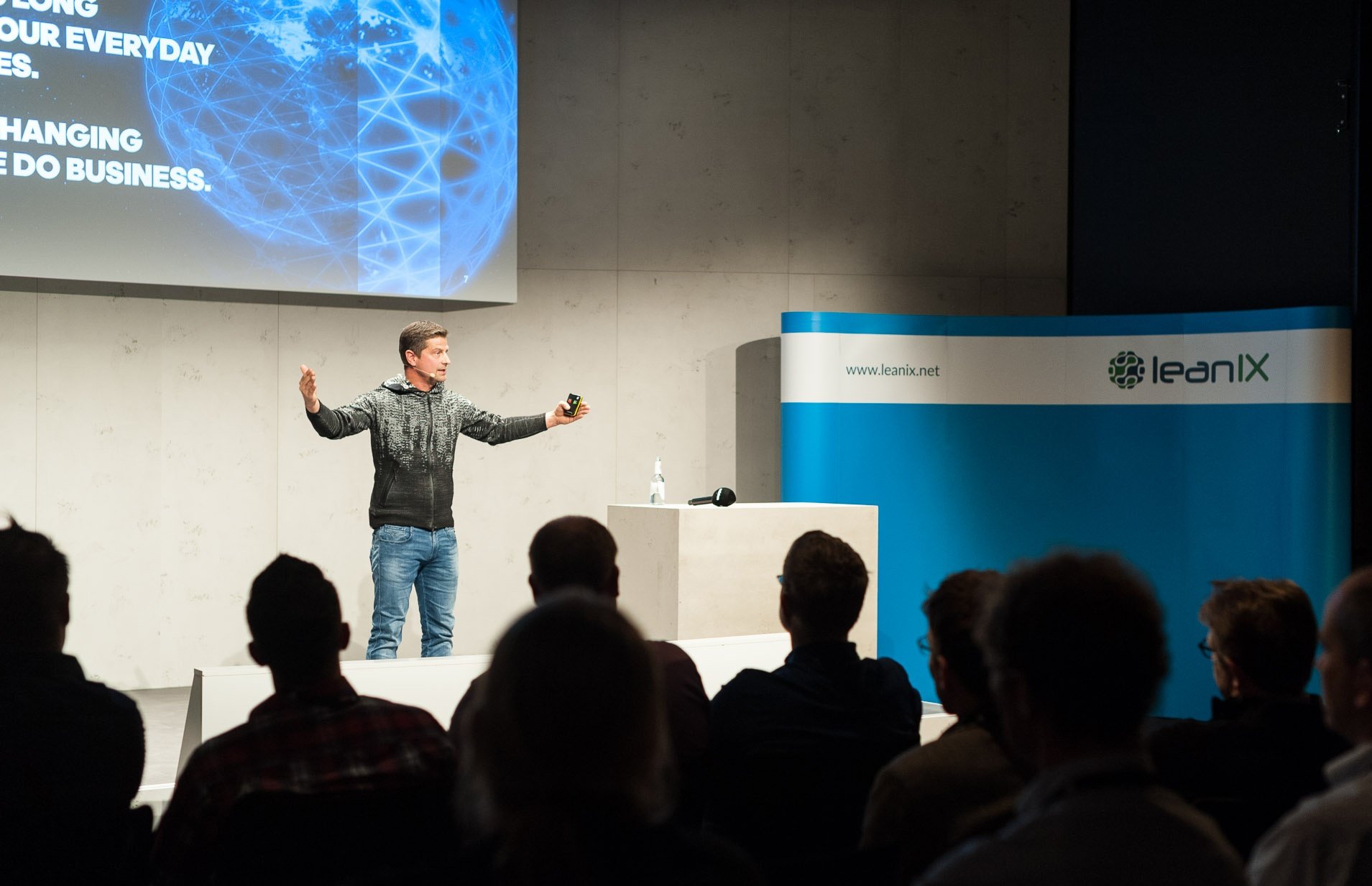 Dressed in fashionable sportswear, adidas CIO Michael Vögele welcomed all physical attendees, and virtual attendees to the fourth annual EA Connect Day 2017 taking place at the adidas global headquarters in Bavaria. His riveting speech in front of 230 attendees touched on many highlights like benefits of shifting from a waterfall IT approach to an agile approach and encouraged attendees to measure and manage Enterprise Architecture (EA) and their services like a product line.
RECAP
OF MICHAEL VÖGELE'S

SPEECH

Michael Vögele stressed the innovative point of view, which if the EA team does not create valuable output, then they have essentially failed. Once EA teams shift from building standards and governance - and focus on providing value, all goals can be reached.

And, boy, does adidas have lofty goals. adidas strives to be the best sports company in the world, and is supported by their one core belief - "Through sports, we have the power to change lives."

In the 1940-50s, founder of adidas Adi Dassler made a name for his up and coming brand by strengthening and nurturing close connections with athletes. Sitting next to them on the field, personally taking care to create the best footwear and apparel to enhance their performance every day. That dedication has been the driving force behind adidas taking in close to 20 billion euro in revenue each year.


Recently, adidas' business leaders desired to recreate this intense dedication of Dassler that catapulted adidas to the top of their industry. Their revelation was to build the direct relationship with customers through digital. Digital transformation has changed everything. From creating benefits for their customers and consumers to implementing measures to recruit the right talent.
What are the capabilities required to move ahead?
How to use current technology to personalize how

adidas

communicates; both internally and with clients?
How to address industry problems that haven't changed in the last 50 years?
How to speed up a lead time of 18 months from design brief to delivery?
How to change the entire paradigm of the industry?
How to fully automate shoe and apparel manufacturing?

To answer these questions, adidas had to redefine their Enterprise Architecture.


Shifting from creating overhead to creating value
adidas received high compliments on their IT infrastructure from top consulting firms. The team was praised for running a highly industrialized, cost-efficient, one-size-fits-all IT landscape.

Despite these compliments, Vögele realized that simply running a vast IT landscape was not a goal of IT. It was merely the status quo. In order to drive digital transformation, personalize and connect with customers, their IT landscape needed a change. The current IT was perfect for the last five years, but that perfection wouldn't carry adidas to their mission of being the best sports company in the world.


adidas
decided to change their destiny

Michael Vögele asked for the value of their previous and current EA endeavors. As a business decision, they decided to stop measuring EA on the number of policies and standards created and determined to weigh an EA's effectiveness by how many people would benefit from these rules, and how the rules would make life easier for people in the future.

From there, adidas decided to shift left - changing the way they built applications, changed ideals from a two-speed or bimodal IT structure - and created a lean EA team. With over 53,000 employees, adidas has a lean EA team consisting of 10 Enterprise Architects, a few supporting domain architects, and some 60 solution architects. No overhead. No ivory tower. Only a collaborative structure.

adidas realized that the EA team was the best place to incubate new technology with the purpose of creating value. As a bonus for the attendees, Michael Vögele shared his ten core architecture principles.


Core architecture principles:
1. Speed to value
2. Focus on user experience
3. Open up access
4. Seek to innovate
5. Fit for purpose
6. Reuse
7. Simplify end-to-end
8. Consider data first
9. Security by default
10. Manage technical diversity


LeanIX would like to thank Michael Vögele for his informative speech, and we hope you'll attend the next EA Connect Days!