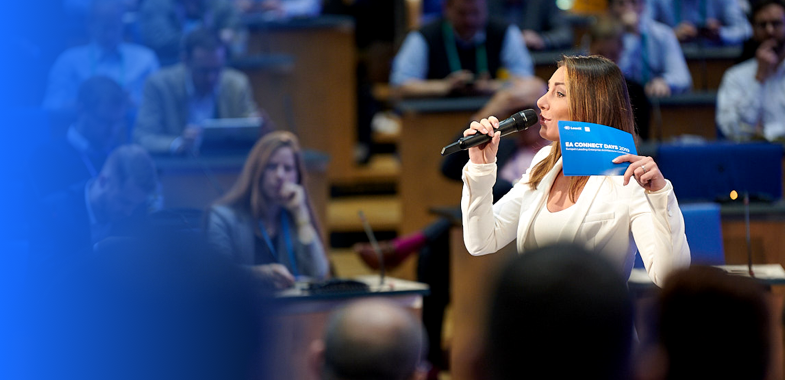 On November 21st, 2017, LeanIX hosted the 4th annual EA Connect Day at adidas global headquarters in Bavaria.
Previously held at Helvetia (2014), Axel Springer (2015), and Zalando (2016), LeanIX continued with the trend of hosting the growing event at distinctive and innovative locations. More than 230 participants traveled Europe far and wide to network with other IT managers, enterprise architects, and DevOps experts. More than doubling the participants from last year, this event firmly takes the center stage as Europe's most prestigious EA event.
If you couldn't make it this year, here's a recap of events:
A powerful speech by adidas CIO Michael Vögele

adidas CIO Michael Vögele held the entire room captive during his invigorating presentation on the role enterprise architecture must take to succeed.

Notable quotes:
"The best way to accelerate building direct relations is through digital"
"Shifting left is key"
"Every company faces challenges. The question is how we overcome them."

Vögele then went into detail about how adidas overcame their organizational challenges.
Vögele also shared the ten core architectural principles that every successful company must follow:
Speed to value
Focus on user experience
Open up access
Seek to innovate
Fit for purpose
Reuse
Simplify end-to-end
Consider data first
Security by default
Manage technical diversity
Insider insights on how SAP champions digital transformation.
Chief Enterprise Architect of SAP Peter Boegler taught the eager listeners how to migrate to SAP S/4 Hana. Boegler also highlighted the technical perspective behind why we need digital transformation. During his informative talk, Boegler shared SAP's strategy, their game-changing initiatives, and shared highlights of the company's path through digital transformation.


A rare view of how microservices help startups scale.
Sebastian Schleicher, head of IT at Blinkist, shared the most important phases his startup Blinkist went through. He shared how microservices were an integral part of successfully scaling Blinkist to the one of the fastest growing startups in Europe.


Exciting new features from LeanIX
During another exciting keynote, LeanIX co-CEO André Christ gave a sneak peak of the new features and upgrades for the forward-thinking SaaS tool:
GraphQL now powers the improved

functions of search and

Going forward, dashboards can be fully customized.

Automatic recommendations will follow in the first quarter of 2018.

An integration with pivio.io is now available in a beta version. Pivio enables the automated documentation of microservices and their dependencies to deployed technologies.

As a member of the ServiceNow Technology Partner Program, LeanIX provides an interface to the widely used IT Service Management solution in the first quarter.
These new features and integrations allow for intuitive and optimal use of the product, resolves silos across the various areas of the company and saves manual data entry. LeanIX's SaaS tool now possesses intelligent mechanisms to derive information for the IT management from the information.
André Christ adds: "The year 2017 was very exciting for us and we achieved a lot. The upgrades show that we do not rest on our laurels, but continue to work hard to set new standards in EAM. "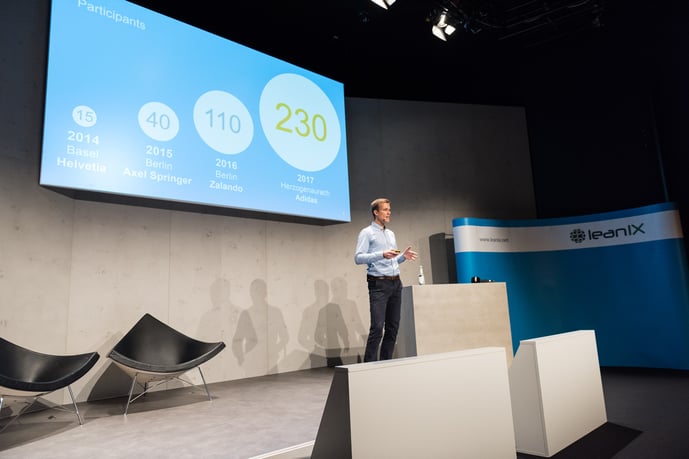 Co-CEO of LeanIX André Christ
Sharing invaluable insights in exciting formats
Between informative presentations, guests found plenty of time to network and took part in interactive discourse like the World Café discussion format. In this format, participants gathered to discussed EA hot topics in depth with domain experts of their field. What better way to learn actionable insights than to speak one-on-one with dedicated experts?

World Café Focus topics:
LeanIX thanks you!
EA Connect Day turned out to be a great platform to exchange ideas on modern IT architectures, trends in enterprise architecture and IT transformation, microservices, GDPR, and automation. Along with Michael Vögele, Markus Häberle, Director EAM of Robert Bosch, and Peter Boegler, Chief Enterprise Architect of SAP, and many more speakers shared key insights about current internal IT developments and general IT trend topics.
According to LeanIX co-CEO Jörg G. Beyer, the event was a success.
"The idea of the EA Connect Days is to provide a platform to exchange views on various topics such as IT architecture and digitization. The fact that this idea gets more and more popular every year confirms our intention and motivates us to organize this event again in the coming years. At this point, we would like to express our gratitude to adidas for this year's support."
We'd like to extend a warm thank you to attendees and speakers who made this event a success, and a special thank you to adidas for hosting us this year in their stunning venue.