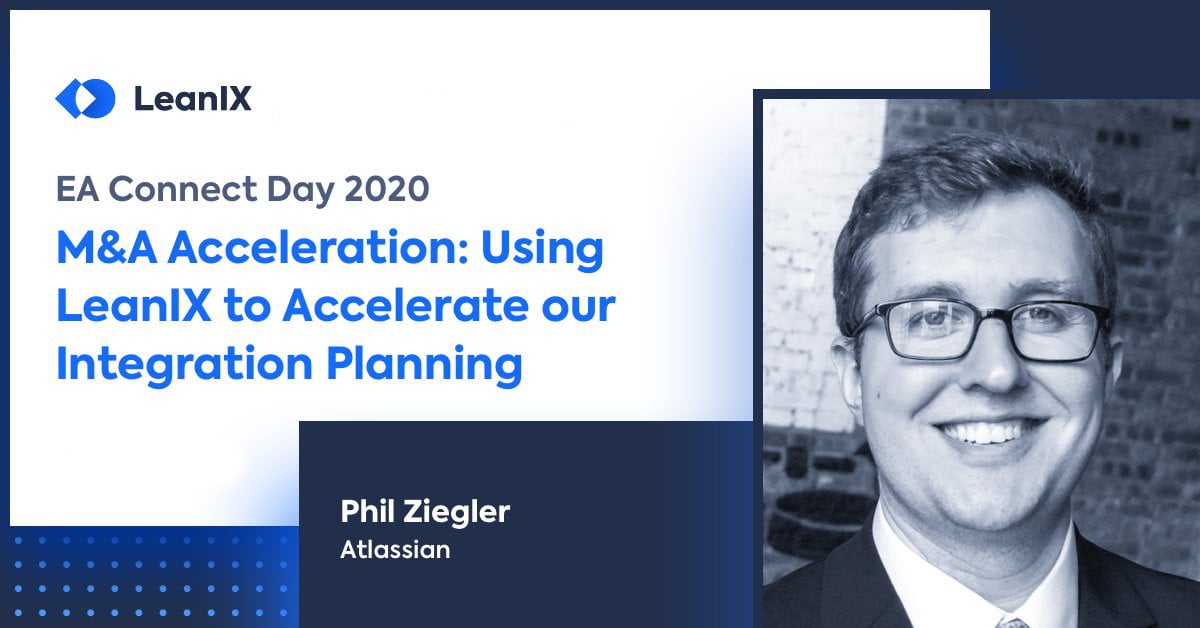 Acquisitions are a driving force behind Atlassian's ever-expanding suite of products. In fact, as explained at LeanIX EA Connect Days 2020 by Phil Ziegler, Enterprise Business Architect at Atlassian, many of the company's multi-functional offerings for project management and software development are a direct result of inorganic growth — a process he and his team have perfected via IT integration planning with LeanIX.
Remarkably, in keeping with the goal-setting spirit of Atlassian, Phil and his team do their part in the integration process by unpacking the value of any acquired IT landscape in just 90 days. It's an ambitious target, but as he explained, their focus when doing so is strictly channeled into three different areas:
(1) Improving Economies of Scale: Where can we gain value through consolidating our use of common technologies?
(2) Reducing IT Complexity: How can we avoid unnecessary complexity in our applications ecosystem?
(3) Balancing Speed & Risk: How can we aggressively rationalize applications while minimizing risk?
This 90-day process of realizing IT value begins the moment any Atlassian M&A deal is announced or closed. In the first 14 days, Atlassian flexes their "EA muscle" using LeanIX to rationalize and roadmap all IT applications. Here's a high-level overview of Atlassian's approach to accelerating integration with LeanIX:
1. Take Stock
"Get to know the acquired applications and the capabilities they enable"
The first thing Phil's team does during any IT acquisition is properly define the applications entering the Atlassian network and the business capabilities they enable. At this point, it is critical to perform due diligence documentation right away, connecting all internal partners to set expectations and confirming ownership for all parties involved.
Atlassian + LeanIX
Within LeanIX, Atlassian creates a specific

LeanIX User Group Fact Sheet

to represent and differentiate the newly acquired entity from the larger Atlassian IT network.

This is followed by creating individual LeanIX Fact Sheets for each acquired application and their corresponding vendor.

All applications are then mapped to their relevant business capabilities, providing enough information to populate a LeanIX Application Landscape report to offer insights to all other cross-departmental and cross-functional teams participating in the integration.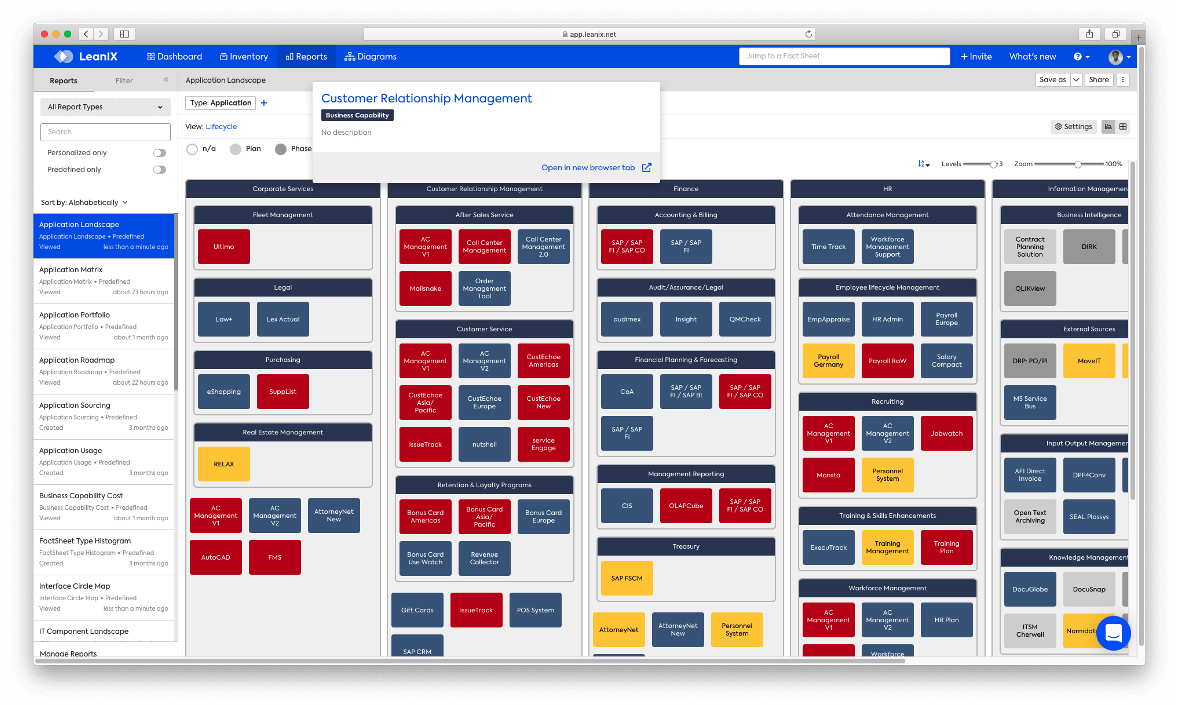 Source: LeanIX GmbH
2. Determine Disposition
"Analyze each application and identify the best path forward"
Phil explains that his team has simplified the process of evaluating an application's worth to a question of either "Retain" or "Retire". If an application is retained, this means that it provides a new business capability or addresses a gap; if retired, this is often due to either duplication or standardization.
Atlassian + LeanIX
Phil's team at Atlassian uses LeanIX to perform the above evaluations of acquired applications by setting subscriptions to build awareness and engage the broader EA team.

Next comes using custom application rationalization LeanIX tag groups to make it easier for stakeholders to digest landscapes.

In the case of migrating or replacing an application, the future plans for any acquired application is drawn by updating successor relationships with target state application fact sheets.

Of note, Phil explains that these

LeanIX tags

offer more options for filtering the Application Landscape report to further streamline the integration process.
3. Prioritize & Execute
"Mobilize teams to rationalize applications to maximize value realization"
At the final prioritization and execution stage, Atlassian relies heavily on setting application lifecycles for the acquired items across its landscape. While all applications are set as active on the first date of the closed acquisition deal, all proceeding actions are prioritized based on items such as vendor contract dates and executed only when financial considerations and product migrations have been concluded. An "End of Life" date is set once Atlassian is confident the application has been fully decommissioned, and its contract terminated.
LeanIX + Atlassian
Atlassian ensures that all target lifecycle dates arising from this prioritization and execution stage are recorded within LeanIX Fact Sheets.

Once done, two of LeanIX's "all-in" visuals — its Application Landscape Heatmap and Application Roadmap report — are activated to let corporate development partners see where the wider Atlassian ecosystem is headed.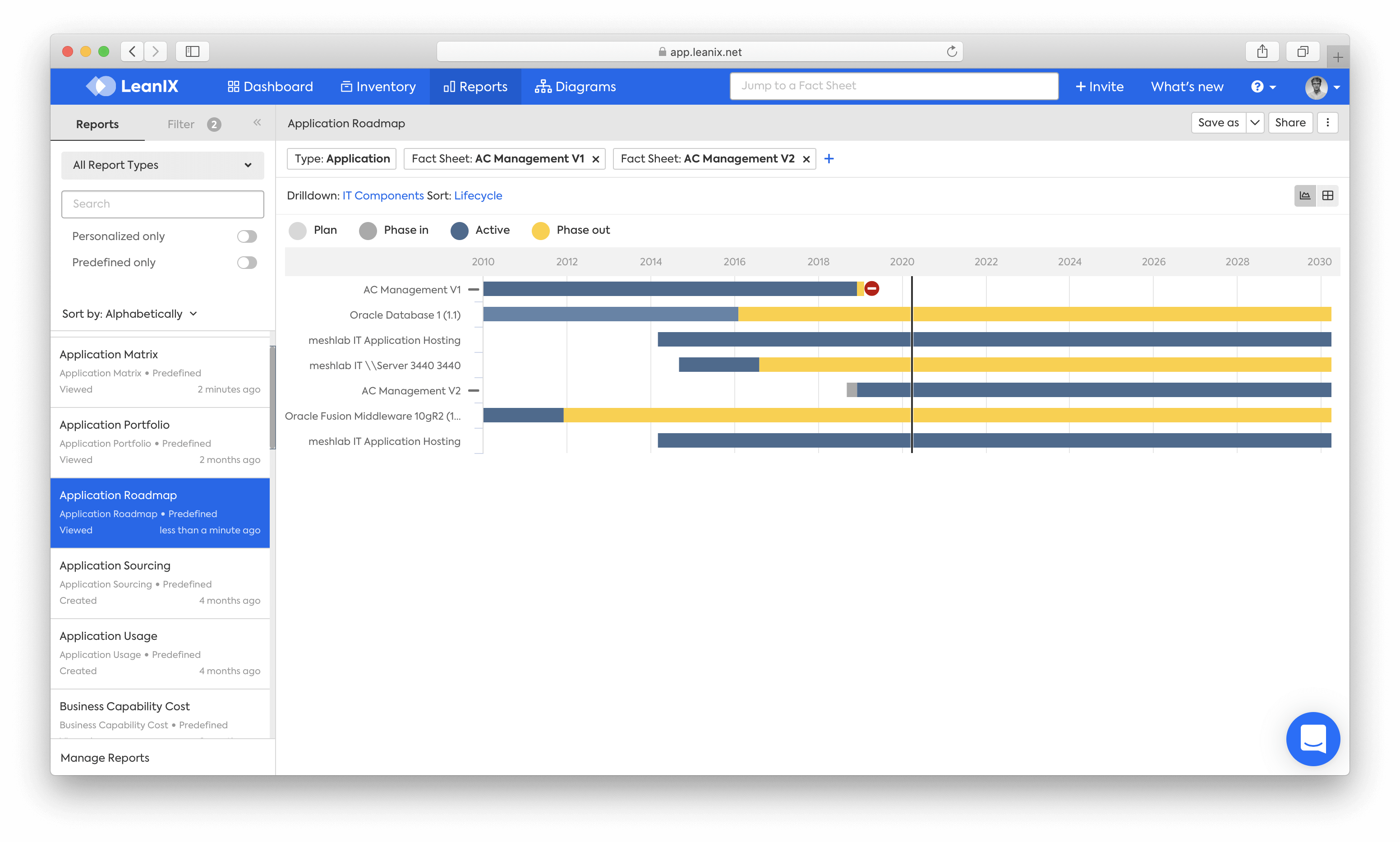 Source: LeanIX GmbH
---
If you'd like to hear more about integration planning with LeanIX and Atlassian, here's the recording of Phil Ziegler's presentation from LeanIX EA Connect Day:
Learn about Integration Architecture in our definitive Guide!