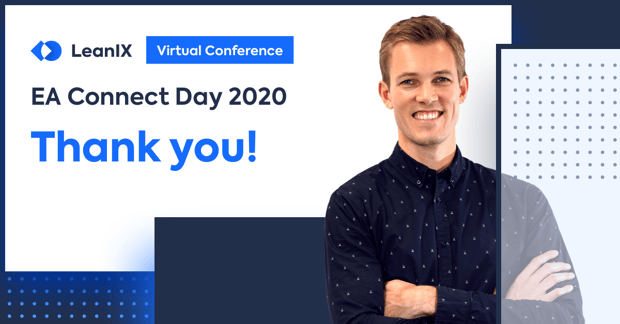 Over 1,700 experts in the fields of enterprise architecture (EA) and IT management registered for LeanIX's virtual EA Connect Day, held May 20, 2020. The conference marked the largest of its kind with attendees from all over the world coming together as a community to hear our featured speakers who spanned the globe.
Co-sponsored by Apptio and Lucidchart, two of LeanIX's technology partners, the conference provided unique networking opportunities plus 10 presentations from thought leaders on emerging topics in EA around the theme of "Future-Proof Enterprise Architecture in a World of Rapid Change." And of course, as has come to be expected from both the U.S. and European EA Connect Day editions, the conference gave the international EA community a chance to preview the latest LeanIX product offerings and see its roadmap for the year ahead.
All in all, our first virtual event went beyond our imagination to make the best of the global COVID-19 pandemic and ensure our customers, speakers, and staff stayed safe. (Oh, and what's not to love about our event when it featured diverse entertainment such as a live music broadcast from the South African musical duo Jenny & The Jameses, Star Trek trivia, magic from Digital Deception, and even a Zoom-bombing alpaca named Twist?)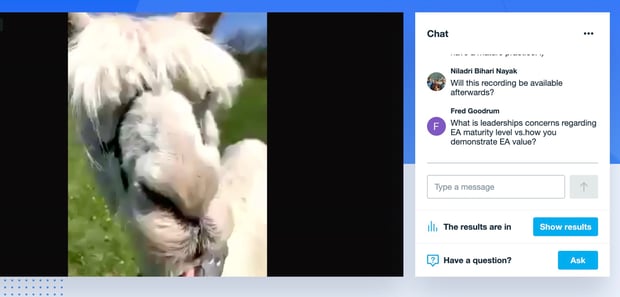 But, to focus just on the IT-specific elements, here's just a small glimpse of what was discussed.
André Christ, LeanIX CEO
Live from Bonn, Germany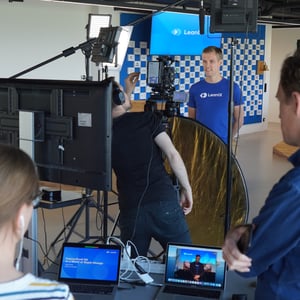 André Christ, LeanIX CEO and co-founder, shared a keynote address live from the LeanIX headquarters in Bonn, Germany on the value of EA Management tools and enterprise architecture itself during COVID-19. Having worked in recent months with heads of IT from major enterprises throughout industries, André has received direct feedback on how LeanIX has elevated the recent decisions of leaders by enabling critical overviews of business and technology landscapes. These testimonials have re-affirmed André and the company's core approach to "EA for Everyone" — a motto encompassing simplified data exchanges and accelerated time to value. These are the guiding principles behind LeanIX's following 2020 product roadmap.
LeanIX Self-Service Portal (available June 19)
To be included in the APM module of the LeanIX EA Suite at no additional cost, the LeanIX Self-Service Portal will extend users a way to link EA data to approve/quality assure new software orders and contextualize technical support tickets. This portal offers LeanIX users more opportunities to troubleshoot problems autonomously, and can be configured by admins quickly and with a variety of filters.
As announced earlier this month, the LeanIX-Apptio integration is now available to provide organizations a direct and dynamic link between the LeanIX Enterprise Architecture Suite and Apptio's IT Financial Management solution. As a result of this integration, stakeholders can take advantage of bi-directional data flows between the two market-leading software packages to leverage even more data-driven and contextualized decisions about their IT investments. The integration directly supports use cases such as cloud transformation management, application rationalization, and technology risk management — and our latest white paper on the out-of-the-box connector, Integrate IT Financial Management and Enterprise Architecture , has everything you need to know about combining the two services for end-to-end IT management.
Collaboration and architecture modeling capabilities are being brought to a whole new level thanks to the LeanIX-Lucidchart integration. Now available to LeanIX and Lucidchart subscribers at no additional cost, enterprise architects and solution architects can model their complex EA data with the full functionality of Lucidchart's state-of-the-art diagramming solution.
The integration aims to foster continuity across workplaces by: (1) making Lucidchart an available diagram type in LeanIX workspaces; (2) selecting the import of existing Lucidchart documents into LeanIX and linking them directly to LeanIX Fact Sheets; (3) converting existing LeanIX diagrams into Lucidchart documents for additional styling visualizations; and (4) previewing, opening, and editing LeanIX documents in Lucidchart.
Business Transformation Management (September 2020)
Business Transformation Management is a new module of the LeanIX EA Suite with dedicated functionality for defining and managing architectural transformations. Presenting impact analysis reports, interactive sequencing and visualizations to map transformations onto timelines, and roadmaps tied to projects and epics, the upcoming module is set to improve all aspects of scenario planning for future-state architectures.
Microservices Intelligence (September 2020)
The introduction of Microservice Intelligence, the second of the three planned modules of the LeanIX Cloud Native Suite, is another example of LeanIX's commitment to optimizing customer cloud journeys. With functionality built specifically for more secure and efficient microservices portfolio management, the module will offer reports to review deployment landscapes filtered according to application criticality and individual business services and policies. Alongside integrations to Kubernetes, Jenkins, and Snyk, Microservices Intelligence will allow users ranging from EAs to DevOps engineers to run state-of-the-art infrastructure platforms with more flexibility.
Mike Kowalsky, Enterprise Architect, Dana-Farber Cancer Institute
"Learning to Stand Up Your EA Practice"
Live from Boston, U.S.A.
#EnterpriseArchitecture needs to prove its value to earn the right for a seat at the table," Mike Kowalsky of @DanaFarber #EAConnectDay pic.twitter.com/tcARzgsuPJ

— LeanIX (@leanix_net) May 20, 2020
Speaking from Boston, Mike Kowalsky spoke on behalf of the Dana-Farber Cancer Institute — a facility housing 5,000+ staff, faculty, and clinicians performing cutting-edge research for new cancer therapies. Mike explained how Dana-Farber's EA program was born out of an attempt to connect the varying competencies of its organization's "informatics" group and document its capabilities. In an attempt to get this "big picture," Mike explained, the team began the labor-intensive process of interviewing, collecting, consolidating, and validating all IT entities — a project that eventually became unsustainable given the overwhelming inventory management and modeling requirements.
Dana-Farber needed a way to show all its capabilities within one interconnected map and produce useful views for its customers. They evaluated many solutions, but it was decided that LeanIX was what they needed — and thanks to the accelerated product onboarding and strategic alignments provided by the LeanIX Customer Success department, it was soon able to centralize information to accomplish the following:
Assess current states
Set and track goals to increase maturity
Communicate and expand the EA program throughout departments to improve strategizing
Provide impact analysis
All in all, Dana-Farber had everything in place for success, but what they needed was a dedicated solution to get them to the next level. Thanks to LeanIX, they obtained the resources to put goals in place to not only measure where the organization is but also visualize their future potential.
Amy Fenstermacher, Enterprise Architecture Co-Lead, Ernst & Young, LLP
"Making it Count: Driving Value with Enterprise Architecture"
Live from Arlington, U.S.A.
"Start with the future vision to narrow the scope of your #EntArch effort," Amy Fenstermacher, @EYnews #EAConnectDay

— LeanIX (@leanix_net) May 20, 2020
Have you heard any of these complaints about EA before?
"It's hard to prove the value of an investment in enterprise architecture."
"EA is theoretical and disconnected from the delivery of capabilities."
"EA isn't driving fundamental enterprise transformation."
So, how do you drive value for EA – and how do you even make stakeholders aware of this value? Amy Fenstermacher, EA Co-Lead at Ernst & Young, LLP, offered a five-point approach for doing so known as "C-O-U-N-T" (Continuous, Obvious, Useful, Novel, Tangible).
Continuous: Deliver value early and as often as possible. EA can't just be focused on documentation nor can it be about observing unseen future states. Stakeholders need something to change their realities right away.
Obvious: Speak to the business vision and needs; demonstrate clear business value; define the benefits and the outcomes of the EA program. Or, as Amy put it simply, "connect EA to dollars." The idea is continuously reinforce the relationship between EA and business strategy — show how EA feeds in the business transformation roadmap.
Useful: Make EA useful (which, in many cases, means choosing roadmaps over diagrams). Transformation roadmaps are the most important elements of an EA program. Every artifact in this roadmap should be related to the business vision. Key questions need to be: "Who needs this? What is this for?" Of note, every roadmap needs to be clearly differentiated to provide additional value for businesses.
Novel: Account for EA's future vision. Future-first architecture design is essential to creating markedly different and creative transformations that account for technological and even behavioral trends. This is a move away from the current state assessment, but to replace this, Amy suggests a micro-architecture-based approach to start with individual elements to tease out small examples of future-state advancements. One by one, buy-in after buy-in, Amy was able to flesh out abstractions and work her way up to the enterprise-level.
Tangible: Think strategically; act tactically. For Amy, this doesn't mean taking on engineering and developer tasks — it means being agile and anchoring requirements to the business itself and giving shape to an overall vision.
Christian Richter, SVP Customer Success, LeanIX
"LeanIX Runs LeanIX – Insights through Cloud Native Suite"
Live from Bonn, Germany
Visibility of deployed #microservices is key to prioritize actions, says @chri136 at our virtual #EAConnectDay. How are you keeping track of your microservice architecture? #EntArch #EAConnectDay #VEACD https://t.co/DYdWALnHvV pic.twitter.com/bTHCuP4l4h

— LeanIX (@leanix_net) May 20, 2020
From Bonn, Christian Richter, SVP Customer Success, LeanIX, offered insights on how LeanIX uses its very own software services to run its organization. Month to month, 1.5 million updates occur in LeanIX inventories globally, and since 2015, LeanIX has built a scalable microservices infrastructure to handle its own internal needs atop those of its customers. By the numbers, it looks like this:
Six product applications running on one platform
10 Kubernetes clusters across four regions
>30 microservices
Seven development teams in two locations
>65 engineers and product managers
To manage these environments, Christian explained how LeanIX's Cloud Native Suite (CNS) — a product that automates cloud asset inventorying and management — is used by LeanIX internally to improve client engagements and customer management. For example, by functioning as one central storage place for technical security information, LeanIX CNS makes key security information available to all stakeholders, streamlines the update of out-of-date cloud services, and maps cloud services to their corresponding business context.
"We believe in automated data scans when it comes to cloud management," said Christian. "We connect our own Cloud Native Suite to services like GitHub, Snyk, Kubernetes, Azure (via Cloudockit), and Zendesk — and we do this with a step-by-step, iterative process based on the following: Start small, create value, and enhance."
This process allows LeanIX to consistently evolve its platform while paying mind to business-relevant security violations and leveling balanced, data-driven decisions on IT costs across its fast-expanding distributed environment. Through LeanIX CNS, Christian and his team have the means to allocate the right internal resources to analyze all dependencies across LeanIX services to accelerate troubleshooting. Support teams can chart clear recommendations and then track their progress, and the platform allows a joint view for IT security and development engineers to work co-operatively on solutions. This same transparency is also applied to managing microservices deployments (all of which, by the way, seen alongside their associated business capabilities) and reviewing financial costs for their upkeep.
Kevin Redding, Associate Director, Enterprise Architecture, Digital Technology, Otis
"Optimizing EA Time To Value With LeanIX"
Live from Farmington, U.S.A.
By crowdsourcing its #EnterpriseArchitecture with LeanIX, the #1 tool built for collaboration, @OtisElevatorCo was able to leverage its teams with the support of LeanIX Professional Services and fast-track their EA maturity. #EAConnectDay

— LeanIX (@leanix_net) May 20, 2020
The digital technologies team at Otis, a global developer and manufacturer of elevators based in Farmington, Connecticut, accepted a unique challenge when transitioning to a stand-alone entity in April 2020: Build out, understand, and establish ownership over all its architectural dependencies in five weeks.
And to complicate matters, the project had to be done at the height of the COVID-19 pandemic.
Amazingly, Otis hit three of the nine LeanIX uses cases from Day One by crowdsourcing knowledge on the IT landscape from its employee network via LeanIX. Following a "five-week boot camp," Kevin explained how 30+ stakeholders and end users were immediately trained by representatives from the LeanIX Professional Services team on how to respond to inquiries, configure LeanIX workspaces, and organize data within LeanIX Fact Sheets.
They had no idea the success would happen so soon, but by the end of this period, the results for Otis were clear: (1) a significantly reduced time to EA maturity (66%!); (2) 30+ enabled stakeholders and LeanIX users; and (3) a LeanIX inventory of around 1000 LeanIX Fact Sheets.
Otis' keys to success:
"Stakeholders must understand and embrace the fact sheet model – everything is not an application"
"Embrace crowdsourcing – trust your people"
"Move fast but don't skip establishing the foundations before moving on"
"Collaborate and encourage innovation"
"Step away from the spreadsheet!"
Marcelo Menard, Global Enterprise Architecture Manager, Vale Industries
"From Projects to Products: Enabling Innovation and Transformation"
Live from Toronto, Canada
"As our #enterprisearchitecture practice has matured, stakeholders have gained a strategic seat at the table to influence innovation @valeglobal," says Marcelo Menard, Global EA Manager and LeanIX customer, at #EAConnectDay.

— LeanIX (@leanix_net) May 20, 2020
Marcelo started his presentation by explaining how Vale – the largest producer of iron ore and nickel in the world — has focused much of its technological capacity in the past three months on fighting COVID-19 and finding ways to keep its operations moving. To do so, they developed a series of applications (20+ products of various languages used in multiple locations) and are managing each using the LeanIX technology catalog.
This innovation is, of course, entirely consistent with Vale's long history of solution-building and agile IT management. To be specific, to ensure that its network of 150,000 IT employees sustain continuous value delivery and remove waste, Marcelo explained how Vale has been using LeanIX to routinely rationalize its business and IT processes via an "innovation network" consisting of:
Innovation Hubs for business connections, problem definitions, design thinking, collaboration.
Digital Labs for experimentation, greenhouse process, prototyping, envisioning, open innovation.
Advanced Insights Center for data science, algorithms, machine learning, advanced analytics.
Dev Centers and RPA for process automation, mobile dev apps, Agile and DevOps.
In the past, such movement was blockaded by silos, but with the introduction of architects at every line of its business, digital architecture management now reigns supreme at Vale and is responsible for generating data-driven repositories that provide:
Democratization of data/information.
Visibility and insights.
Systems of record.
Dynamic data-driven blueprints.
Collaborative, real-time design.
Simplified governance.
Phil Ziegler, Enterprise Business Architect, Atlassian
"M&A Acceleration: Using LeanIX to Accelerate our Integration Planning"
Live from San Francisco, U.S.A.
Phil Ziegler's strategy for successful IT M&A at @atlassian: "All applications should be roadmapped by Day 14, with their value realized by Day 90." #EAConnectDay pic.twitter.com/gDytDl4wao

— LeanIX (@leanix_net) May 20, 2020
How does Atlassian — the premiere provider of collaboration-based software for project management — utilize LeanIX? As subscribers to the OKR (Objectives and Key Results) goal-setting framework, Atlassian has a company goal to always realize the IT value of acquisitions in 90 days. From an EA standpoint, Phil explained that LeanIX is used to accelerate mergers and acquisitions in three ways:
"Take Stock": Get to know the acquired applications and the capabilities they enable.
Review due diligence documentation
Connect with internal partners to set expectations and gain shared understanding
Confirm ownership on both sides
To do so, Atlassian creates a LeanIX User Group for the newly acquired entity, creates Fact Sheets for all acquired applications and corresponding vendors (i.e.,Providers), and then maps all applications to relevant business capabilities.
"Determine Disposition": Analyze each application and identify the best path forward.
Whether to retain or retire applications
To determine if an application becomes retained, the application is reviewed to see if it provides a new capability or addresses a current gap.
To determine an application becomes retired, the application is reviewed to see if it can be replaced with an Atlassian Standard Application or migrated to an Atlassian instance of the same application.
With LeanIX, Atlassian sets subscriptions for relevant architect(s) based on capabilities and applies a custom tag group to the application (e.g., "retire"; "retain") and then updates successor fields within target state application Fact Sheets and reviews all within the LeanIX Application Landscape report.
"Prioritize & Execute": Mobilize teams to rationalize applications to maximize value realization
The "Active" stage of an application begins once an acquisition deal is announced
The "Phase Out" phase is based on:

Contract Dates
Operational Costs/Impact
Potential Risk

Interdependencies/Sequencing
The "End of Life" phase begins whenever the application has been fully decommissioned and contract has been terminated.
Phil and his teams at Atlassian rely heavily on the information on service lifecycles that can be embedded into LeanIX Fact Sheets and couple this information with both the LeanIX Application Landscape Heatmap and the LeanIX Application Roadmap report.
And that's a wrap! We're proud to have hosted our first virtual conference and hope to see you at our hybrid event in Bonn, Germany. We'll be hosting EA Connect Days in Bonn on September 2-3 on-site as well as simulcasting the event.