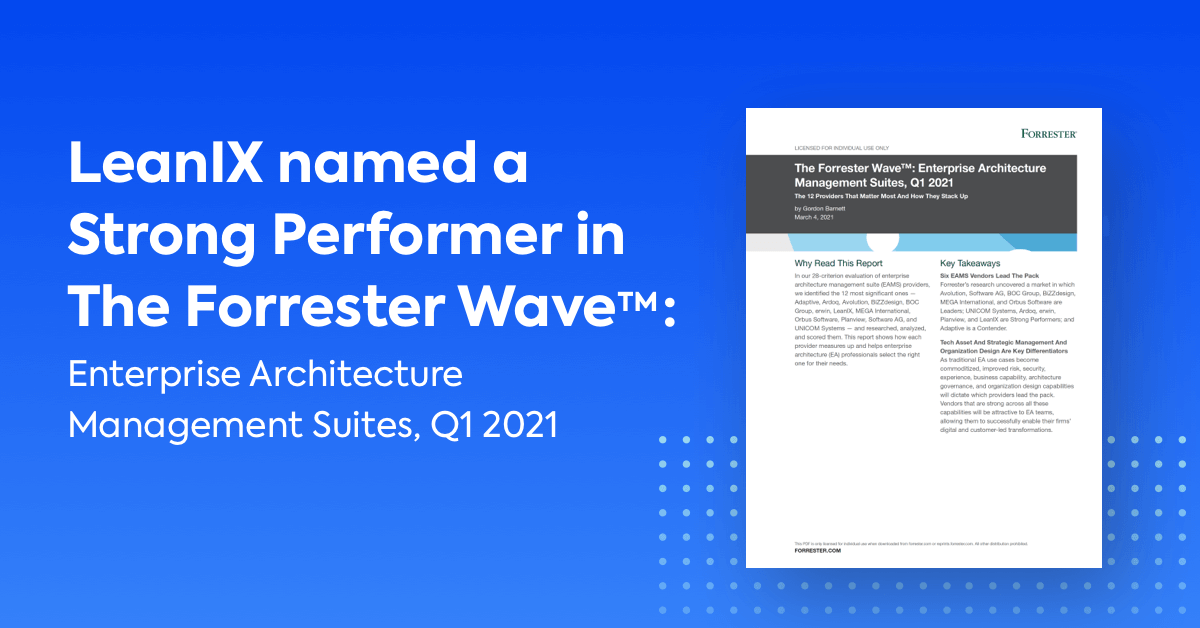 Enterprises on journeys of continuous transformation need to keep track of what's coming from the market of enterprise architecture (EA) management suites. A great report for seeing which top EA solutions are available to support digital strategies is the recently released report, The Forrester Wave™: Enterprise Architecture Management Suites, Q1 2021 authored by Gordon Barnett. Inside the report, LeanIX is named a Strong Performer within this dynamic and ever-expanding field.
[Download a complimentary copy of the Q1 2021 Forrester Wave]
The Forrester Wave cites LeanIX's strengths in business capability and experience architecture management and client references noted its end-user-friendly offering. The report also states that LeanIX's focus on "just enough architecture" and "simplicity" can meet most EA professionals' needs.
"Like most technology leaders, I do not see digital transformation as a one-time event," said André Christ, CEO and Co-founder of LeanIX. "Innovation lifecycles are shorter than ever before, and this is why it's important to carefully evaluate EA tools like LeanIX alongside other functionality to sustain IT and DevOps practices in such fast-moving environments. Knowing what's offered in this competitive market and the future visions of technology vendors is a crucial step in the continuous transformation journey."
End-user-friendly offering
Since LeanIX's EA repository is designed to be maintained and accessed by an unlimited number of cross-functional colleagues, emphasis is placed on ensuring ease-of-use when navigating workspaces.
Users can customize LeanIX's data model to fit precise company requirements, and built-in guides are available to onboard new users and let them complete tasks independently.
Collaborative mechanisms like surveys and completeness scores are key features for letting business and IT stakeholders contribute unique viewpoints.
Business capability and experience architecture management
LeanIX provides advanced options for modeling business capabilities and tracking the maturity of essential company services. Changes to business capabilities can be seen over time and segmented according to user-defined metrics.
Using the LeanIX Business Transformation Management (BTM) module, iterative changes to business capabilities can be monitored in the context of overarching transformation initiatives.
LeanIX's flexible data model similarly allows users to adopt and map user groups, processes, projects, and IT components to personas, customer journey maps, and customer experience and EA initiatives.
Usage across industries and regions
Companies throughout industries use LeanIX to move from on-premises to cloud-native and microservices environments.
Though it has a particularly strong presence within the EMEA and US + CA regions, it is used worldwide by 350+ global brands plus a wide network of partners.
LeanIX is based in Germany and has offices in the USA, India, and Netherlands.
About LeanIX
The LeanIX platform promotes continuous transformation and enables internal IT and DevOps teams to establish superior governance while efficiently organizing, planning, and managing IT landscapes. LeanIX follows a collaborative and data-driven approach, focusing on speed and control in cloud environments and enabling companies to make sound and fast decisions based on comprehensive data.
More than 380 enterprises including adidas, DHL, Merck and Volkswagen trust in LeanIX, and more than 40 certified partners such as Deloitte and PwC rely on the dynamically growing IT company co-founded in 2012 by CEO André Christ.
With EA Connect Days, LeanIX has been regularly organizing one of the world's most important industry events in the field of Enterprise Architecture since 2014. The company is headquartered in Bonn, Germany with additional offices in Boston, Massachusetts; Munich, Germany; Utrecht, Netherlands; and Hyderabad, India. It has more than 300 employees worldwide.