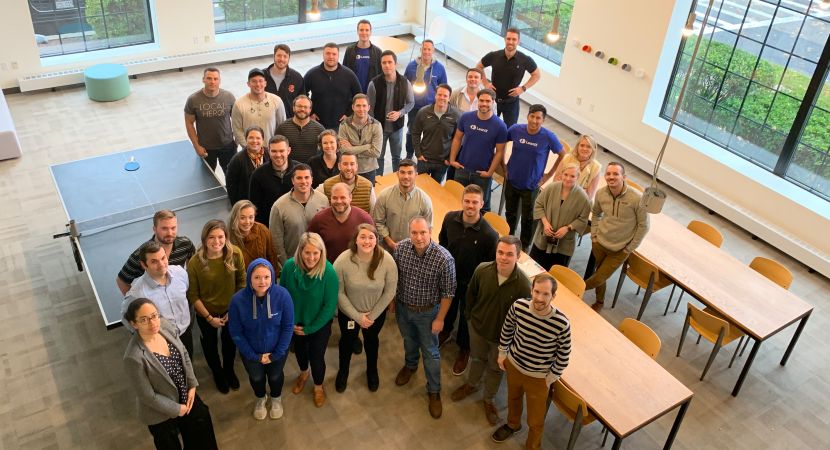 We're thrilled to be included in Built In Boston's 2020 list of 'Best Places to Work.' It's an amazing way to start off the new year!
When we entered 2019, LeanIX, Inc. was 13 people strong and had aggressive goals to contribute to the company's objective of hypergrowth across many areas of its business. As LeanIX's HR representative for the U.S., the majority of my year was focused on retaining top talent and searching for driven employees that were passionate about joining our team, our products and working to expand LeanIX's market reach, customer base and overall revenues. Throughout the year we hired 34 new employees and have maintained a retention rate of 92%. We moved from our small WeWork offices in late October to our spacious home in Watertown, MA. It's an exciting testament to our employees' hard work and success, as well as the growth that the company experienced in the past year. We expect to see this again in 2020 and beyond.
Partnership with Built In Boston
Our partnership with Built In Boston started in early 2019 and has provided LeanIX a platform for showcasing its most relevant company news, perks and benefits—the likes of which directly led to a number of team hires. Being featured on Built in Boston's 2020 list of Best Places to Work in Boston is an incredible way to begin this year, serving as another example of the company's successful growth to date as well as an additional driver to continue making LeanIX, Inc. a place where the Boston area's best candidates strive to work.
"The innovation we enable with our enterprise architecture and cloud governance solution is just one half of the LeanIX company mission," said Hylton Southey, U.S. Managing Director for LeanIX, Inc. "Success for us is equally determined by guaranteeing employees a challenging yet rewarding career path in an inclusive workplace. This distinction from Built In Boston now validates our efforts."
Built In Boston selects companies to be featured on this list based on their scores in a number of different categories that are important to today's candidates such as employee benefits and compensation data. The recognition will help us remain competitive in the ever-growing Boston tech scene and will be one of the catalysts needed to allow the U.S. team to reach its hiring goal of 70% growth over the course of this year.
Of course, a company and its product can only be successful when backed by a team of dedicated and motivated employees. As a member of LeanIX's human resources team, it's encouraging to see firsthand the company's commitment to investing in and developing its people, in turn creating an incredible place to work full of dynamism and opportunities for growth. We certainly love our ping pong table and the cold brew on tap, but it's truly the people in the office, day in and day out, who make LeanIX the best place to work.
If you're interested in learning more about the many career opportunities available at LeanIX, check out our careers page or the Built in Boston site.