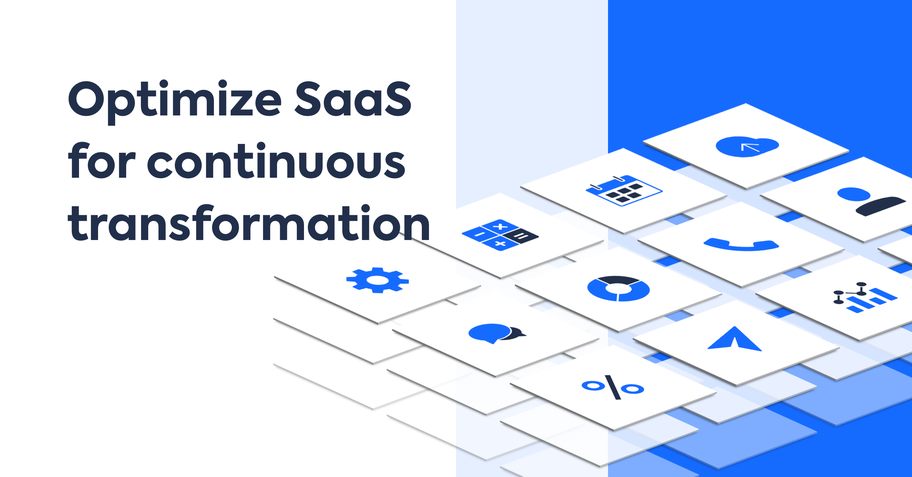 Even when it comes to SaaS, sometimes there is such a thing … as too much of a good thing.
That's why LeanIX is offering a complimentary in-depth guidebook outlining ways organizations can reduce costs, mitigate risk, and gain control of their SaaS application sprawl – SaaS Management: The definitive guide for IT and finance leaders.
Here's a peek into the book that offers a timely look at a big challenge organizations are facing today: how to control their SaaS ecosystems in an objective manner while meeting their business needs.
To be clear, SaaS allows companies to economically lease an array of innovative software applications at scale. Leasing a software at scale vs. building or owning it is a compelling proposition – at least in theory.
With the addition of autonomous technologies including bots, AI, and analytics – SaaS will guide 80% of sales functions. Research finds not only that emerging technologies will double worker productivity and drive even greater investment in SaaS, but also that the software development community will expand tenfold and become 400% more productive due to tooling-focused development methodologies such as Agile and DevOps, leading to an expanded menu of new apps in the next few years.
All thanks to SaaS, in one way or another. But what's the catch?
Taking the world by S(aa)Storm
It's an understatement to say SaaS has become a dominant force in modern enterprise IT architecture.
With an accelerating delivery of applications in the cloud in large enterprises, there are an estimated 11,000 SaaS companies worldwide – and 7,000 solutions in the marketing industry alone. SaaS revenue exceeded $100 billion last year, and it's predicted that 80% of software will be SaaS by 2030.
Gartner reports worldwide annual IT spending of $4 trillion, an increase of 3.4% from 2019, of which SaaS represents a growing portion. It is expected to account for $105 billion in total revenues this year, and to generate $141 billion in 2022.
Too much SaaS, too little time
An estimated 30% to 40% of SaaS spend is wasted in the form of duplicative applications (28%), under-utilization (25%), and unused subscriptions (47%). Indeed, many IT leaders believe their companies are over-licensed – particularly with core tools like Salesforce, Microsoft 365, and Zoom.
Enterprise customers face various issues that have increased the challenge of handling the SaaS landscape – including an increasing number of IT applications and the accompanying shift to the cloud, new agile working methods, and decentralized DevOps teams that result in the creation of an environment containing multiple ecosystems without clear visibility across them to aid in management.
The crux of the matter: IT leaders generally lack sufficient methods to analyze tool usage and instead generally depend on reports provided by vendors to do so.
Since SaaS is usually licensed on a per-user, per-month basis – without consideration of actual usage – it's up to the buyer to ensure value is maintained. Not only is up to 40% of enterprise technology funding now spent outside IT's purview, but there's a lack of visibility into the SaaS application usage.
If you can see it, you can manage it
Runaway SaaS may seem frightening – until you shine a light on it.
But here's the challenge.
The ITAM Review poses the critical question: "How do you inventory an application that isn't installed and may not even be authenticated to your corporate directory? And how do you discover SaaS applications which have been brought into the organization without IT involvement?"
That's where the LeanIX SaaS management guidebook comes into play. The guide lays out LeanIX's criteria for evaluating existing SaaS applications using a framework – for discovery, monitoring and decision making – all to provide a roadmap for long-term success that includes:
SaaS discovery – determine what SaaS applications are in use, who owns them, and what the company is obligated to pay for on an ongoing basis
Rationalizing redundancies – evaluate what software is needed, by whom, and for how long
Optimizing spend – make empirical decisions and fine-tune license assignments or redeployments based on business needs
Monitoring usage – control the SaaS experience by measuring utilization and providing usage accountability, allowing IT to maintain control in a scalable way as the organization grows
Managing renewals – use usage trends to drive a three-part decision process (renew, sunset, or upgrade/downgrade) and determine the best course of action
SaaS security – determine what users own, who has access to services and data, and whether vendors are compliant with internal policies and regulations (e.g., SOC 2, GDPR, and PCI-DSS)
SaaS is a good thing – just not too much of it.

Fortune 500 companies each have anywhere from 500 to 1,000 cloud applications in use. In fact, Oracle findings suggest that by 2025, up to 90% of all manual IT operations and data-management tasks will be automated by software.

SaaS is a key component of continuous transformation strategies. Forrester reports that 57% of global services decision-makers said they invest, or plan to invest, in SaaS as part of their organization's digital transformation strategy.

It's the perfect time to make SaaS management a part of your plan.

Download the Guidebook

to learn more.