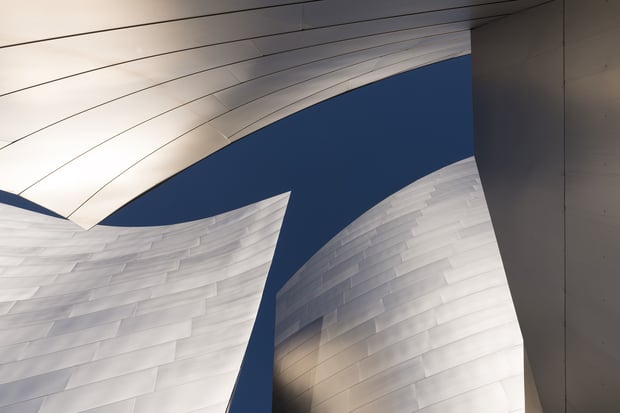 Integration Architecture is a core use case of LeanIX, and as discussed already in recent blog posts, the API economy and cloud-based migration strategies have necessitated that Enterprise Architects use data-driven methods to carry out its practices in real-time degrees of certainty.
This post will continue the conversation while focusing on another specific aspect of how tools like LeanIX support the performance of Integration Architecture: answering key questions for CIOs, Business Partners and Operations.
Of note, this piece is based on a presentation at the 2019 US EA Connect Day by LeanIX's VP Customer Success, Christian Richter.
[For Context: Best Practices to Creating Interfaces and Modeling APIs in LeanIX]
How are applications interconnected?
What is preventing the phase-outs of applications?
How Integration Architecture with LeanIX can help:
Networks of applications and their shared interfaces can be analyzed using a combination of two out-of-the-box LeanIX Reports: the (1) Interface Circle Map and (2) Data Flow Visualizer.
Interface Circle Map
A LeanIX Interface Circle Map offers Enterprise Architects and their CIOs filtered overviews of interface clusters throughout application networks. Its purpose is to reveal, in quick and accessible ways, all complications related to service lifecycle phase-outs by mapping both "Provided" and "Consumed" interfaces. For deeper insights, the Interface Circle Map can also separate interfaces according to their business functions (discussed in more below).
Data Flow Visualizer
Enterprise Architects can give detailed walkthroughs on integration patterns to CIOs, or work collaboratively by their side, using the LeanIX Data Flow Visualizer. A Data Flow Visualizer can incorporate modeling data for every planned, active and inactive interface while illustrating where/how/and at which frequency their data travels across application landscapes. Further, in a mechanism similar to the complementary LeanIX Free Draw Visualizer, all Visualizer diagrams can be color-coded and re-sized to stakeholder preferences.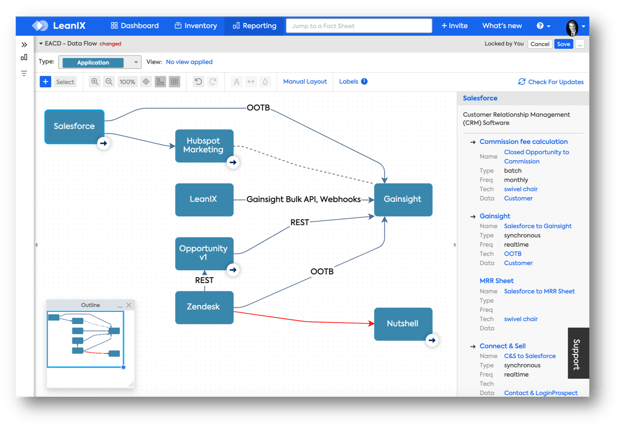 Key Questions from Business Partners on Integration Architecture
What impact will a failing integration have on business?
Which applications handle critical/personal data?
How Integration Architecture with LeanIX can help:
LeanIX is an EA Management tool designed to unify the shared needs of IT and Business. As such, in addition to the aforementioned Data Flow Visualizer, a mixture of the following LeanIX "Heat Maps" Reports can be used interchangeably to generate business-specific insights into IT portfolios: the (1) Application Landscape Report and (2) Application Sourcing Report.
Available in every LeanIX edition, an Application Landscape Report can isolate all applications in an IT Portfolio marked as handling critical data. These applications can additionally be seen according to the User Groups who work with this sensitive information, and if filtered by Business Criticality ("Administrative service"; "Business operational"; "Mission critical") and Technical ("Inappropriate" > "Fully appropriate") or Functional Fit ("Unreasonable" > "Perfect"), Enterprise Architects can easily spot risks to their business.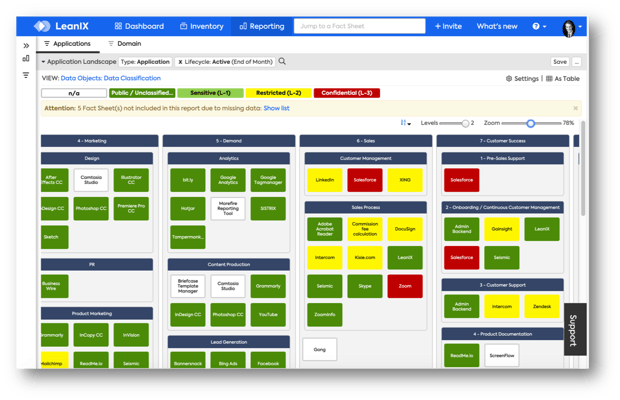 Vulnerabilities to applications integral for transmitting customer data can be reviewed in a Data Flow Visualizer. If using Salesforce as an example, Enterprise Architects can insert the application's "Fact Sheet" (i.e., the individual cards which store application data) on the Visualizer's canvas and then expand its contents automatically to see its corresponding dependencies and thus the ways in which its phase-out might adversely affect business services (e.g., lead generation conducted through Hubspot Marketing).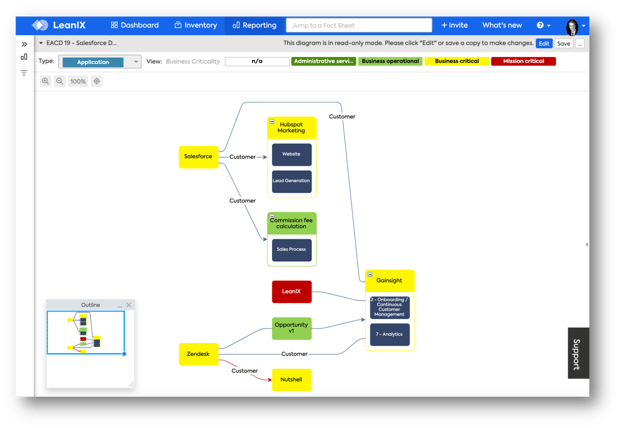 Multi-national companies store confidential information in various locations worldwide—a complexity leaving businesses susceptible to geopolitical turbulence. If needed, Enterprise Architects and their business colleagues can turn to LeanIX's Application Sourcing Map for clarity into where sensitive data objects like employee information is hosted to discuss alternative locations.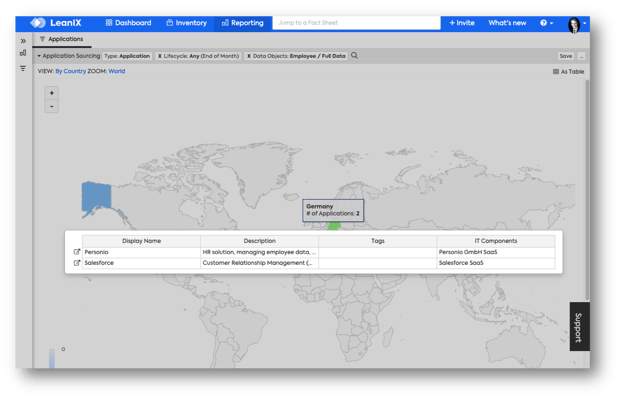 Key Questions from Operations on Integration Architecture
How reliable are integrations?
What is the context of Enterprise and Solution Architecture for integrations?
How Integration Architecture with LeanIX can help:
LeanIX gives operations personnel the real-time information and the practical communication methods they require to manage and discuss the performances of interfaces. In particular, operations teams can complete team-based analysis on integrations with the following: (1) KPI-based interface metrics and (2) the LeanIX-Confluence integration.
Interface Metrics
Interfaces comprise one of the ten core elements of the LeanIX data model, and insights into each can be accessed within each corresponding Fact Sheet and then observed via built-in and/or custom-made KPI-based evaluation reports. Data points like interface run- or down-times and mapping event history allows operations to create assessments into the value of interfaces and execute measured decisions accordingly.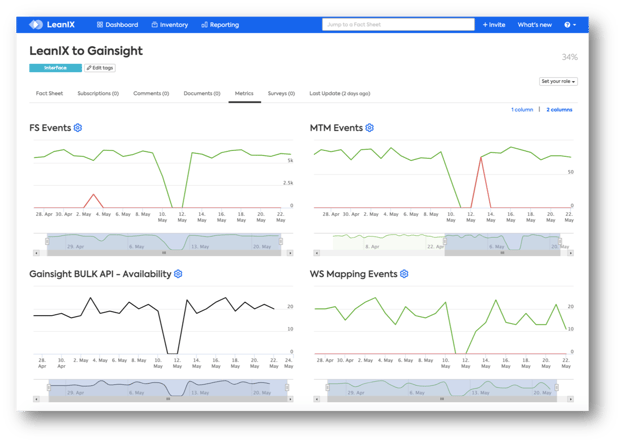 Evaluations into interfaces by Enterprise Architects and their operations peers can be discussed in detail—and collaboratively reviewed with the exact same live data—inside Confluence reports thanks to its integration with LeanIX. Functioning as an intelligent communications platform, LeanIX reports and integration models can be transferred directly to Confluence pages and then interacted with as if still inside the EA Management tool. All of which to increase the possibilities for meaningful architectural discussions.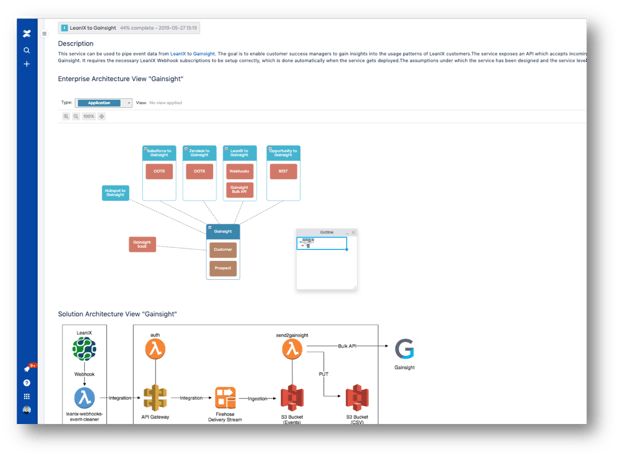 Further Resources:
Christian Richter refers to LeanIX's modern brand of Integration Architecture Management as an increase in professionalism. And if quickly re-capping the tool's relevance for Enterprise Architects directing Integration Architecture efforts, there is little doubt that CIOs and Business Partners and Operations Teams can benefit from the following:
A single source-of-truth that offers full transparency into the integrations of applications and all dependencies throughout IT portfolios;
Real-time analytics to analyze/improve the performance and availability of integrations; and
Collaborative workflows that incorporate company-wide expertise while ensuring long-term data quality.
And for more information on Integration Architecture with LeanIX, here is a collection of relevant blogs and white papers and other materials: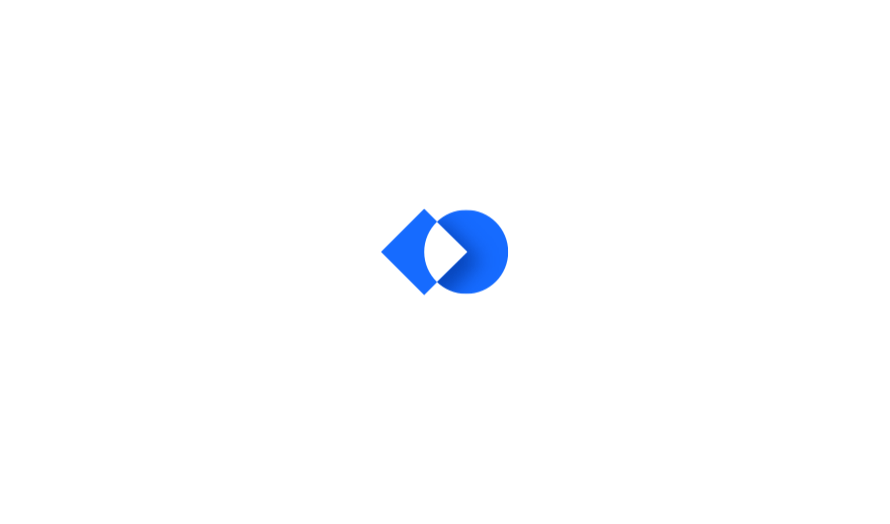 LeanIX offers a Software-as-a-Service (SaaS) for Enterprise Architecture (EA) that enables organizations to make faster, data-driven decisions for their IT landscape. More than 180 leading brands worldwide such as DHL, Merck, Vodafone and Zalando use the innovative tool. Users of LeanIX gain insights on how to organize and leverage their IT landscape to increase competitiveness and innovation going forward. LeanIX addresses the common enterprise predicament that information regarding IT landscapes is missing, outdated or difficult to analyze. LeanIX's central office is in Bonn, Germany.