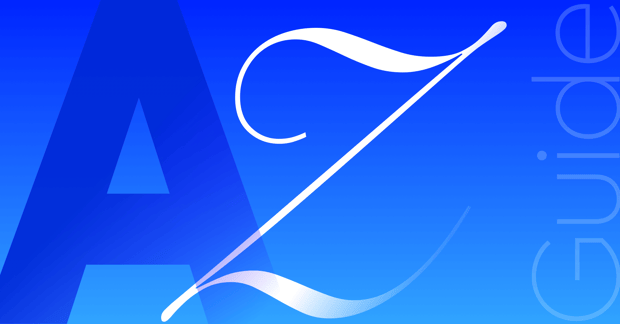 Large enterprises use upwards of 650 software applications to operate, and the largest 10% use an astounding 3400. The size and scope of today's average enterprise tech stack have far outgrown any manual processes used to manage the stack. Organizations must learn how to reduce software complexity using modern tools, high levels of automation, and a data-driven approach.
A well-executed enterprise architecture strategy sets the foundation for doing all of the above, and an EAM platform is key to that strategy's success.
The right EAM platform powers important capabilities for optimizing your software stack, maintaining quality data, reducing risk, and democratizing the value of enterprise architecture across the organization.
In the sections that follow, we'll explore 6 actionable ways you can leverage EAM tools (like LeanIX) to reduce software complexity in your company and connect enterprise architecture to tangible, impactful business results.
Quick Takeaways
As organizations accrue higher costs and technical debt, their ability to deliver value significantly decreases.
Visual representations of your IT landscape (such as current state architecture maps and application landscape reports) drive understanding with non-technical audiences.
Surveys and reports in an EAM platform are instrumental to maintaining compliance across software systems.
Reducing the number of software suppliers in your stack can reduce total TCO by 25%.
The Cost of Complex Software Stacks
We know that software stacks today are larger than ever and inevitably complex — but why exactly is this such a problem?
In short: Software complexity increases costs while reducing efficiency and getting in the way of your ability to deliver quality end-user experiences. When you fail to optimize your software stack, leaving obsolete, duplicate, or otherwise inessential systems in place, you raise the total cost of IT ownership without realizing any benefits from that ongoing investment.
One result of this neglect is compounding technical debt – which McKinsey characterizes as "lost opportunities and excess costs due to technology inefficiencies causes by past decisions" – that eventually slows down your entire operation. McKinsey refers to this slowing down as a "complexity tax."
While every company inevitably has some technical debt, leaving it unchecked means your ability to deliver value will steadily decline. And the longer the problem persists, the more difficult it is to eliminate it.
This is the unfortunate situation many companies are now experiencing. The pandemic spurred a massive increase in technology investment over a short period of time, a surefire recipe for the accumulation of technical debt. Now companies must double their efforts to take the problem in hand. Unfortunately, the magnitude of the problem means that manual methods for doing so are simply not up to the task.
To truly make headway and see real results, companies need a technology-driven strategy that automates and centralizes their efforts. An enterprise architecture management platform is one powerful tool uniquely fit to purpose when it comes to taming software complexity.
How to Reduce Software Complexity with EAM
Map your current state architecture
You can't get anywhere without first knowing where you are — or at least that's the thinking behind knowing your current state architecture. By definition, your current state architecture describes every component of your IT infrastructure and maps all relevant relationships, dependencies, and capabilities.
Current state architectures are typically represented visually. Think of this visualization as a single snapshot of every technology-related process and tool that your company depends on.
Developing a meaningful representation of your current state architecture is a necessary starting point for reducing software complexity because it shows you what you're working with. It puts everything in one place so you can understand the full scope of what you're dealing with.
Rationalize your applications
Once you've mapped the current state, you may notice a few things. First, you may have multiple applications supporting one particular business capability. At the same time, you may discover that you have applications which don't support any particular capability. Rationalizing your applications means getting rid of duplicates and retiring applications than no longer serve your. purposes.
You'll want to utilize the application portfolio management (APM) module of your EAM platform to tackle this problem. It will allow you to make informed decisions about which applications should be kept active, retired, updated, or consolidated. It will also help you map out the implications of these decisions on related systems and applications.
LeanIX research has found that ongoing APM can result in cost savings up to a staggering $2 million in a single enterprise.
Assess and consolidate vendors
One of the insights you can extract from your current state architecture and APM efforts is an overview of your vendor relationships — how many vendors you work with, number of license agreements, cost information, and more.
Reducing the number of suppliers work with can reduce your overall TCO by around 25% and reduce complexities related to integration and system compatibility. In addition, having a full picture of all the services provided by a specific vendor can help you renegotiate and right-size your contracts with them.
Monitor obsolescence risk
Obsolete software applications (and those at risk of becoming so) lead to millions of wasted dollars for enterprises, not to mention lower productivity and higher risk for data loss, outages, and security breaches.
But monitoring obsolescence is one of those things that gets lost in large application portfolios that are seemingly too difficult to navigate. Application landscape monitoring is the antidote to this issue.
In the LeanIX platform, for example, an Application Landscape Report offering an overview of obsolete technologies, will help you identify risks due to end-of-life technologies and show you a color-coded map meant to guide software decisions.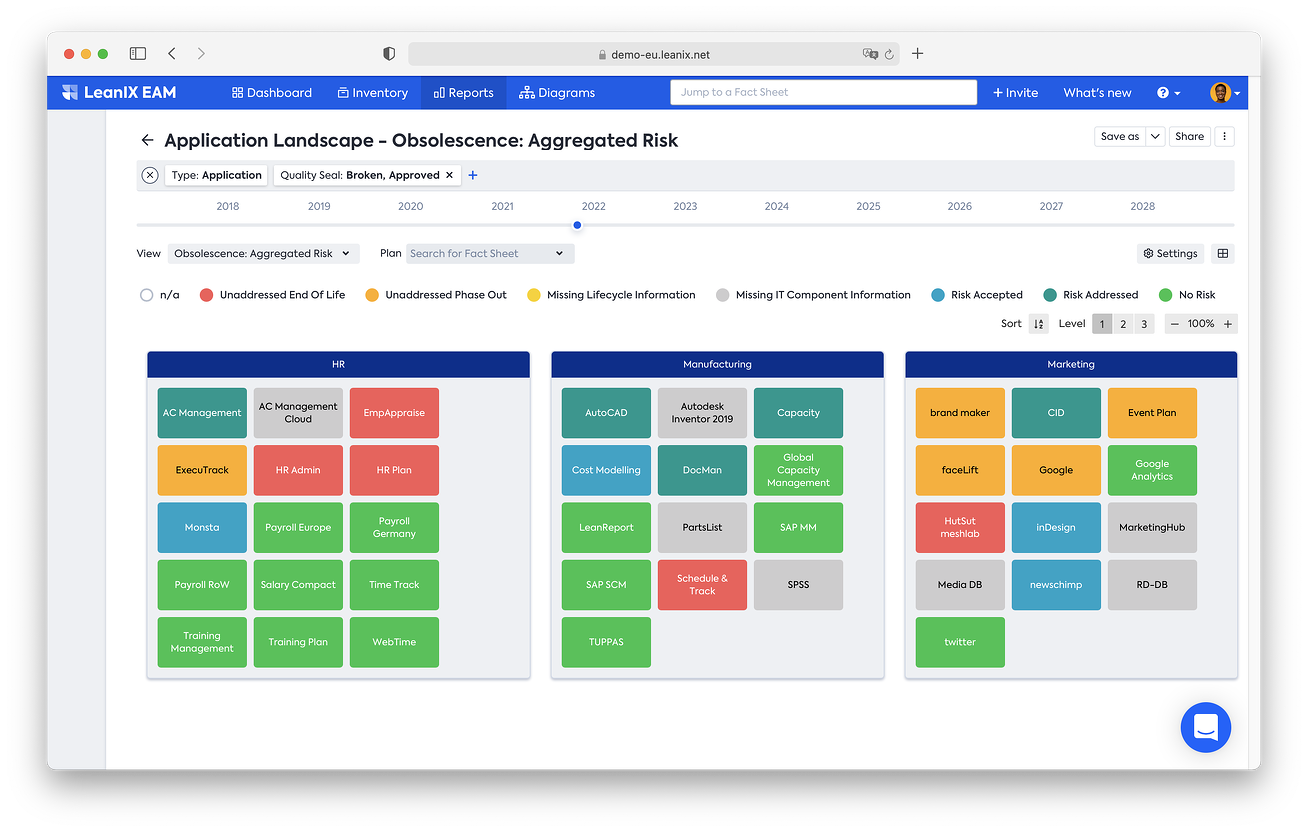 An Application Landscape Report in LeanIX EAM showing obsolescence risk for current applications.
Simplify and maintain compliance
Compliance demands add another level of complexity to software stacks beyond size and scope. The rise of big data and simultaneous emergence of data privacy laws has propelled compliance to the top of the priority list even for companies not operating in highly regulated fields. It takes effort to monitor and ensure compliance, but it's worth the time investment — experts agree that the cost of non-compliance is 2.5X higher than the cost of maintaining it.
LeanIX provides a survey tool for users that helps them easily collect compliance data and ensure alignment with compliance standards company-wide. These surveys can be used to ensure all employees and stakeholders maintain up-to-date information and appropriate standards for managing sensitive data.
Create usable resources
In the end, your ability to reduce software complexity depends on the active participation of stakeholders across the organization. You need application owners, business leaders, and other users to share data and get on board with the inevitable changes that accompany any effort to optimize your application landscape.
Data visualization tools in the LeanIX platform can go a long way in building understanding and buy-in from non-technical stakeholders. Some visualizations we have already mentioned, like current state architecture representations and application landscape maps. Others such as business capability maps and enterprise roadmaps can be effective for highlighting opportunities for improvement and helping people see the ROI of efforts to reduce software complexity.
Maintain Results for the Long-Term
Reducing software complexity isn't a one time project — it's an ongoing process that requires collaboration and effort across the entire organization. EAM platforms like LeanIX make it easier to drive these initiatives with user-friendly interfaces and a single source of truth that keeps all stakeholders informed of the benefits these efforts bring.
Contact us today to learn more about how LeanIX can help you transform your organization.