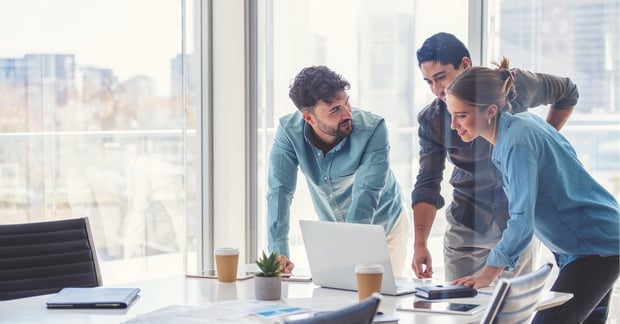 Continuous transformation is (rightfully) becoming a primary focus for enterprise companies. These past few years have taught us that organizations need to establish a culture capable of constant change. But, should this focus on change mean you neglect your current state architecture? Of course not. Unfortunately, far too many companies make this costly mistake.
Current state architectures — even when they are in need of transformative change — are made up of business assets that should be visible and optimized at all times. To achieve the right level of visibility and optimization, companies need a solution that enables cross-organizational collaboration through real-time updates and interfaces accessible by stakeholders across departments functions.
In the sections that follow, we'll describe 5 actionable ways to get the most from your current state architecture while also identifying opportunities for continuous improvement and growth.
Quick Takeaways
Developing a current state architecture map is a best-practice starting point for transformative change initiatives.
Application portfolio management methods – such as application rationalization and business capability mapping – inform better understanding of current state architecture and drive successful movement toward target states.
Business capability models uncover opportunities to optimize your current state architecture by connecting applications to business processes and goals.
Tech stack optimization is easier to achieve with high levels of current state architecture visibility.
Shared responsibility for maintaining an accurate current state architecture creates a data-driven culture and demonstrates EA-related business value across the enterprise.
What is current state architecture?
Your current state architecture encompasses all of the processes and tools your business has in place to deliver products and services that excite your customers. It includes:
Business processes - Flow of tasks and activities that occur to accomplish key functions in each department
IT operating environments - Cloud, on-premise, and/or hybrid infrastructures
Applications - Software applications implemented to support business processes

Other tech stack components

- Programming tools, APIs, databases, etc.
Current state architectures are best represented visually to demonstrate the dependencies and other relationships between their various parts. Below is a framework for what such a visualization might look like: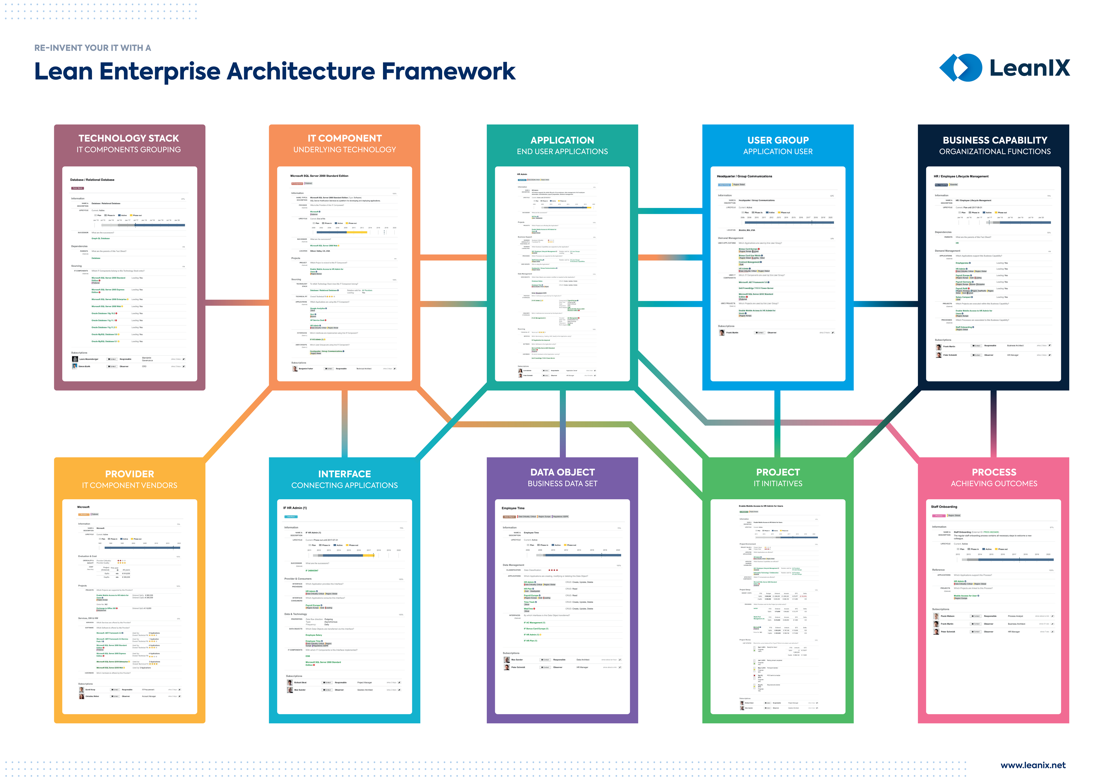 Image source: Target Architecture - The Definitive Guide
Developing a current state architecture map is the best starting point for transformative change — for example, cloud migration or implementation of a new EA strategy.
When maintained in real-time on a continual basis, such a map can provide ongoing benefit in numerous use cases. It can, for example, be a valuable informational resource, lead to better tech stack optimization, and serve as a single source of truth for stakeholders across your organization.
5 Ways to Get the Most Out of Your Current State Architecture
Practice consistent application portfolio management (APM)
APM helps companies govern and optimize inventories of software applications to achieve business objectives. At the most basic level, APM is used to map how applications relate to business capabilities as well as processes. It informs smarter decisions in everything from IT financial investment and business function support, to application access.
APM is also key to understanding your current state architecture and continually moving it to new target states. When you implement an EA platform solution like LeanIX, you gain access to modules that help you automate and visualize the APM process.
Leverage business capability mapping
Business capabilities cover what a business needs to do in order to meet its operating needs and business goals. They define the "what" rather than the "how," meaning that capabilities themselves typically don't change much over time. What does change are the people, processes, and technologies used to support any single business capability.
Business capability modeling connects your capabilities to the actual components of your current state architecture that your business uses (in other words, the "how"). There are four steps IT teams should follow to create a useful business capability model:
Understand the company's goals - To be effective, IT must have a solid grasp of the larger goals and intended direction of the business.
Define capabilities - Identify critical business capabilities by department.
Assess capabilities - Analyze capabilities to understand which are most financially impactful and deliver the most value to the customer.
Link capabilities to applications - Connect each business capability to the components of your tech stack and the underlying enterprise architecture.

Image source: The Definitive Guide to Business Capabilities
A complete business capability model shows you how you're utilizing your entire current state architecture and uncovers areas where you can optimize it further.
Identify gaps and integration opportunities
With APM and business capability modeling in place, you can actively identify gaps and integration opportunities to help you get the most out of your current state architecture.
Building processes for assessing these opportunities into your EA strategy is critical. Typical methods include regular review of your EA landscape visualizations and talking with stakeholders across the organization to understand how the current IT infrastructure supports their needs (or doesn't).
Integration can result in measurable benefits like cost savings, streamlined processes, and more consistent end-user experiences.
Optimize your tech stack usage
Mapping your current state architecture connects the dots between applications, owners, and users. With this information, you can understand use cases, evaluate usage capacity, and identify opportunities for maximizing ROI from the applications and licenses you pay for. Optimizing your tech stack in this way drives spending efficiency and reduces the likelihood of duplicate applications.
Build a data-driven culture across the organization
When your current state architecture is accessible and visually represented, stakeholders across the enterprise get a tangible sense of its business value. This creates motivation to share data and contribute to a larger data-driven culture. CIOs and other business leaders can then make more informed decisions using both enterprise and granular data views.
Gartner refers to this data-driven culture as a model for shared responsibility — one in which EAs, data analytics teams, and other business managers collaborate to achieve business goals.
The Key Takeaway
Continuous transformation is at the top of most enterprise priority lists — but it shouldn't be prioritized at the expense of optimizing what you already have in place.
Knowing and leveraging your current state architecture not only drives immediate benefits like lower costs and process optimization, it also informs smarter transformation initiatives that build on existing assets and workflows.
In short: it doesn't have to be one or the other. With the right tools in place (such as LeanIX EAM), you can see your current and future state architectures and make the right decisions to benefit both.
Get the Most from Your Current State Architecture with LeanIX
LeanIX EAM provides the insight needed to optimize technology spend, make decisions, and manage change with an outcome-driven approach.
Learn more or schedule your demo today!