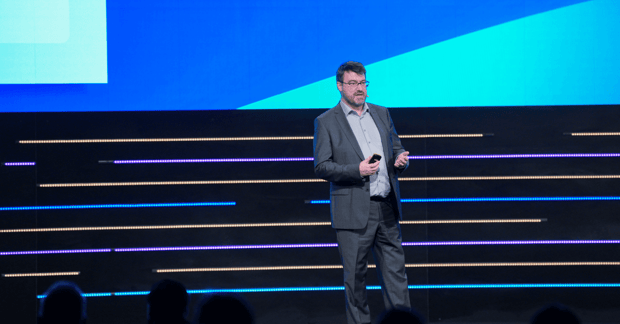 Salesforce recently spoke at our Connect summit on how grateful they were to LeanIX for showing them where to invest in their IT infrastructure to best support their strategic goals. Let's look back at what they had to say. Salesforce enterprise architect, Alex Znyk, gave a presentation at our Connect summit Europe 2023 about determining where to invest resource into your IT landscape. Alex credited LeanIX with showing Salesforce the way when it comes to tech investment.
He explained that the LeanIX Enterprise Architecture Management (EAM) platform empowered Salesforce to visualize and organize their project portfolio across multiple dimensions. He'd recommend our platform to anyone.
To see Alex' full presentation, and other highlights from this year's Connect summit Europe, register for video on demand:
Meanwhile, let's delve deeper into how Salesforce leverages the LeanIX platform to guide their investment into their application portfolio.
How Salesforce Deploys The LeanIX Platform
Taking to the stage at our Connect summit, Alex began by thanking LeanIX, as well as his own enterprise architecture team, for supporting Salesforce's efforts to visualize and organize their project portfolio across multiple dimensions.
Alex explained that it's key for Salesforce to capture the estimated benefits and costs of each project before a decision is made on whether to proceed. It's vital to have a single source of truth that can illustrate current-state data and the roadmap for the project.
This allows anyone in their organization to data-mine information on their application portfolio and validate project plans with real-time information. Democratizing data in this way empowers collaboration and change management with indisputable proof of value.
The power to synergize application rationalization efforts has accelerated Salesforce's project management to make the company more agile and responsive to change. This is particularly the case for the approval and prioritization of projects.
The BRICE Methodology For Project Approval
Alex explained that Salesforce makes assessments on project priority using the BRICE project management methodology. Much like the Gartner TIME methodology for application rationalization, BRICE gives you a series of metrics by which to assess your projects before making decisions on their future.
For more information about the Gartner TIME methodology, read:
Gartner TIME methodology for app rationalization
BRICE is an expansion of the original RICE metrics created by Sean McBride while he was working at Intercom. RICE offers four data points by which you can benchmark and compare the priority and complexity of any project.
RICE stands for:
Reach
The number of stakeholders affected by the project, either as a number or a scale from 1 to 100
Impact
The individual impact on each stakeholder, on a scale from 0 to 3
Confidence
How certain your project team are about their estimates for the impact of the project, as a percentage
Effort
How much work will be involved in completing the project, on a scale from 1 to 4
The 'B' in BRICE adds a fifth metric to this system:
Business Importance
How much will the project impact the strategic needs of the business as a whole, on a scale from 1 to 3 once again
Once you have these metrics, you perform a simple calculation to determine your BRICE score for the project:
B x R x I x C
_______________
E
By multiplying the first four metrics together and then dividing by the effort involved, you should end up with a figure determining how much value the project will achieve for the amount of work involved. The higher the final figure, the greater priority you should put on a project.
Using the LeanIX Enterprise Architecture Management (EAM) platform, Salesforce is able to visualize the BRICE score for each project. Each initiative is color-coded in the LeanIX interface to show priority.
Project Mapping Salesforce's Pipeline With LeanIX
Once Salesforce has entered its projects into the LeanIX Enterprise Architecture Management (EAM) platform and color-coded them by BRICE score, it's time to begin filling out a LeanIX Fact Sheet for each project. Each project Fact Sheet has a customizable field for items including:
Strategic objective
Business owner
Business capability
This allows projects to be analyzed on multiple dimensions and grouped according to any definable category. Salesforce is now empowered to visualize project data however they need to.
Alex explained that Salesforce began by using our out-of-the-box Fact Sheet template to log project information. However, over time, they refined and optimized the fields to their needs.
Rapidly, Salesforce learned how the LeanIX EAM works and adapted their workflows and processes to its best-practice example. This meant they could get the most out of the platform.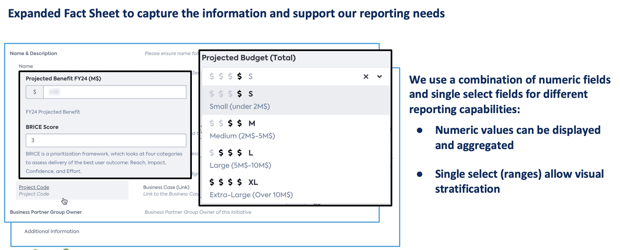 For example, within the LeanIX EAM, Salesforce created a customized categorization of projects by budget:
Small - under USD 2 million
Medium - USD 2-5 million
Large - USD 5-10 million
Extra large - over USD 10 million
In the system, this range is set up to show between one and four dollar sign icons for easy identification.
Alex also praised LeanIX' flexible fields, allowing them to hyperlink from the platform to their technical documentation and other sources. Collating a range of data points in one Fact Sheet makes the data scalable for any stakeholder to access at the depth they require.
How Salesforce Use LeanIX Dashboards To Support Strategic Decisions

It's one thing to supply a stream of raw data, even indexed and categorized, but it's quite another to offer real value. What stakeholders are looking for is the specific information they need in a simple, clear report.
In his presentation, Alex showed how Salesforce had moved on from the undefined data they initially entered into the LeanIX Enterprise Architecture Management (EAM) platform. They can now offer a series of streamlined reports that supply different stakeholders the exact data they need, to just the level of detail required.
In the LeanIX EAM, we call this "Collections". Using this feature, you can categorize reports into groups depending on user needs and requirements, making it easy for any user to find relevant reports to support any need.
On the macro scale, Alex illustrated Salesforce's color-coded landscape report, covering its entire project portfolio. This can be viewed at a high level with costs and benefits clearly visible, but then each individual project be drilled-down into for more information.
Each project Fact Sheet in the landscape is linked to other Fact Sheets to show correlation, and heatmaps help define key strategic objectives and dependencies. This means projects can be visualized across business units in a standard format that is easily readable for all users.
Finally, Alex explained that Salesforce then export data from LeanIX into Salesforce Tableau. Tableau is an advanced visualization tool that can create even more advanced graphs for stakeholders.
We're always keen to point out that LeanIX isn't a Swiss Army Knife. It's a single tool within your kit and we work to make sure our platform integrates easily into your other applications and tools.
How LeanIX Allows Salesforce To Prioritize
To summarize, Alex ended his presentation by repeating the benefits of the LeanIX Enterprise Architecture Management (EAM) platform for Salesforce: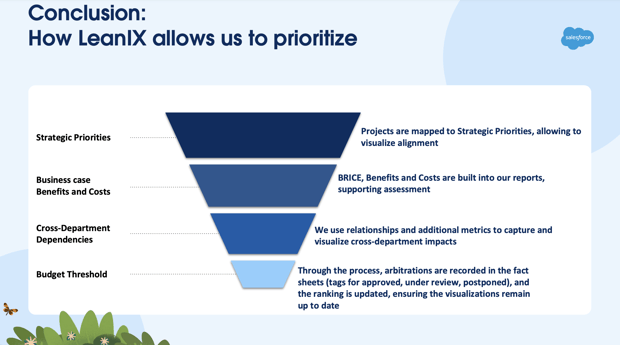 Projects are mapped to strategic priorities, visualizing alignment
BRICE, benefits and costs are built into reports, supporting assessment
Relationships and additional metrics capture and visualize cross-department impacts
Arbitrations are recorded in Fact Sheets and ranking updated to ensure visualizations remain current
Lastly, Alex explained that being a LeanIX customer has been a collaborative experience for Salesforce. Alex' team is constantly offering feedback on the LeanIX platform to help us improve and develop it to support best practice.
To find out more about how we work with our customers, read more success stories: