Enterprise Architects have begun the long goodbye of Windows 7. As anticipated, Microsoft is ending product support for the OS on January 14, 2020—a deadline whereupon all technical assistance and security updates particular to the version will be ceased. That is, unless businesses are willing to make payments.
What does the end of Windows 7 support mean for your enterprise?
Ever since Microsoft stopped creating new Windows 7 features back in 2015, Enterprise Architects have known they'd be called upon to plan a glitch-free and phased transition journey to protect their myriad of business services that run on the OS. Setting the scope of such a complex yet routine maintenance process entails a thorough inventorying/assessment of an IT landscape's as-is state—a requirement often entailing hundreds of Excel spreadsheets and hours of manual data modeling. For obvious reasons, this is not a scalable approach most businesses can take, so the aim of this blog post is to detail several of the ways LeanIX simplifies insights on end-of-life technology migrations via data-driven, automated features.
Here's why you should upgrade
Of primary concern is the fact that enterprises will no longer be hand-delivered custom security patches for Windows 7. More specifically, though enterprises will not be blocked from using the OS during its end of life, its continued use will come at an increased vulnerability to cyberattacks unless Extended Security Updates are purchased (at the following rumored prices and terms). And notwithstanding the fact that malware is proven to spread quicker on obsolete platforms, findings from SpiceWorks not only indicate that a third of enterprises still use Windows 7 but actually plan to continue doing so past the 2020 deadline.
All despite the following well-documented risks:
Inability to support business
Lower IT flexibility
Lack of skills and support from vendors
Compliance issues
Higher complexity
So, if it's lack of actionable transparency into IT landscapes that keep Enterprise Architects and their colleagues from doing the not-so-dirty work of upgrading items like Windows 7, here's a quick introduction to two LeanIX features—both of which can help in planning transitions by making all networks of dependencies in IT landscapes obvious to see and therefore correct.
LeanIX Heat Maps
LeanIX Heat Maps comprise a series of automated, out-of-the-box reports that use live inventory data to detail relationships between applications and other architectural objects like business capabilities, software/hardware platforms, and IT Components—all of which to offer insights to Enterprise Architects on digital transformations and product upgrades. Of note, the built-in Application Landscape and IT Component Landscape Reports can be configured to illustrate which Business Capabilities and IT applications throughout an operation rely on Microsoft products. Such views into the whereabouts of IT elements can also be configured to illustrate impending support deadlines (color-coded according to "Plan" > "Phase-in" > "Active" > "Phase out" > "End of life").
Heat Maps can accelerate the efforts of Enterprise Architects working against issues like Windows 7 support deadlines by quickly answering the following:
Which systems should I upgrade?
Using the diagnostic capabilities of LeanIX's automated reporting, all preliminary research into the whereabouts of services affected by Windows 7's obsolescence can be scaled to tremendous levels.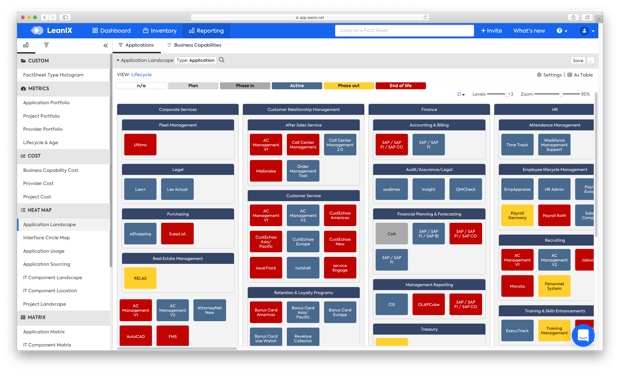 Which user groups require the most attention
By linking Business Capabilities to applications and then linking those applications to technology components like Windows 7, Enterprise Architects can review Business Capability maps as seen within LeanIX Heat Maps to align improvements with essential organizational processes and thereafter prioritize efforts.
LeanIX Surveys, a collaborative mechanism used by Enterprise Architects to collect information from diverse stakeholders in automated manners, are a way to receive insights into any variety of topics related to the continuing upkeep of IT Components and applications. Survey questionnaires can be sent to users and non-users of LeanIX alike (perfect for externally-based application owners), and responses from recipients can be reviewed in real-time and then later exported directly into Excel files.
Here are three quick methods of building surveys to expedite information-gathering on the implications of a Windows 7 phase out:
Creating a survey with LeanIX's drag-and-drop interface
LeanIX lets users assemble custom-made Survey questionnaires based on any mix of questions written entirely by users themselves or from a list of common concerns. All question boxes can be re-arranged as necessary with drag-and-drop simplicity, and if appropriate, a "calculated field" function can be included to turn numerical figures into measurable variables.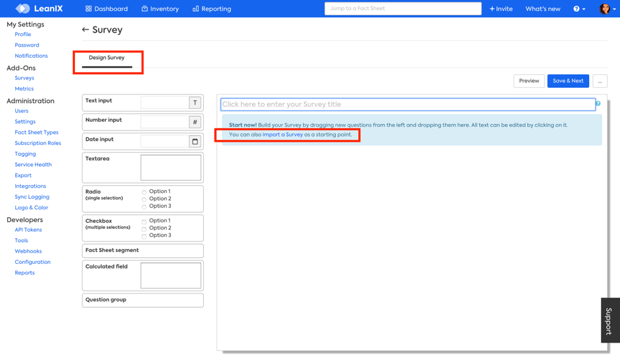 Using in-built survey templates
Of course, to make lives easier, surveys can naturally be re-used and designed based on pre-made templates.
By downloading survey templates from the LeanIX Store
But if you don't even have the time or the support to structure a Survey, one can be downloaded from the LeanIX Store—a place where trusted partners and users of the tool can share any Report and Survey that has proven valuable to their enterprises/clients.
Questions?
LeanIX is designed to support all IT strategies of large-scale enterprises across industries. It's the reason why we offer anyone interested in the Enterprise Architecture Management tool a tailor-made demo fit exactly to their enterprise's objectives. As such, if you're curious to know if LeanIX can actually support migration strategies in a business as complicated as yours, all you have to do is fill out a form and ask one of our experts.
Let's start the process.
LeanIX offers a Software-as-a-Service (SaaS) for Enterprise Architecture (EA) that enables organizations to make faster, data-driven decisions for their IT landscape. More than 180 leading brands worldwide such as DHL, Merck, Vodafone and Zalando use the innovative tool. Users of LeanIX gain insights on how to organize and leverage their IT landscape to increase competitiveness and innovation going forward. LeanIX addresses the common enterprise predicament that information regarding IT landscapes is missing, outdated or difficult to analyze. LeanIX's central office is in Bonn, Germany.