November 19, 2021
LeanIX named one of Germany's fastest growing technology companies
With a growth rate of 561,44 percent, LeanIX ranks 14th in the 2021 Deloitte Technology Fast 50
Bonn, November 19, 2021 - LeanIX received the Deloitte Technology Fast 50 Award yesterday evening and is ranked 14th on the list. With the award, Deloitte honors the 50 growth champions of the tech industry, based on their percentage of revenue growth over the past four fiscal years. Within this period, LeanIX achieved 561,44 percent growth. A key factor in this success was the software-as-a-service solution developed in-house for enterprise architecture management.
With LeanIX Enterprise Architecture Management (EAM), customers around the world organize, plan and control their increasingly complex IT landscapes. The automated and data-driven approach of LeanIX enables comprehensive transparency and provides the basis for informed decisions, which creates the conditions for continuous transformation in companies.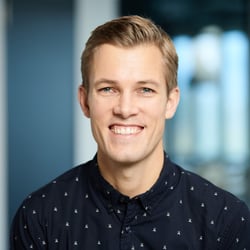 LeanIX CEO André Christ is delighted to have been recognized for his own company's performance at the prestigious Technology Fast 50 Awards. He says: "Our growth gives us the opportunity to consistently invest in our Continuous Transformation Platform. For example, we acquired a US SaaS management company in spring 2021 and recently launched LeanIX Value Stream Management for development organizations and DevOps teams. We're bringing enterprise architecture management, SaaS management, and value stream management even closer together on a platform that enables our customers to succeed today while driving innovation."
"While digital technologies were still a nice-to-have a few years ago, the picture is now very different: It is now impossible to imagine a majority of companies without digital technologies, because they make companies fit for the future and provide them with innovative tools to successfully meet the challenges of our time," says Dr. Andreas Gentner, Partner and Industry Lead Technology, Media and Telecommunications at Deloitte. "With their products and services, the winners show how innovation and entrepreneurial success can be combined. Their success inspires optimism for Germany as a tech location."

About LeanIX
LeanIX's Continuous Transformation Platform® is trusted by Corporate IT and Product IT to achieve comprehensive visibility and superior governance. Global customers organize, plan and manage IT landscapes with LeanIX's automated and data-driven approach. Offering Enterprise Architecture Management, SaaS Management, and Value Stream Management, LeanIX helps organizations make sound decisions and accelerate transformation journeys. LeanIX has hundreds of customers globally, including Adidas, Atlassian, Bosch, Dropbox, Santander and Workday. The company is headquartered in Bonn, Germany, with offices in Boston, San Francisco and around the world.
About Deloitte
Deloitte provides industry-leading audit and assurance, tax and legal, consulting, financial advisory, and risk advisory services to nearly 90% of the Fortune Global 500® and thousands of private companies. Legal advisory services in Germany are provided by Deloitte Legal. Our professionals deliver measurable and lasting results that help reinforce public trust in capital markets, enable clients to transform and thrive, and lead the way toward a stronger economy, a more equitable society and a sustainable world. Building on its 175-plus year history, Deloitte spans more than 150 countries and territories. Learn how Deloitte's more than 345,000 people worldwide make an impact that matters at www.deloitte.com
Deloitte refers to one or more of Deloitte Touche Tohmatsu Limited ("DTTL"), its global network of member firms, and their related entities (collectively, the "Deloitte organization"). DTTL (also referred to as "Deloitte Global") and each of its member firms and related entities are legally separate and independent entities, which cannot obligate or bind each other in respect of third parties. DTTL and each DTTL member firm and related entity is liable only for its own acts and omissions, and not those of each other. DTTL does not provide services to clients. Please see www.deloitte.com to learn more.