January 16, 2023
LeanIX earns 2022 Great Place to Work Certification™ for all company locations
Positive sentiment shared by LeanIX employees in United States, Germany, Netherlands, and Slovenia
Bonn/Boston, January 16, 2023. LeanIX, a global SaaS company, has been Certified™ as a Great Place to Work® 2022 in all company locations. This recognition is based entirely on what current employees say about their experience working at LeanIX. Great Place to Work® is the global authority on workplace culture, employee experience, and leadership behaviors proven to deliver market-leading growth, employee retention, and increased innovation. LeanIX is proud to be Certified™ by Great Place to Work® for the 2nd year in a row and for the first time at all company locations worldwide.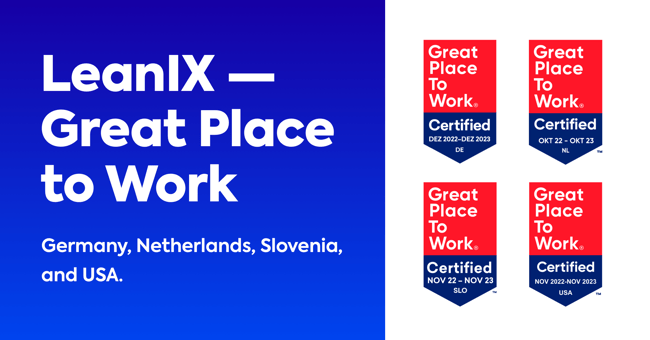 "Great Place to Work Certification™ isn't something that comes easily – it takes ongoing dedication to the employee experience," said Sarah Lewis-Kulin, vice president of global recognition at Great Place to Work. "It's the only official recognition determined by employees' real-time reports of their company culture. Earning this designation means that LeanIX is one of the best companies to work for in the country."
Since its founding in 2012, LeanIX has shown strong global growth. In the last two years, the company has not only doubled its customer base to more than 950 customers but has also opened new offices and continuously expanded its team to currently more than 400 employees worldwide. LeanIX remains on track for continued growth in 2023 and plans to hire an additional 120 employees.
"When a company grows as quickly as LeanIX, leaders must maintain a strong focus on the employee experience. This means, in part, that the company culture supports employees consistently from department to department and from office to office," says LeanIX CEO André Christ. "This recognition shows that we are achieving this goal. We are very proud to have been certified as an attractive employer by Great Place to Work® in every branch office. We owe our ongoing success to these dedicated teams around the world."
About Great Place to Work Certification™
Great Place to Work® Certification™ is the most definitive "employer-of-choice" recognition that companies aspire to achieve. It is the only recognition based entirely on what employees report about their workplace experience – specifically, how consistently they experience a high-trust workplace. Great Place to Work Certification is recognized worldwide by employees and employers alike and is the global benchmark for identifying and recognizing outstanding employee experience. Every year, more than 10,000 companies across 60 countries apply to get Great Place to Work-Certified.
About Great Place to Work®
Great Place to Work® is the global authority on workplace culture. Since 1992, they have surveyed more than 100 million employees worldwide and used those deep insights to define what makes a great workplace: trust. Their employee survey platform empowers leaders with the feedback, real-time reporting and insights they need to make data-driven people decisions. Everything they do is driven by the mission to build a better world by helping every organization become a great place to work For All™. Learn more at greatplacetowork.com and on LinkedIn, Twitter, Facebook and Instagram.
About LeanIX
LeanIX's Continuous Transformation Platform® is trusted by Corporate IT and Product IT to achieve comprehensive visibility and superior governance. Global customers organize, plan and manage IT landscapes with LeanIX's automated and data-driven approach. Offering Enterprise Architecture, SaaS Management, and Value Stream Management, LeanIX helps organizations make sound decisions and accelerate transformation journeys. LeanIX has hundreds of customers globally, including Adidas, Atlassian, Bosch, Dropbox, Santander and Workday. The company is headquartered in Bonn, Germany, with subsidiaries in the United States (Boston), Netherlands (Amsterdam) and Slovenia (Ljubljana) and other offices around the world.