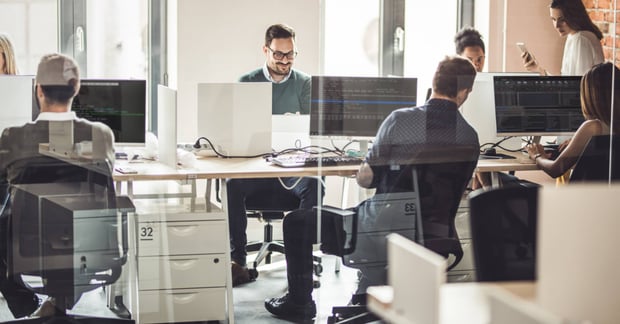 Application modernization trends shape the way users interact with companies and impact the kind of experience brands can provide. As we look toward 2023, the larger technology trends we hear about often are mirrored in app development: the cloud, DevOps, low-code/no-code, and personalization to name a few.
As that list suggests, application modernization can mean a couple things. On the one hand, it means making sure that the application's architecture reflects the most current best practices. On the other hand, it can mean following the most up-to-date application development practices.
Application modernization can also mean, more broadly, modernizing your application portfolio with the most cutting-edge applications or by migrating applications to the cloud. We cover that here.
In this article, we'll focus on the application development side of things and cover four of the most important application modernization trends every enterprise should be paying attention to in 2023 and beyond.
Quick Takeaways
Low-code/no-code application development addresses timely challenges in the tech world, namely the need for innovation and a shortage of developers.
Research predicts that 90% of all applications will be cloud-native by 2025.
Progressive web applications are leveling up the user experience by translating seamlessly across connected devices.
Nearly half of all users worldwide will be digitally linked to their actions through the Internet of Behavior (IoB) by 2023.
4 Application Modernization Trends for 2023
Low-code/no-code development
Perhaps the most talked-about application modernization trend for 2023, low-code/no-code development continues to gain in popularity. Its emergence as a development preference for businesses of all sizes has come as a result of three notable drivers:
Companies need to innovate at a faster rate. Demand for continuous improvement from internal (business leaders) and external (end users) stakeholders has required companies to fuse business and IT teams and create ways for so-called "non-technical" employees to contribute to application modernization.
The Great Resignation accelerated the worldwide software developer shortage and demand has yet to slow down. The U.S. Department of Labor forecasts that job opportunities for developers will grow by 22% between now and 2030, much faster than the average growth for all professions.
Low-code/no-code is more user friendly. While the assumption may be that it's for so-called "citizen developers," many professional developers also use it to simplify and speed up build times.
All of this has resulted in a sharp rise in market share for low-code/no-code platform solutions. Gartner predicts that by 2025, 70% of new applications developed by enterprises will use low-code/no-code (up from only 25% in 2020). Total market share for these solutions will also reach $65+ billion by 2025 according to Statista, more than quadrupling from its 2020 total.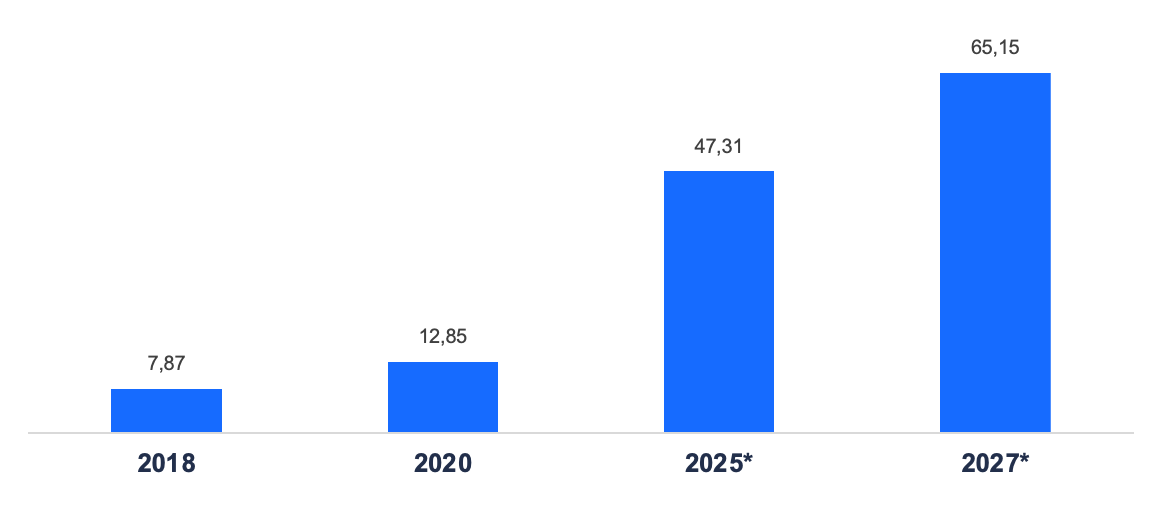 Low-code development market revenue in billion U.S. dollars (Statista)
Cloud-native development
Cloud-native applications developed with microservices technology allow companies to deliver flexible, responsive, innovative solutions that are continually improved and optimized based on user feedback.
Part of the larger trend of mass cloud migration by enterprises, cloud-native applications are just another way organizations are adapting to meet today's pace of business. They align with the agile and DevOps methodologies that have become dominant in developer culture and allow companies to operate with greater levels of flexibility and innovation.
IDC research forecasts that by 2025 a staggering 90% of applications will be cloud-native, an insight that goes hand-in-hand with Garter's prediction that 85% of organizations will embrace cloud-first principles by the same year.
One notable finding related to the cloud-native application modernization trend is the seeming disconnect between the number of companies that consider it a priority and those that have IT teams who can execute on the vision.
A recent survey of 500+ IT execs and developers uncovered that 72% of respondents expect most of their applications to use cloud-native development by 2023, yet less than half (47%) report they know a lot about the technology.
Alongside the predicted growth of cloud-native application development, it will be interesting to watch how companies navigate the need to train their IT talent (or find new talent) to meet this demand.
Progressive web applications
Statista also reports that worldwide the average number of connected devices per person will reach 3.6 by 2023. When you consider North America and Western Europe on their own, that number jumps to 13.4 and 9.4 (respectively). Going forward, application success will depend largely on the ability to function across devices without disruption to the user experience.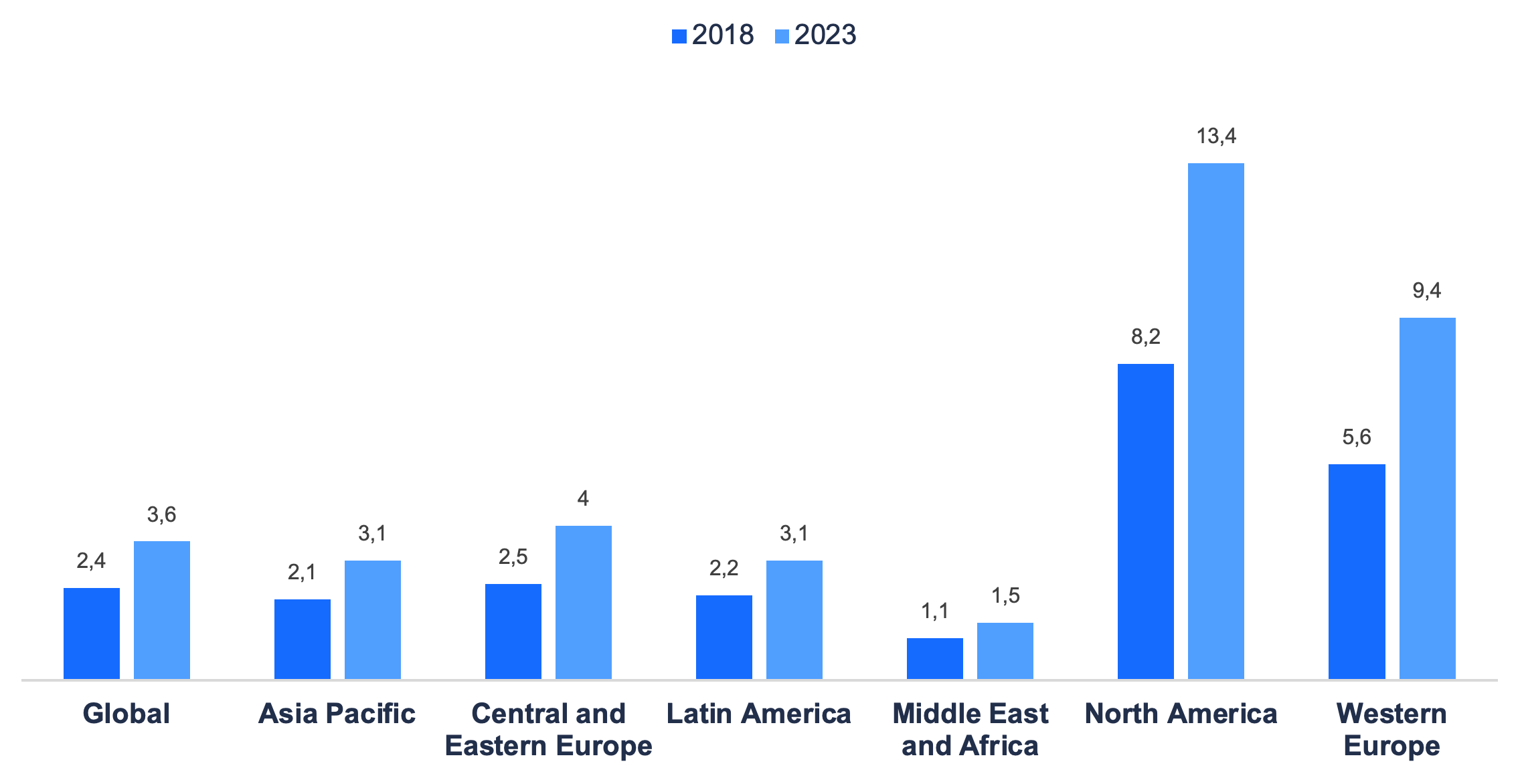 Average number of connected devices per person worldwide (Statista)
Enter: progressive web applications (PWAs).
PWAs function like mobile apps but can operate on basically any device that can run a browser. They're supported by ServiceWorkers that run in the browser to support application features such as push notifications as well and app manifests that help define the application within the OS being used.
Given that 93% of all online experiences begin with a search engine query, PWAs have shown potential to increase brand discoverability with browser users and — after a period when mobile apps looked to be taking over — are keeping the regular old World Wide Web relevant.
Brands like Uber, Starbucks, and AirBnB have pioneered PWA success and it's likely we'll see many more follow in 2023.
Personalization via Internet of Behavior
From the Internet of Things (IoT) has come the Internet of Behavior (IoB), one in which companies can track user behavior to tailor applications uniquely to their preferences and needs. The use cases for IoB are wide ranging and include:
Location-based targeting - Recommendations, advertisements, and other application experiences align with geographic location.
Healthcare services - Providers can monitor patients via IoT devices and design treatment plans accordingly.
Personalized e-commerce - Product recommendations tailored to historic preferences and other behavior indicators.
Citizen behavior tracking - Governments and other institutions track user behavior for a variety of reasons, including public health (ex: tracking COVID-19 spread) or to predict crime rates.
The last use case has garnered a predictable amount of controversy around individual privacy, but overall it hasn't stopped users from allowing their data to be tracked via the applications they use. Gartner put IoB at the top of its list last year for strategic technology trends and predicts that by 2023, 40% people worldwide will be digitally linked to their actions via IoB technology.
As a result, figuring out ways to use this stream of behavioral data will become a priority for developers going forward as they look for ways to improve applications and optimize new ones.
The Big Picture
The takeaway from this brief overview of top application modernization trends: as development gets faster and more agile, user expectations for performance and ease of use will only grow. In 2023 and beyond, companies will need to find a balance between speed and delivering experiences that users demand.
On that last point, users expect applications to be accessible, personalized, and responsive to their needs. That, of course, requires a willingness to share data and become part of the larger trend typing application performance to deep knowledge of personal behavior.
To meet these needs, demands, and expectations, we'll see the cloud become home to more and more applications to drive the highest levels of availability, flexibility, and innovation.
Modernize Your Application Portfolio with LeanIX
LeanIX shows you the full scope of your software estate — bought, rented or built. That means you can continuously create the kind of customer and employee experiences that make all the difference.
Learn more about LeanIX solutions or contact us to schedule a demo.