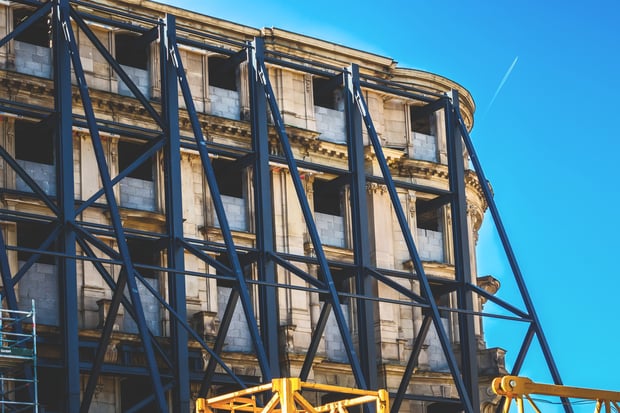 Java SE 8, Windows Server 2008 and whatever else vendors send your way
Oracle's 2019 terms and agreements for commercial users of its Java SE 8 platform put Enterprise Architects on the lookout earlier than was expected for affected services in their IT network.
It's the first Java version of many that the vendor has limited to a six-month transition cycle and grouped into its new subscription-based monthly pricing model—a stark departure from their previous offering of upfront licensing and annual support for two prior iterations of the language at a time.
What this means is that all companies currently using Java SE 8 for commercial purposes who haven't yet entered Oracle's new licensing structure are technically operating without a right to the software. And what it also means is that Enterprise Architects must deliver viability assessments regarding their Java-related IT applications in shorter intervals or face categories of problems like the following:
Out-of-Compliance Issues (according to the Campaign for Clear Licensing, Oracle software audits reportedly last more than seven months and involve almost 200 hours of IT departmental time)
Business Disruption (denial-of-service cyberattacks list both currently and historically as the highest risk to unsupported Oracle software)
Yes, it's a nuisance, but re-shuffling IT portfolios due to the pricing strategies of technology vendors and the forced obsolescence of their products is the reality of modern Enterprise Architecture. For example, just think about the magnitude of architectural planning already underway given Microsoft's upcoming 2020 phase-out of Windows Server 2008 and 2008 R2—a deadline requiring Enterprise Architects to decide whether or not to re-locate all business-critical services and applications hosted in these environments upwards to Microsoft's Azure cloud or elsewhere altogether.
Modernization is, by many accounts, deliberately accelerated in today's world by factors beyond the control of even the most influential of enterprises. But this does not mean that businesses must accept whatever technology they're pressured into adopting. The future can be tested—and Enterprise Architects can safely preview their options using the LeanIX Enterprise Architecture Management tool.
With Oracle's Java SE 8 as an example, here's a simple and repeatable four-step guide on how Enterprise Architects use LeanIX to expedite Application Portfolio Management and Technology Risk Management processes when confronted with time-sensitive software agreements.
This blog post highlights four key LeanIX functionalities:
Application Landscape Report
Surveys
Application Portfolio Report
Project Cost Report
Step 1 − Search for Java: Identifying All Applications Using Java JDK (Java Development Kit)
As with any IT application, searching for Java in an international organization must begin with three simple questions on usage:
Where is Java used?
Why is Java used?
How much Java is used?
Each question can be scaled to tremendous levels (and beyond departmental and geographic barriers) using the diagnostic capabilities of LeanIX's automated reports. Of note, the built-in Application Landscape Report can be configured to illustrate which business capabilities and IT applications throughout an operation rely on software like the Java SE 8 platform. Such views into the whereabouts of IT elements can also be configured to show the risks of impending support deadlines (all of which color-coded according to "Plan" > "Phase in" > "Active" > "Phase out" > "End of life").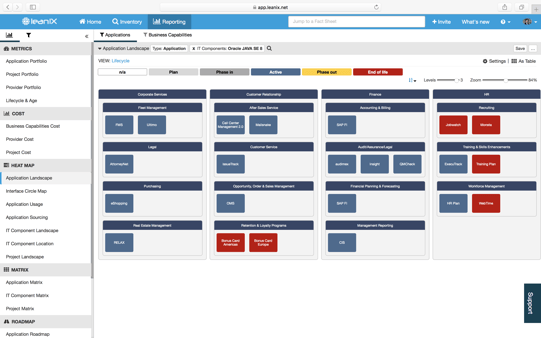 The LeanIX Application Landscape Report, one of many standards, built-in report types offered out-of-the-box in all editions of LeanIX.

As shown in the above image, Java SE 8 is still being utilized by many active (blue) applications in an unnamed enterprise. These applications each support specific business functions but not all were developed internally by the organization: some are likely to have been created in-house; others perhaps by an external agency. More information is thus needed from the users/owners of these applications to evaluate the criticality of Java SE 8 in their maintenance of in-house applications and the associated risks of the ones built by third parties.
Step 2 − Evaluate Java Usage: Qualifying Feasible Alternatives or Maintenance Needs
LeanIX Surveys, a collaborative mechanism used by Enterprise Architects to collect information from diverse stakeholders in automated manners, are a way to receive insights into any variety of topics related to the continuing upkeep of applications. Survey questionnaires can be sent to users and non-users of LeanIX alike (perfect for externally-based application owners), and responses from recipients can be reviewed in real time and then later exported directly into Excel files. For the purposes of an enterprise-wide Java SE 8 investigation, LeanIX recommends including a mixture of the following questions in a custom-built survey:
"Do you ship Java JRE together with your application?"
"Do you have an SLA with clients to fix security issues?"
"Did you evaluate licensing Java 12?"
"Are you planning to use JAVA offered by other distributors like OpenJDK?"
"What versions of Java are you currently using?"
"Did you already plan a migration to Java 12?"
"What effort did your team estimate for the migration?"
"Do you plan to migrate the runtime environment only?"
"Do you plan to develop using functionality available in Java 12 and later only?"
"Would you be able to provide help with migration to any divisions in the company?"
"Did you already plan a communication strategy for clients?"
"Did you assess the risk of migration from Oracle JDK to OpenJDK or alternative solutions?"
"What alternative solutions did you look at?"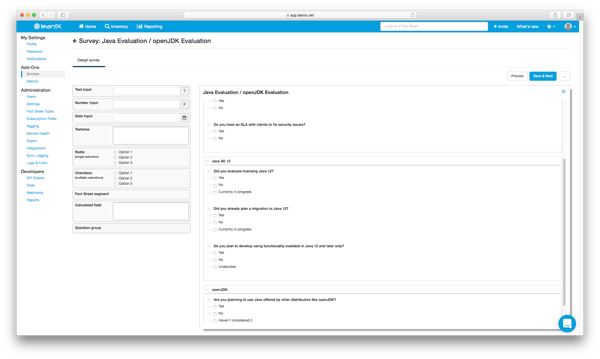 A LeanIX Survey entitled "Java Evaluation / OpenJDK Evaluation", as s
hown in design and layout mode.
Answers to these questions can be used in conjunction with the "Functional Fit" and "Business Criticality" ratings included inside every application "Fact Sheet"—the name given to the individual repositories of information on applications that form the basis of the LeanIX inventory—to calculate suitable next steps. These ratings go directly inside a LeanIX Application Portfolio Report, a graph-based report using three three core views: "Functional Fit vs. Technical Fit"; "Functional Fit vs. Business Criticality"; and "Technical Fit vs. Business Criticality".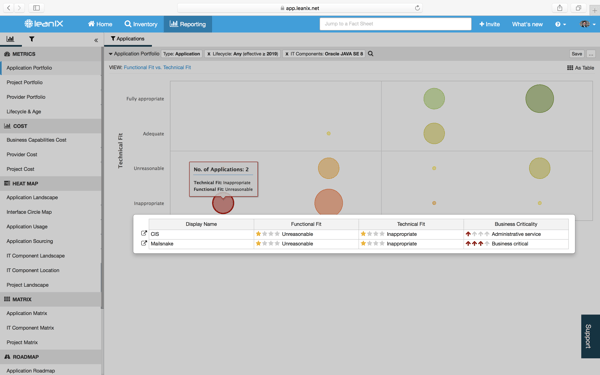 A LeanIX Application Portfolio Report showing the "Functional Fit vs. Technical Fit" of Java SE 8-based applications.
[See a detailed look at using the Functional Fit and Business Criticality of applications]
Step 3 – Update Java or Re-Locate Software: Outlining New Maintenance Requirements or Potential Migration Plans for Affected Applications
Upon confirming how, why, and where Java SE 8 is used throughout your IT landscape, Enterprise Architects will have the clarity to determine the following options for their Java-based applications:1. To purchase commercial licenses for Java SE 8
The easiest way forward (but perhaps not the cheapest). Java SE 8 subscriptions begin at USD $25 per month/processor for servers and cloud instances but decrease with tiered discounting. Desktop pricing begins at USD $2.50 per month/user (again decreasing with tiered discounts).
2. To upgrade to a newer Java version
A definite way to ensure that applications are supported with the latest Java features and functionalities. This method does, however, require enterprises to consistently free budget and time to test the suitability of new Java versions every six months.
3. To use an open-source solution
Quite likely the cheapest solution but one rife with compliance pitfalls. If choosing this option, vigilant reviews of open-source alternatives must regularly be made to keep current with security risk prevention. What do you prefer: out-of-contract flexibility or GDPR violations?
4. To go with third-party vendor support
A practical option if Java is wanted but in-house enterprise capabilities can't support its delivery. Third-party vendor support costs in addition to enterprise-side alignment can get complicated, but LeanIX's Technopedia integration automatically connects IT inventories to the largest and most comprehensible repository of market data on enterprise software and hardware to provide licensing and security transparency.
Step 4 – Manage Budget: Overseeing the Costs of Software Updates
No matter what architectural route is embarked upon, finances related to software improvement can be observed in real-time using different varieties of cost-based LeanIX reports (all of which are described in better detail here). In particular, however, a LeanIX Project Cost Report lists IT budgets across all running projects while offering adjustable columns to filter expenditures by category.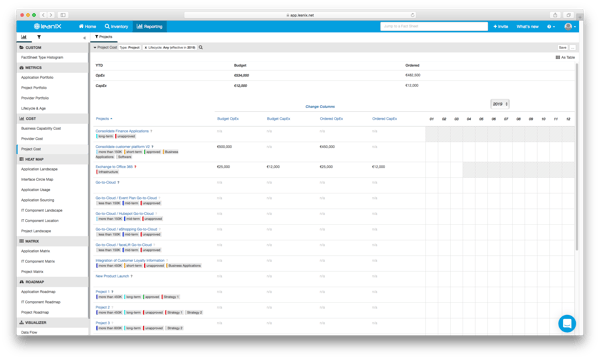 A LeanIX Project Cost Report showing budgets and orders for running IT projects.
Further Learning
If you'd like to test a solution to a specific architectural challenge using LeanIX, we're pleased to let qualified agents answer your questions in a personalized demonstration of our product. Simply press the button below and follow the steps.
LeanIX offers a Software-as-a-Service (SaaS) for Enterprise Architecture (EA) that enables organizations to make faster, data-driven decisions for their IT landscape. More than 150 leading brands worldwide such as Adidas, DHL, Merck, Vodafone, and Zalando use the innovative tool. Users of LeanIX gain insights on how to organize and leverage their IT landscape to increase competitiveness and innovation going forward. LeanIX addresses the common enterprise predicament that information regarding IT landscapes is missing, outdated, or difficult to analyze. LeanIX is headquartered in Bonn, Germany.