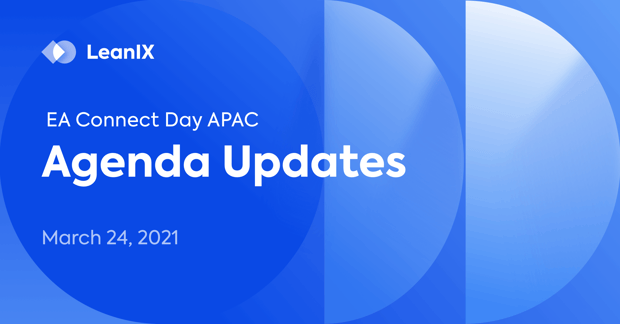 APAC is the first stop in LeanIX's global expansion of its EA Connect Day event series. For the first time since 2014, the annual enterprise architecture (EA) conference is adding to its North American and European editions to showcase IT developments from the Asia-Pacific region.
[EA Connect Day APAC 2021, March 24 — Register for free]
Taking place on March 24, topics at the inaugural EA Connect Day APAC 2021 will center on helping corporate IT and product IT manage continuous transformation journeys. Included will be a mixture of keynote presentations and case studies on how to establish an EA practice plus subjects such as continuous transformation, cloud migration, and post-M&A integration. Live chats and an event Slack workplace will give attendees of the half-day virtual conference an opportunity to engage directly with the experts.
Here's a quick glance at the agenda for EA Connect Day APAC 2021:
Establishing an Architecture Practice Around LeanIX - Gerard Brown, Firstgas Group
3 Techniques to Accelerate Your Continuous Transformation Journey -Craig Stanley, The Citadel Group
Getting started with Minimum Viable Enterprise Architecture (MVEA) - Lance Altena, Queensland Department of Resources
Cracking the Code to a Fail-Proof Digital Transformation - Albert Yip, Signavio
Helping the Business Understand the Architecture, and Why it Matters - Kati Gholam, TUI
EA Maturity Journey - From Zero to Hero in 5 Steps & Recap - Christian Richter and André Christ, LeanIX
EA Connect Day APAC 2021 is being hosted in close cooperation with two LeanIX partners with close ties to the region — the Citadel Group and Signavio.
Visit www.eaconnectday.com for details on how to register to the free EA Connect Day APAC 2021 and other EA Connect Days in 2021. As well, feel free to watch presentations from last year's editions.