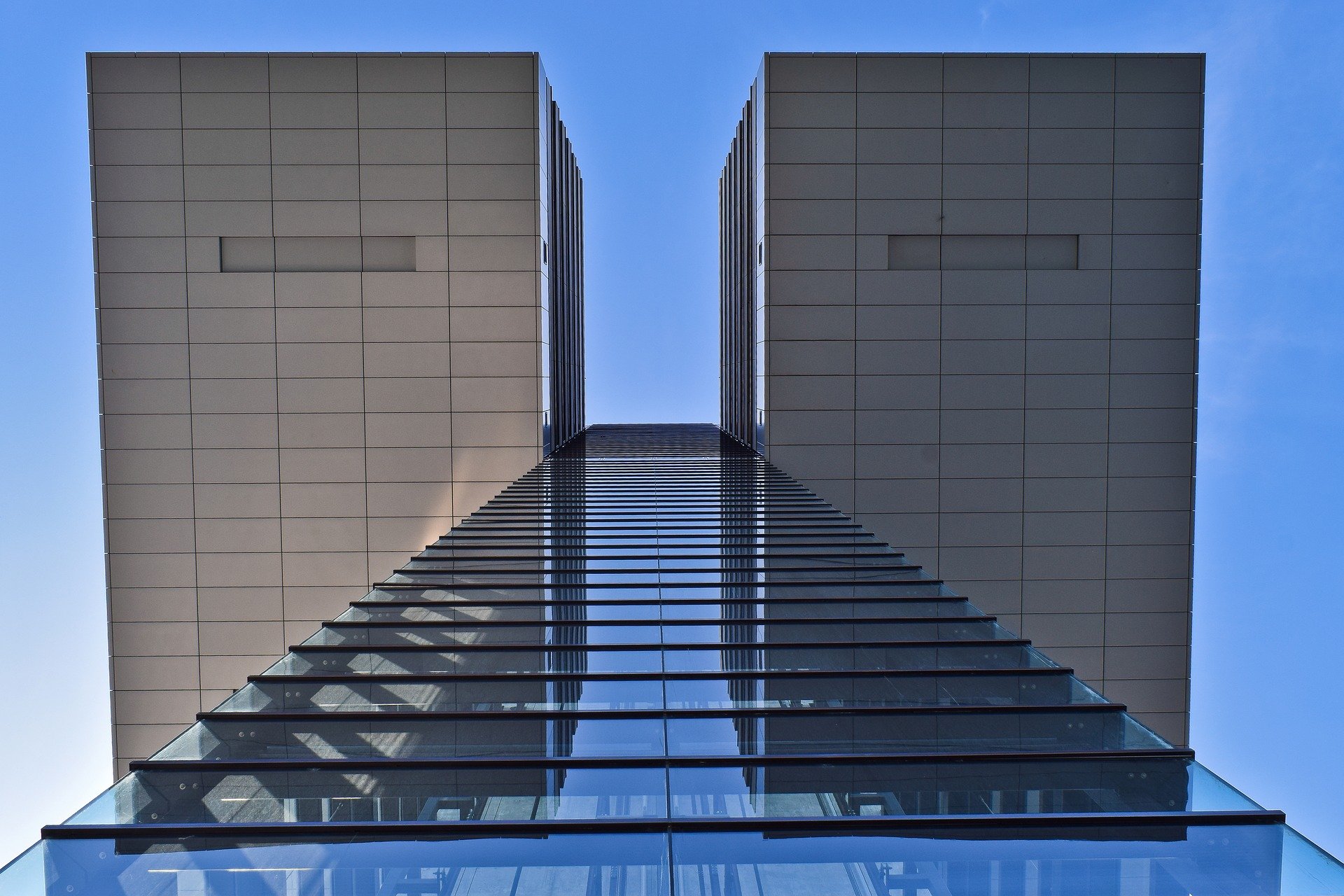 Time is almost up for enterprises to decide how best to migrate from Microsoft SQL Server 2008/2008 R2 before official support services are discontinued. Come July 9, 2019 the following options must be completely evaluated by Enterprise Architects and their stakeholders:
To accept Microsoft's deal of free extended security updates if SQL Server 2008/2008 R2 workloads become migrated to Azure Virtual Machines.
To upgrade applications and data from on-premises environments with the latest Microsoft security updates by purchasing the latest version of SQL Server and Windows Server.
To develop in-house versions of applications to handle data currently dependant upon the SQL Server and Windows Server.
To adopt third-party alternatives to Microsoft SQL Server.
There are natural advantages to each of these routes—and, inevitably, clear setbacks. But the reality of most enterprises with IT portfolios consisting of > 100 IT applications is that a combination of each replacement option is technically feasible and, given the right approach, perhaps even cost-effective. And by using LeanIX, Enterprise Architects and their stakeholders can leverage collaborative mechanisms and live data to quickly evaluate technologies to see which mixture of SQL Server 2008/2008 R2 alternatives match specific business strategies and then govern the transformation projects thereafter.
Attempts to replace SQL Server will expose the vast networks of dependencies in an Enterprise Architecture. As such, here's a quick look at what LeanIX offers Enterprise Architects and IT Managers caught in a Microsoft SQL Server 2008/2008 R2 phase-out dilemma.
Ways to Identify Areas Affected by SQL Change
LeanIX offers several categories of collaborative inventorying tools and out-of-the-box reports to aid users in seeing the precise ways their IT networks rely on SQL Server 2008/2008 R2.
LeanIX Surveys (Automated Stakeholder Outreach)
It begins, as it must, with a practical communication method for identifying and then mining information from the stakeholders who actually work with the technologies affected by the phase-out. LeanIX Surveys, a collaborative mechanism used by Enterprise Architects to collect information from diverse stakeholders in automated manners, are a way to receive insights to any variety of topic related to the continuing upkeep of applications. Survey questionnaires can be sent to users and non-users of LeanIX alike (perfect for externally-based application owners), and responses from recipients can be reviewed in real-time and then later exported directly into Excel files.
For the purposes of an enterprise-wide Microsoft SQL 2008/2008 R2 query, LeanIX recommends creating derivatives of the following questions inside a custom-built Survey:
"Are you aware of the end of mainstream support to Microsoft SQL 2008/2008 R2?"
"Did you establish migration projects early?"
"Did you go through your application inventory and prioritize applications for a move to the Azure cloud?"
Alternately, if you don't have the time or the support to structure a Survey, one can be downloaded from the LeanIX Store.
LeanIX "Heat Maps" (Actionable Transparency)
LeanIX "Heat Maps" comprise a series of automated, out-of-the-box reports that use live inventory data to detail relationships between applications and other architectural objects like business capabilities, software/hardware platforms, and IT Components—all of which to offer insights to Enterprise Architects on digital transformations. Of note, the built-in Application Landscape Report can be configured to illustrate which business capabilities and IT applications throughout an operation rely on Microsoft SQL. Such views into the whereabouts of IT elements can also be configured to illustrate impending support deadlines (color-coded according to "Plan" > "Phase in" > "Active" > "Phase out" > "End of life").
Where to Prioritize Improvements to SQL 2008
IT transformation strategies must align with reality. Limited resources make it impossible for all affected applications to be upgraded or rationalized at once, so to help Enterprise Architects know which affected technologies to target first, LeanIX depicts applications according to the business services they directly enable—otherwise known as "Business Capabilities".
Application Matrix Report
By linking Business Capabilities to applications, and linking those applications to technology components like SQL Server, Enterprise Architects can review Business Capability maps as seen within LeanIX Reports like the Application Matrix to align improvements with essential organizational processes. In particular, alongside a series of configurable views like "Technology Risk" and "Lifecycle", an Application Matrix Report shows Business Capabilities and their supporting technologies across geographical user groups to help Enterprise Architects base decisions on overlapping business needs.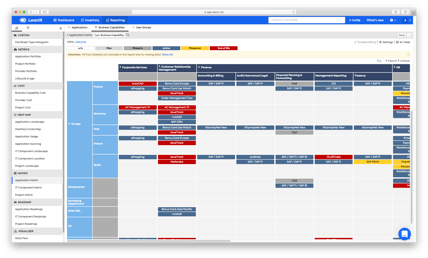 How to Track Transformations
IT projects represent one of the fundamentals of the LeanIX data model and the set-up and progress of each can be tracked using a combination of the following LeanIX reports:
Project Portfolio
The Project Portfolio Reports is part of a category of LeanIX "Metrics" that group IT projects according to their value (financial and technical) and their risk. It connects the Operational and Capital Expenditures of IT projects with their ranked technical benefits to let Enterprise Architects know when transformations must be stopped or at which point they must be reviewed. A Project Portfolio Report can be seen in either a report or a table format.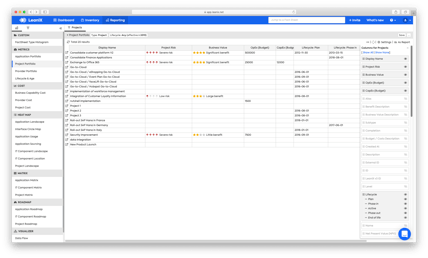 Project Roadmap
The Project Roadmap Report gives a general overview of the time frame of all IT projects. It shows which projects are currently running, which are planned, and which are completed. These projects can be viewed alternately in terms of their "Successors" (i.e., connected follow-up projects), "Children" (i.e., project hierarchies), and "Applications" (i.e., what's actually being affected by the projects).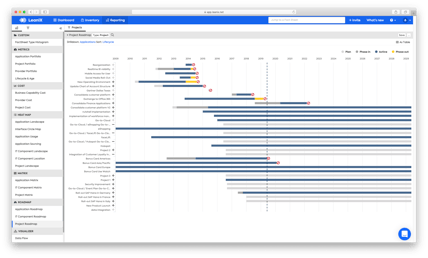 Application Roadmap
An Application Roadmap Report offers similar views to the Project Roadmap Report but from within an application-centric prism. IT applications and their lifecycles can be reviewed according to Projects to see the history and planned future of any given technology.
IT Component Roadmap
Just like the Application Roadmap, IT Components like Microsoft SQL can be tracked inside the IT Component Roadmap.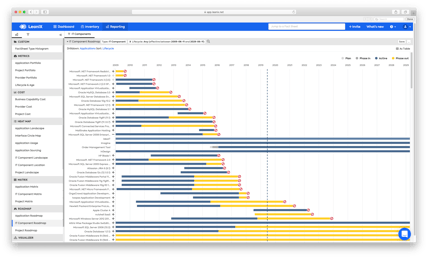 Further Reading
For your interest, here are some resources to help put everything we've discussed in this post into practice:
1. "Definitive guide to TOGAF"
2. "The Definitive Guide to Business Capabilities"
3. "Target Architecture with LeanIX"
4. "Starting Conversations with Collaborative Enterprise Architecture: Data Collection and IT Inventorying With LeanIX"
And as always, if you'd like to reach out for a free and personalized demonstration of LeanIX, just let us know.
LeanIX offers a Software-as-a-Service (SaaS) for Enterprise Architecture (EA) that enables organizations to make faster, data-driven decisions for their IT landscape. More than 180 leading brands worldwide such as DHL, Merck, Vodafone and Zalando use the innovative tool. Users of LeanIX gain insights on how to organize and leverage their IT landscape to increase competitiveness and innovation going forward. LeanIX addresses the common enterprise predicament that information regarding IT landscapes is missing, outdated or difficult to analyze. LeanIX's central office is in Bonn, Germany.