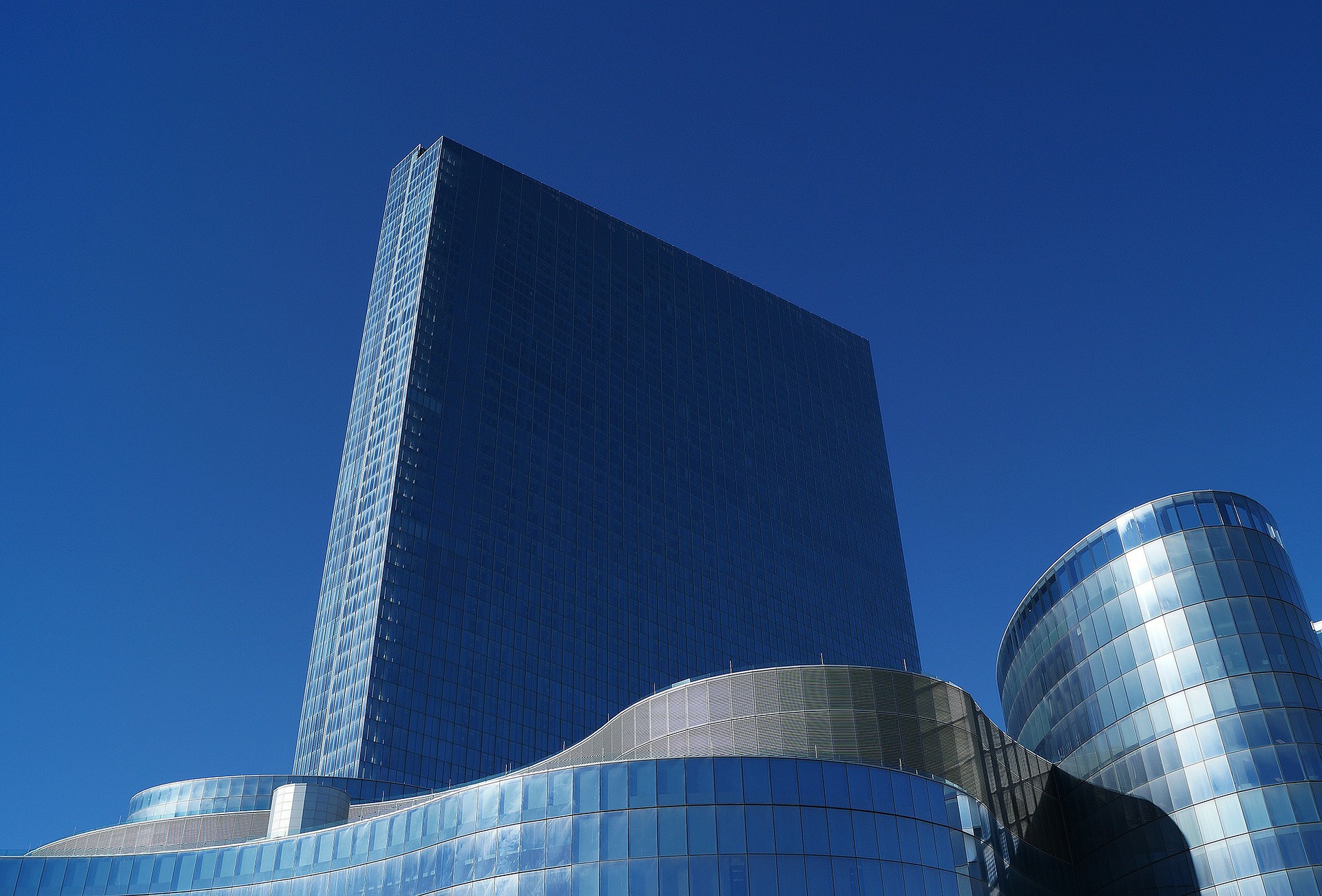 It's sad to say, but we've forgotten how to work in teams. Despite the proliferation of Kanban boards, daily "Agile" stand-ups, Google Docs/Polls and Slack, we still fail to ask the right questions at the right times to get answers to the problems that matter most.
So just imagine how difficult it is for Enterprise Architects to collect data in environments where communication channels don't actually produce much in the way of meaningful (read: fact-driven) communication. These professionals know better than anyone else that valuable data in large-scale, multi-disciplinary organizations need to be excavated by direct means and through conversations framed by precise business needs—not simply abstract considerations.
One way for modern Enterprise Architects to trigger such precise dialogues is to contextualize their questions and all potential answers in relation to how it will actually support the overall health of an enterprise—by illustrating to those who don't necessarily have access to C-level management where and how their individual knowledge can assist strategies.
It's an aspect of modern Enterprise Architecture that Mark McGregor, former Director of Research at Gartner, referred to in his 2018 LeanIX EA Connect Day presentation as truly "democratizing". And one big part of this democratization is thanks to Enterprise Architects finally learning to speak in a language befitting the realities of a global workforce.
"No one wants models," says McGregor. "They have problems that they want models to solve. Think about the outcomes, not about the artifacts and the creation. It's not even about creation. It's about the dissemination of this information—and widely. From models, we move to decisions."
So, how do Enterprise Architects use LeanIX to efficiently start these outcome-focused conversations to collect and maintain the information required to simplify IT environments?
Here are three ways:
1. Streamlined Data Collection
The complexity of large-scale enterprises means Enterprise Architects must maximize information gathering using agile methodologies rooted in principles of collaboration. So, to amass relevant databases of enterprise applications in efficient and cost-effective manners, all employees must be leveraged as resources to collecting intelligence across an enterprise to practically accomplish extensive data gathering.
LeanIX makes this happen by using two core methods to streamline data collection: "Surveys" and "Hassle-Free Importing".
Surveys
A LeanIX Survey is a way for EAs to mine detailed information from wide audiences in an automated manner. Regardless if Survey recipients use LeanIX or not, EA questionnaires can be sent to internal and external recipients using materials either pre-assembled from templates, made wholly from scratch, or downloaded from qualified industry peers. Survey findings then arrive directly into "Fact Sheets"—the individual LeanIX repositories used to store information regarding architectural objects—and if any segment requires more information, the missing area can be highlighted and then linked right back to a new questionnaire. As well, all qualitative information received can be tallied and then processed into measurable variables.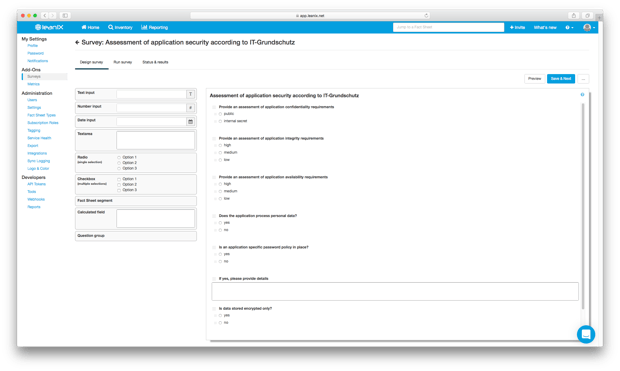 The design stages of a LeanIX Survey. In this example, a questionnaire to assess the security risks of IT applications is being made.
Hassle-free Importing
Bulk amounts of system data can be imported directly into new or existing Fact Sheets from a variety of formats. Just like data arriving from Surveys, all application information stored in Excel can then become automatically imported into specified inventory locations. Additionally, to provide even more importing flexibility, IT inventory data can be entered and then altered, whether in bulk or individually, at a high-level view using a built-in inline editing functionality.
Since most companies tend to already have rough outlines of IT portfolios assembled, LeanIX makes it quite easy to transfer information from other EA tools to get a quick start (an introduction on how can be read here).
2. Practical and Sustainable Quality Assurance
LeanIX makes data maintenance a collective duty by entrusting all parties to safeguard the accuracy of the information they provide. Together everyone assembles an IT application inventory—a one-stop, single-source of truth—to guide current and planned architectural transformations.
All contributors are assigned one of three varying degrees of ownership over the upkeep of the information they provide—"Responsible", "Observer", or "Accountable"—and by directing these individual perspectives on a shared platform, administrators can trigger dialogues to authenticate examples of the following:
What is the data actually attempting to define?
Is this information accurate—is it even complete?
Is this data available for auditors and accessible to compliance officers?
Is this technology right for our business—and are you the right person to be looking after it?
And in the very likely case that stakeholders are busy and that these answers take a while to arrive, LeanIX uses two powerful methods to stimulate quick quality assurance assessments and actions: "Completeness Levels" and "Quality Seals".
Completeness Levels
A Fact Sheet's "Completeness" is calculated in LeanIX based on which data input fields you choose to make optional or mandatory. A result, shown in percentage and appearing on the top right of every page, is determined by the "weight" (the importance) and "status" (the applicability) of an architectural object as set by an administrator. If data is missing, it'll be obvious—and so too the preventative methods and corresponding risks involved.
Quality Seal
The LeanIX "Quality Seal" is a way to prevent information from slipping into irrelevance by automating reminders to those responsible for its maintenance. Quality Seals appear on the top right of a Fact Sheet and will "break" if past their review data. A broken Quality Seal triggers a call to action for those subscribed while working also in conjunction with a Fact Sheet's "Last Edit Date" (i.e., the date/time of the most recent information update).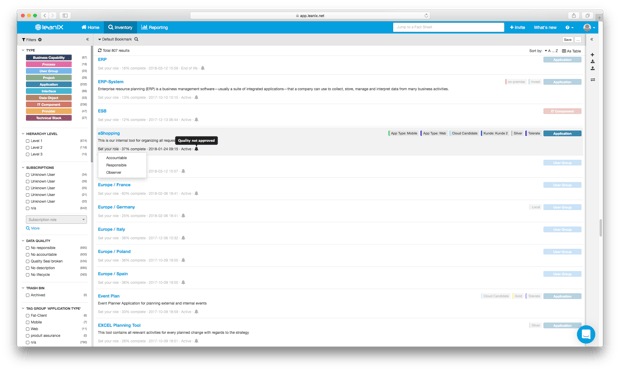 The LeanIX Inventory, an interactive repository of all IT elements in an enterprise. Among many other configurations, filters can be applied to easily identify insufficient application definitions to direct quality assurance priorities. The Inventory can be viewed as a table as well as exported as an XLSX file.
3. Unlimited Users, SaaS-Based Solution
Nothing that's been discussed in this post can be accomplished unless a tool supports unlimited users and is placed where it can be used by everyone. Since every edition of LeanIX allows access to as many contributors as desired and is based on a SaaS solution that works in any browser, it's a version of EA Management that's capable of supporting the largest workspaces with even the most limited EA resources. And most importantly, its pricing is based on the complexity of architecture demanded—not on the number of users.
German-made, globally-tested: more than 150 worldwide leading brands already use it to solve daily architectural complexities. But for a detailed look at how to use LeanIX to fast-forward Enterprise Architecture programs and generate quick value, watch the following presentation by our VP of Customer Success, Christian Richter:
"How to Accelerate Your EA Practice"
Would you like to see if LeanIX can accomplish the architectural needs of your enterprise? We'd be happy to discuss your company's IT priorities during a personalized, 30-minute demo at a time of your choosing. Just hit the button below so we can start the process.
LeanIX offers a Software-as-a-Service (SaaS) for Enterprise Architecture (EA) that enables organizations to make faster, data-driven decisions for their IT landscape. More than 150 leading brands worldwide such as DHL, Merck, Vodafone, and Zalando use the innovative tool. Users of LeanIX gain insights on how to organize and leverage their IT landscape to increase competitiveness and innovation going forward. LeanIX addresses the common enterprise predicament that information regarding IT landscapes is missing, outdated, or difficult to analyze. LeanIX is headquartered in Bonn, Germany.