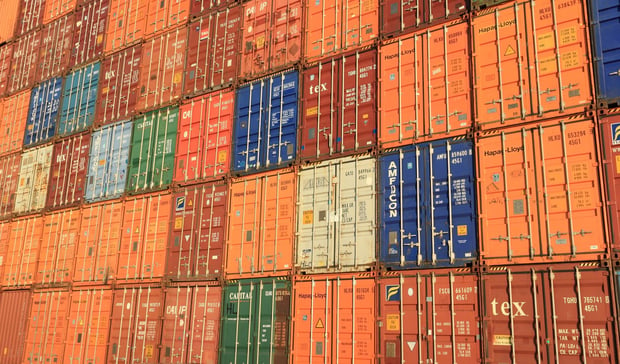 In the fifth blog of our series "Business Capabilities: How to win the digital age with a common language for Business & IT", we will review three case studies on how to go from a business capability model to value.
IT investment alignment to strategy
Logistics companies are facing an environment of intense competition with differentiation mainly via price. This leads to a strong bottom-line focus and IT costs are always a welcome target for potential savings. Slash and burn policies have put logistic companies' IT in a position where innovation becomes hardly possible. Business capability-driven analyses can support a smarter way of deciding on IT investments.
A logistics company has decided to align its IT investments with the strategic priorities. In a project the business capabilities were defined and assessed based on their financial impact and value they provide for customers. The IT board decided that cost savings for the next year will only be foreseen for business capabilities that are classified as "Business Necessity". As preparation the team creates a heat map that is filtered by the affected capabilities and depicts with a color code the cost of associated applications. In the resulting report the Audit/ Assurance/Legal capability sticks out as it seems to absorb a lot of IT investment. As a next step the project team further investigates the affected applications and underlying infrastructure. They come up with a list of potential activities, such as reconciling SLAs, switching to SaaS solutions and more. The business capability analysis helps them to focus their activities.
A large insurance company has operations in more than 25 countries. The organization's technology is located throughout the world supporting global lines of business. IT includes inhouse development teams, support back offices as well as various outsourcing partners. In the past various attempts to come to a feasible risk assessment have failed. Past incidents and related outages have caused severe financial damage. Regulations put additional urgency on the topic. Besides these demands, the IT should also increase its flexibility. At this point an integrated approach is needed. The CIO decides to establish a capability-based risk assessment.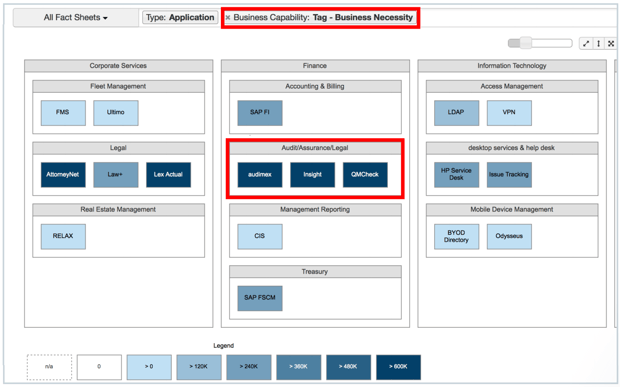 A risk cartography is developed that shows relations from IT components (technology layer) via applications (information layer) to business capabilities (business layer). These pictures help to illustrate complex dependencies and ensure that the problem is tackled from a holistic perspective. Looking at the risk cartography, risks can be identified from the infrastructure level and can be traced up to severity of implications for the business. Combined with further information about technology life-cycles and technical fit an assessment is conducted on which risks to accept and which to mitigate. Based on that information the team suggests an investment in outdated technologies.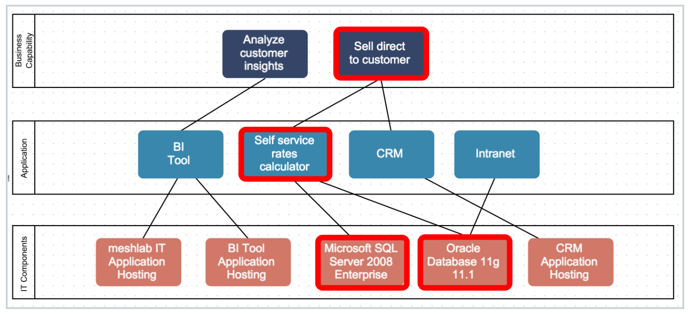 IT consolidation
A multinational player in the automotive supply industry has recently acquired a hidden champion constructing manufacturing robots. The integration of IT systems had been postponed during the hectic acquisition phase. In the current situation many processes and IT systems are redundant. As the merger needs to leverage synergies, a program is set up to consolidate applications.
The project team starts by mapping the capabilities of the acquired company to their existing model. While doing this analysis it is becoming apparent that some new capabilities need to be added, however, especially for support functions, the capabilities are to a great extent very similar. In particular, the HR capability promises a lot of potential for consolidation.
The team maps countries, HR capabilities and supporting applications in one matrix view. Together with the information on how well these applications support the business, they come up with a first shortlist of which applications of the formerly two companies to keep and which to phase out.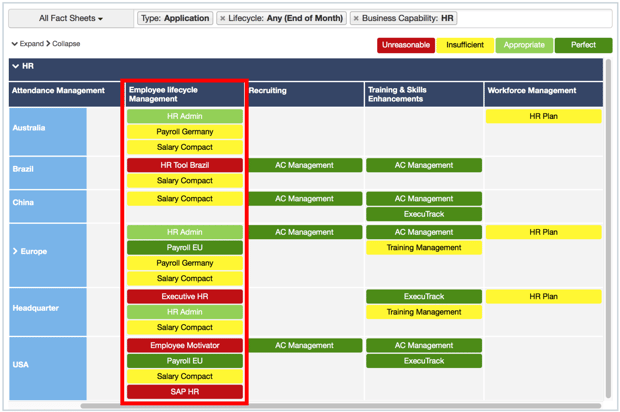 So, did the subject catch your attention and you now are interested in more? We have the perfect (free) little tool for you! Your own best practice business capability maps!