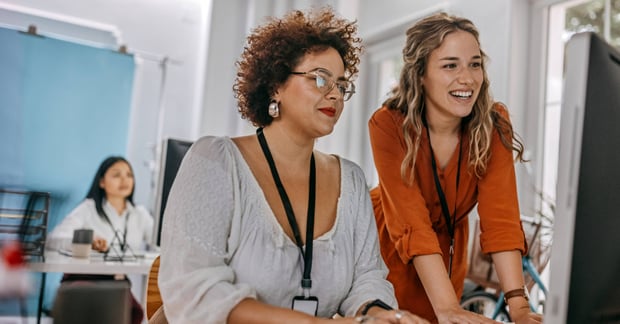 As more and more companies migrate to the cloud and IT infrastructures become increasingly complex, enterprise architecture (EA) decisions have become mission-critical. Indeed, the wide-reaching implications of changes to the tech stack, combined with the business need to continuously adopt innovative technologies with their own unique tech requirements (think of AI and the data environment it depends on), has cast a new spotlight on the EA function.
CIOs, IT leaders, and enterprise architects must ensure their teams, tools, and practices reflect the central, strategic importance of the EA practice.
With this in mind, let's walk through three questions you can ask to evaluate whether you're getting the most from your EA decisions and ways to increase your enterprise architecture ROI.
Quick Takeaways
Complete, highly-leveraged data maximizes the value of enterprise architecture decisions.
Collaboration between EAs and business leaders across the organization promotes mutual understanding that drives higher-impact decisions on both sides.
Visualization tools like business capability models, landscape maps, and transformation roadmaps empower forward-thinking, innovative decision making.
3 Questions to Assess the Value of Enterprise Architecture Decisions
Have you established a data-driven culture?
Data is power for companies today, and enterprise architects are uniquely positioned to use it for driving business value. EAs have a comprehensive, enterprise-level view of their organizations that those in function-specific roles do not. As a result, they can leverage data to spot issues (redundancies, gaps, poor integrations, etc.) and opportunities for improvement (such as streamlined workflows and better reporting) that significantly impact business outcomes.
EAs can be even more effective when they regularly collaborate with other data-intensive roles in the organization. These roles include IT service teams, data scientists, and non-technical, line-of-business business owners. Gartner created a visual representation of this shared accountability model (pictured below) to emphasize the importance of collaboration in enabling data-driven decisions.
According to Gartner's accompanying research:
"With 58% of CIOs increasing investment in business intelligence (BI) and D&A initiatives in 2021, there is an opportunity for EA leaders to provide an enterprise view against which hundreds of decisions comprising data initiatives are made."
The extent to which enterprise architects can strategically leverage data depends on the quality and completeness of that data.
It's important, then, to ask: Has your organization established a data-driven culture? Do employees across your organization recognize the value of their data and share it regularly? Do your EAs have the data they need to make the smartest possible decisions? Are they empowered to ensure data quality within their specific domain (the EA repository, for example)?
If the answer to these questions is no, the power of EA is limited. In his recent talk at the LeanIX Connect Summit, Senior Enterprise Architect at Southwest Airlines, Christian Holston, outlined steps that EAs can take to improve the quality of their data and gain buy-in from the people serving as the source of that data. These steps include:
Take a top down approach - Share data gaps and opportunities with executives so they can see data's potential and champion better data practices.
Use the tools you have - Don't wait for laggards to get on board. Use your tools and share your reports, even if it shows where data is missing. This will usually motivate others to participate.
Have honest conversations - If you're still missing data you need, don't let it slide. Have honest conversations with the business leaders responsible for missing data so they understand why it's so important to share.
Do your EAs collaborate with business leaders?
Companies get the most from their enterprise architecture when it's closely aligned with the needs of business leaders across the organization. This requires a collaborative relationship between said leaders and the EA team. Enterprise architects that familiarize themselves with strategic priorities and goals – and who are included in the decision-making process – are better able to apply EA knowledge, tools, and practices to help achieve these goals.
Ongoing conversations between business leaders and EAs may not align with more traditional, governance versions of the EA function. Nevertheless, this development reflects a natural evolution. Technology and a variety of applications have become central to the performance of every business function and operation.
And this collaboration makes a measurable difference. According to McKinsey, companies that allocate more of their enterprise architecture team's time to strategic planning report higher overall EA effectiveness.
In other words: For EA teams to realize this strategic potential, collaboration needs to be prioritized. IT leaders must make strategy a key part of the EA function. At the same time, EAs must educate business leaders from across the organization on the value of incorporating EA knowledge into their decisions.
This collaborative culture creates a mutually beneficial environment — one in which business leaders leverage EA for their benefit, and EAs in turn understand how best to drive value for stakeholders.
Are you continuously planning for the future?
EA platform tools provide the ability to create visual, interactive representations of current-state architectures and future target states. Business capability models, application landscape maps, transformation roadmaps — these and similar visual aids allow stakeholders across the organization to understand the impact of their decisions and see the potential of digital transformation.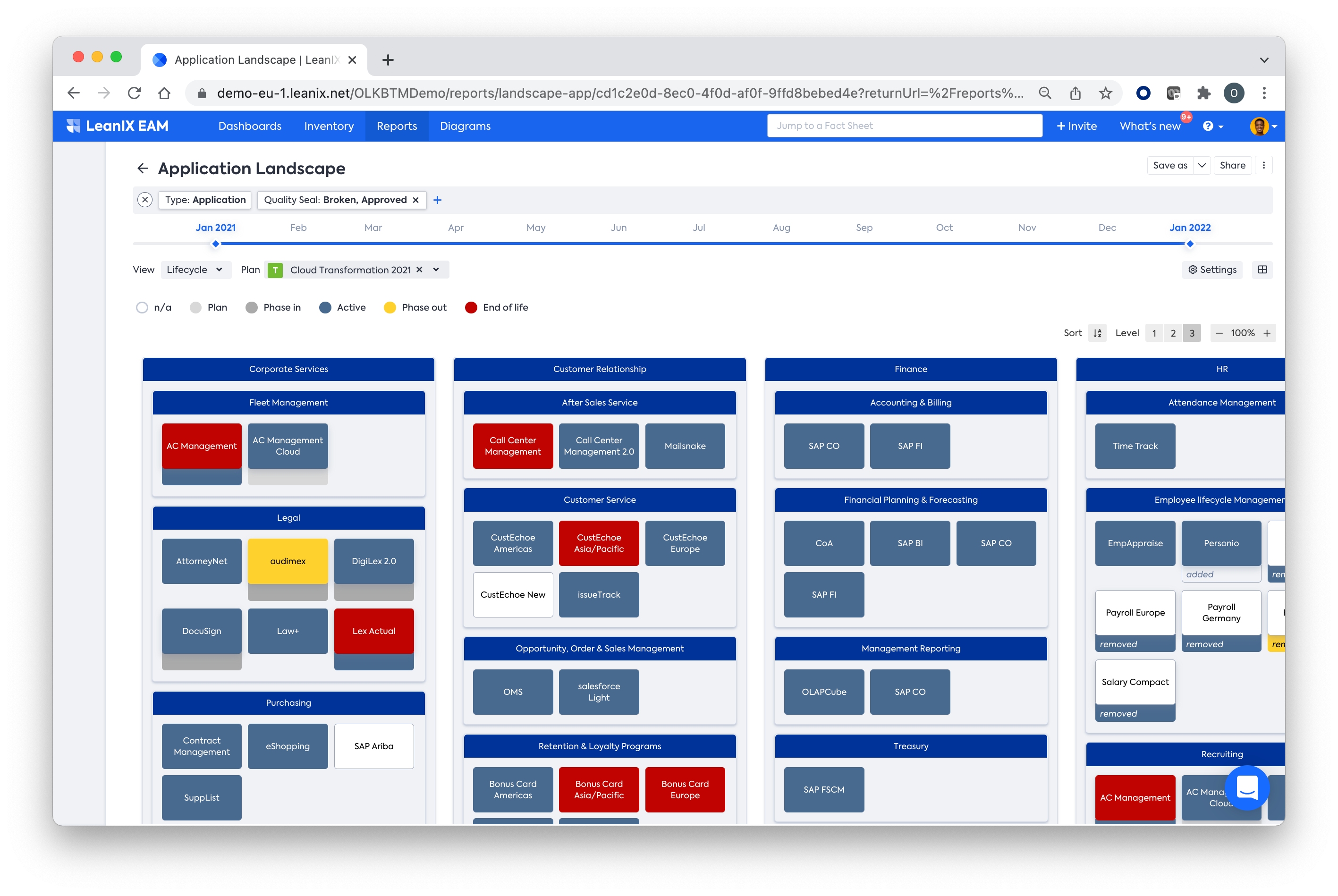 Application Landscape Report as seen in LeanIX EAM
Of course, these visualizations are valuable for EA teams in the first instance. The maps and models listed above enable EAs to make their function strategic. It's how EAs drive innovation, smart decision making, and tech stack optimization. It's how they create future opportunities and move their companies toward target states from the inside out.
SAP's Vice President of Enterprise Architecture for North America, Jason Porterfield, put it aptly in his LeanIX Connect Summit presentation:
"None of our businesses sit still, period."
Real-time visualizations created with enterprise architecture tools empower business leaders to make forward-thinking decisions and enable companies to continuously transform at the pace that modern business demands.
Maximize Your Enterprise Architecture ROI with LeanIX
LeanIX's outcome-driven approach empowers Enterprise Architects to lead the organization when it comes to leveraging technology, making decisions, and managing change. Our pre-defined, out-of-the-box Meta-Model, based on industry best practices, provides a starting point for EA success that is highly adaptable as your practice matures. It allows you to focus on strategy, not re-inventing the wheel.
Discover why 750+ leading brands trust LeanIX — schedule a demo today.