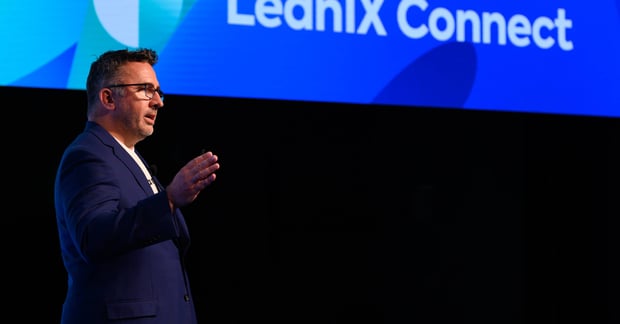 Enterprises now use hundreds — even thousands — of different software tools and other tech stack components to operate their businesses. Enterprise architects are not only tasked with managing this massive amount of information, but communicating about its complexity in ways that are meaningful to business leaders.
At this summer's LeanIX Connect Summit, Jason Porterfield, SAP's Vice President, Enterprise Architecture North America, outlined exactly what the best enterprise architects do to drive business value for their companies. According to Jason, great EAs:
Have a holistic understanding of their business — end to end
Tell stories that translate data into relevant information
Provide clarity by translating technical minutiae into real insights
Guide stakeholders on the direction of technical strategy
As you may have noticed, all of these responsibilities center around enterprise architects delivering real business value at their organizations. Gartner agrees that this is a necessity for modern enterprises to succeed. Their research team states:
"With 58% of CIOs increasing investment in business intelligence (BI) and D&A initiatives in 2021, there is an opportunity for EA leaders to provide an enterprise view against which hundreds of decisions comprising data initiatives are made."
Throughout the rest of his Connect talk, Jason explained how EAs can provide this view using enterprise roadmaps, roadmaps which can turn massive amounts of data into compelling stories that demonstrate business value (both current and potential).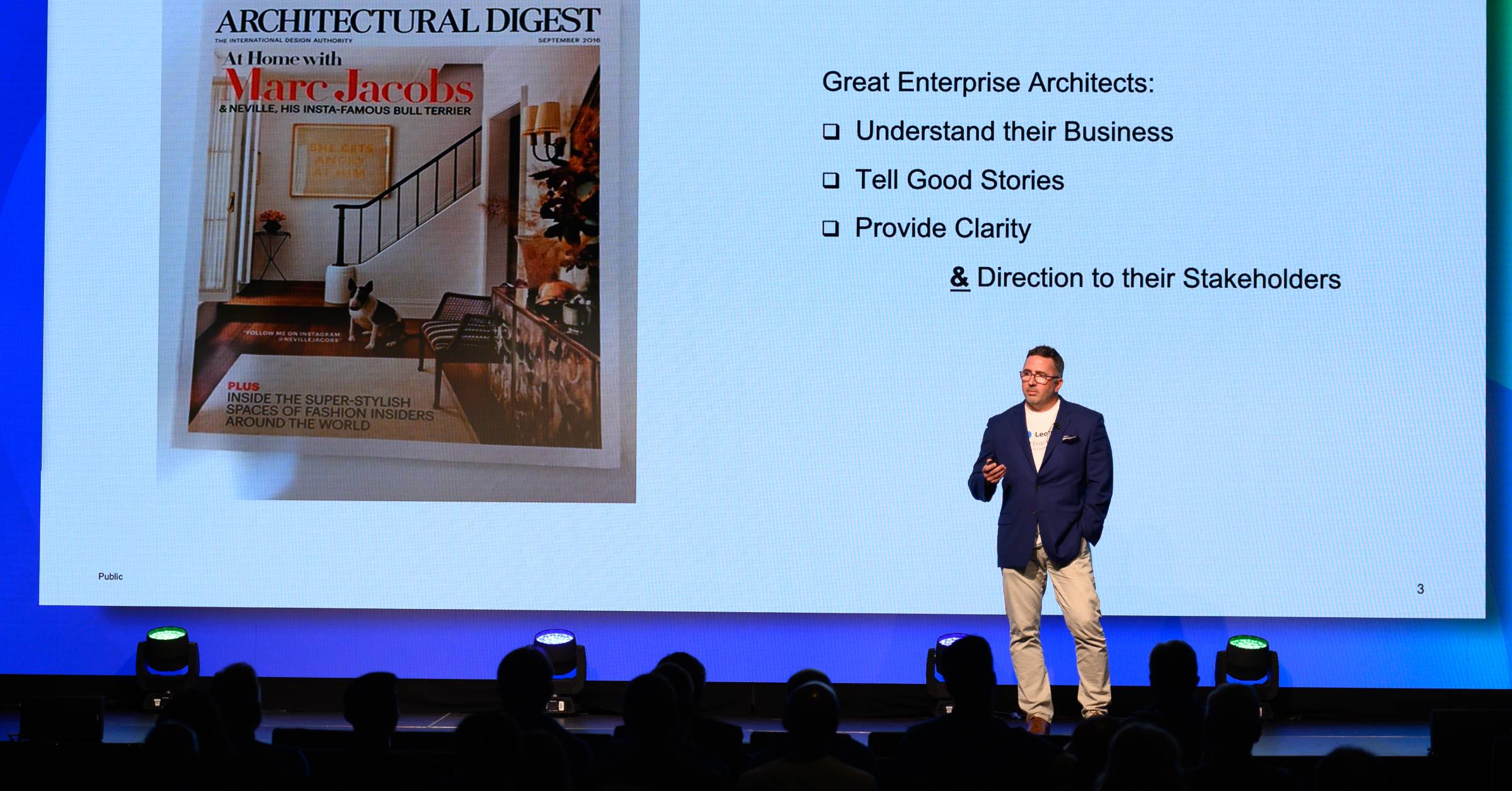 SAP's Jason Porterfield at LeanIX Connect Summit Boston
In the sections that follow, we'll walk through some of Jason's most important insights and three real-world examples of how SAP used enterprise roadmaps to deliver transformative results for their clients.
What is an enterprise roadmap?
An enterprise roadmap is a visual, strategic representation of the ways a company's IT assets and plans connect with business results.

Roadmaps, according to Jason, represent a journey. They're based on a story. They're living breathing documents that must be continually referenced, revisited, and governed to remain relevant.
As Jason put it: "None of our businesses sit still, period."
The implied takeaway? Neither should our roadmaps.
Roadmaps are absolutely critical in helping business leaders and key stakeholders understand how their tech stacks are contributing (or hindering) their business success. This is not always they case. According to a stat Jason cites in his talk, for example, 61% of businesses don't know which applications they would use after they transition to SAP S/4HANA.
This statistic demonstrates the real need for tools like enterprise roadmaps to guide strategic decision making around technology (and not just for SAP customers). In short: companies that don't do the work to understand their IT landscapes will be in the dark about the total impact of major decisions they make.
SAP addresses this issue with their customers using a three-step approach:
Discover objectives - create a current state and capabilities blueprint
Identify the strategy - assess ongoing projects, needs gaps, and upcoming projects
Set expectations - know industry trends and align them with company priorities
Deliverables throughout this process include a wide range of storytelling documents, including:
Capability Models
Transformation, simplification, and innovation roadmaps
Target state reference architectures
Recommendations/Action Plans
Communications Plans
Lifecycle Management
Let's look at three real-world examples Jason shared showing how SAP successfully used this strategy to win stakeholder buy-in and help their clients transform.
The Power of Enterprise Roadmaps: 3 Real-World Examples
Example #1: Retail Client
In this scenario, SAP's client approached them with an urgent need for an application rationalization roadmap. Without a business case to share, they needed a plan to reduce their technical debt significantly.
SAP helped them map their current state SAP landscape, including what they were using and what was shelfware. Then they designed a future state map that eliminated said shelfware and added critical tools that they needed (such as a centralized finance tool and human experience management suite).
After getting it approved by the client's IT team, they took it to the CFO — who pretty quickly shot it down. He wasn't a supporter of the plan because he didn't understand how it would deliver value to the company. The SAP team showed him a map outlining all of the shelfware applications that would be eliminated if they executed this initiative.
With visual evidence and a story to go with it, the CFO changed his tune and approved the plan.
Jason's key takeaway from this example: Know your audience. Know your stakeholders. Use roadmaps to specifically address the concerns they may have and make your plans relevant to them.
Story #2 - Telco
This client is a best practice example — they created an implementation work stream map that outlined what they've already accomplished, what is currently in progress, and what future phases of their IT transformation initiatives looked like.
According to Jason, they combined the "why" and the "what" — their roadmap shows capabilities, key milestones, and the solution set they use to achieve both.
It's a living document updated on a quarterly basis. And while it doesn't use the standardized templates SAP typically uses with clients, it incorporates the right practices to succeed.
Jason's key takeaway from this example: There is no universal template. Be flexible with stakeholders, and focus on key best practices and focus areas.
Story #3 - Energy
This client started in the right place: They went to SAP with a defined business strategy for their company. With the strategy outlined clearly, SAP was able to quickly and accurately:
Map client capabilities against industry standards
Identify client priorities
Map SAP capabilities and show how they could enable the client
Group capabilities into key categories
Create a high-level reference target architecture
Sequence applications on a roadmap
Jason's key takeaway from this example: Knowing your business strategy is key. Align yourself with business strategy leaders to become a trusted advisor with knowledge of larger business goals.
In Summary
Roadmaps are a powerful tool that connect EAs with business leaders and deliver value by making data relevant to stakeholders. They tell stories that make data more compelling and connect IT assets to business priorities.
To succeed in using them, IT leaders must know their audience, and design roadmaps to align with their priorities and address their concerns. They should be flexible in their approaches, willing to work with clients to use the formats they're comfortable with as long as they maintain best-practice standards.
And to deliver the most possible value, EAs should proactively seek to understand business priorities by communicating and collaborating with the business leaders at their organizations.
If you would like to watch Jason's talk in its entirety, you can do so here. [Free registration required].