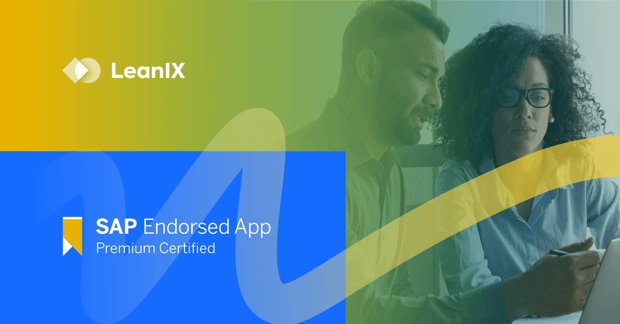 Continuous transformation goes hand-in-hand with ERP rollouts — specifically, SAP S/4HANA. Billed as a "real-time ERP suite for digital businesses," SAP's upgraded platform offers a set of foundational digital capabilities to improve business processes at higher speeds.
Pivoting to new business models will never be simple, but with S/4HANA, companies have a technical architecture that's adaptable to changing business and technology needs. Compared to its predecessors, the platform embeds more automation and system intelligence to reduce manual workflows, batch latency, and data sprawl to enhance performance across all business functions.
S/4HANA's flexibility and processing power is why companies throughout industries want it as their digital core. Despite this, very few of SAP's roughly 35,000 relevant ERP customers have completed their transformation — the reasons for which, as shown in LeanIX's 2021 SAP S/4HANA survey, are closely linked to how enterprise architecture (EA) is utilized.
The role of EA and SAP S/4HANA progress in international companies
91 companies and 50+ EAs from the global LeanIX customer portfolio took part in this survey, 80% of whom use SAP for ERP purposes. These users were asked about the current state of their S/4HANA transformation and EA's role in these activities. In particular, questions focused on EA's involvement in specific project phases (e.g., planning, preparation/concept, roll-out/cut-over) and the challenges faced by EAs when doing so.
It turns out LeanIX users are highly engaged in S/4HANA transformation when compared to those surveyed in other reports. But the point of this study isn't to advertise the advantages of SAP's latest platform but to identify why LeanIX users — like many others — aren't progressing as expected even though the technology is critical to their digital futures.
To put this in perspective, 94% have committed to the transformation but 64% remain in the preparation or concept phases of their transformation, a result contrary to LeanIX's 2018 prediction that most companies would have completed their transformation by 2020.
That this is still happening is a problem since SAP is ending ECC support in 2027 — a short time-frame given that S/4HANA transformation last, on average, 3 - 5 years.
So, what insights can companies draw from this report to do better — and in what ways can EA help?
Paving the way for S/4HANA transformation
Since most respondents are in the early stages of their transformation, it makes sense that the majority (65%) primarily use EA to create transparent IT landscapes. Identifying and mapping technical dependencies across an organization (e.g., showing which applications relate to which process(es), business unit(s), office location, etc.) is a difficult yet necessary first step when executing system-wide changes.
Without an organized inventory of IT assets, change decisions can't be contextualized according to business value or technical risk — thereby making it hard to prioritize tasks and win stakeholder buy-in for future initiatives.
Over the years, EAs have become quite efficient at these preliminary tasks. Aided by platforms like LeanIX and its collaboration-based mechanisms, EAs create systems of record by integrating to specialty tools used throughout an enterprise. Business Process Insights from SAP Signavio, a long-standing LeanIX technology partner which was recently acquired by SAP, is one such example for process modeling and mining.
That being said, less than half of respondents are adequately using these single sources of truth in follow-up activities like building transformation scenarios and exposing overlapping/interdependent projects. Seeing conflicts in advance is a core use case of modern EA, and in environments where SAP projects run in parallel, it's necessary for IT and business teams to schedule events together. EA can be used in this process to record and monitor architectural changes as assets become decommissioned, trigger sequential steps, and help teams roll-over to new systems with confidence.
As well, given that S/4HANA is the pillar of many companies' digital transformation planning, tool-based EA programs make it easier to assemble change roadmaps that reflect the overall modernization of the business — not just the one system update at hand.
Complexity of ERP landscapes
Results suggest that EAs aren't doing more beyond these early steps — and, by extension, their companies — due to the complexity of ERP landscapes. Towards the top of the list, 80% say that identifying interdependencies between ERP systems are obstacles when steering transformation processes, and 59% say the same about housekeeping legacy landscapes (59%). It's worth noting that respondents also cite suitable business cases (35%) and senior management buy-in (22%) as challenges.
It appears that years of compiling ERP systems — many of which are based on disparate infrastructure platforms — are taking a toll on respondents. Though many businesses recognize the problems of non-harmonized ERP landscapes, standardization often takes a back-seat during high-growth strategies. Country-specific configurations, user-defined modules, interface dependencies, manual workflows, and self-made Z programs unfit for S/4: Issues like these must be addressed before migrating to S/4HANA to help companies modify their existing core to fit with the platform's in-memory database and data model.
IT and business teams must solve these problems together. Even when opting for a brownfield approach with a shorter project duration, applications, processes, and technologies need to be collaboratively assessed via TIME-model evaluations and business capability-based reviews. An EA program is crucial for dismantling information siloes between teams, enriching pools of data for analytics, and making sure new or altered services are securely integrated into existing IT infrastructures.
"It's about feeling the pulse of a 200-person program," said one survey respondent. And for these users, EA acts as a shared language to see their activities in the context of a holistic business transformation.
Supporting the SAP Activate Methodology
As an SAP partner, LeanIX supports all steps of the SAP Activate methodology for S/4HANA transformation.
SAP Activate is a framework for iteratively implementing and improving SAP solutions. It is a six-phase process that can be aligned to any SAP product which consists of the following:
Discover
Prepare
Explore
Realize
Deploy
Run
Discover: Ensuring transparency and setting responsibilities
"The Discover phase is where the customer realizes there is a need for a solution to satisfy their business pain point and starts looking out for the right SAP solution to map their requirements."
Exploring As-Is architecture and identifying stakeholders is streamlined thanks to LeanIX's scalable, shared inventory. Access to LeanIX is not limited by users, and those inside and outside of company networks can access the platform to participate in architectural reviews.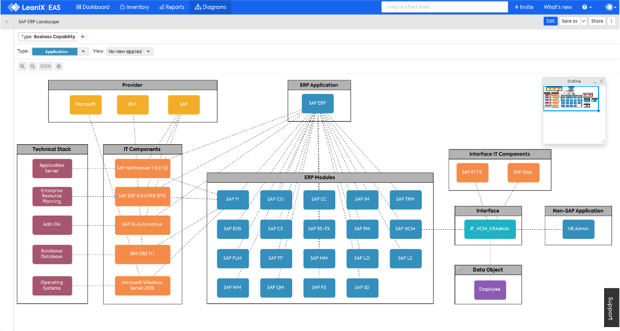 Prepare: Creating business cases
"A high-level project plan along with roles and responsibilities is finalized along with the project team, project governance procedure and escalation matrix and the project is ready to kick-off!"
On-demand and configurable landscape reports are available in LeanIX to map business capabilities to value drivers. Landscape reports show overviews of IT landscapes at specific points in time or within a given timeframe. They can be grouped by Business Capabilities, Processes, Consumed/Provided Interfaces, IT Components, and many other technical and functional requirements.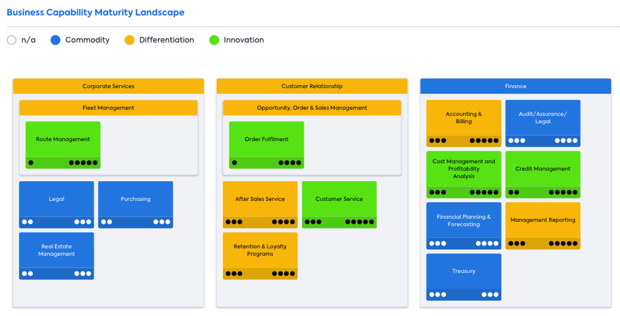 Explore: Identifying dependencies
"In this phase, customers and partners collaborate with each other for 1 outcome — to finalize the business process to be followed in the new SAP system. This is done by a series of 'Fit-to-Standard Analysis' sessions, where the SAP Best Practice business process flow is showcased to the Business Process Owner."
LeanIX interface maps and data flow diagrams are collaborative ways for business and IT users to dissect their collection of applications, interfaces, and data exchange protocols. For added benefit, LeanIX connects with Lucidchart to map out application and business architecture, IT processes, and data flows without leaving their primary EA tool.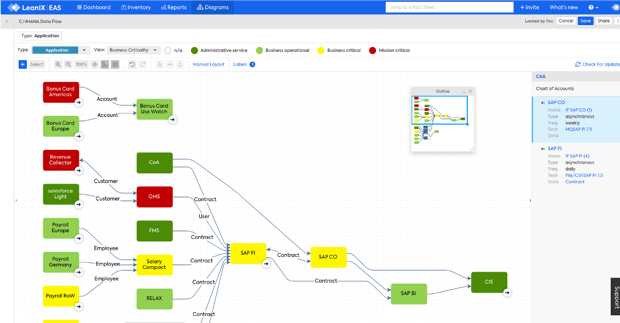 Realize: Milestone tracking
"In this phase, multiple levels of testing such as Unit Testing, String Testing, Integration Testing and User Acceptance Testing is performed to ensure the SAP system is configured according to the customer requirements provided by the business process owners. Data migration testing is also done to ensure the data filled in by the business users are in the correct format and ready to import to the brand-new SAP system."
LeanIX Business Transformation Management (BTM) provides in-depth functionality to deconstruct and plan architectural roadmaps. BTM adds extra dimensions to model future IT states and set the delivery of transformation projects to achievable outcomes. In particular, the tool adds features to dissect fast-changing IT landscapes like timeline sequences and scenario planning.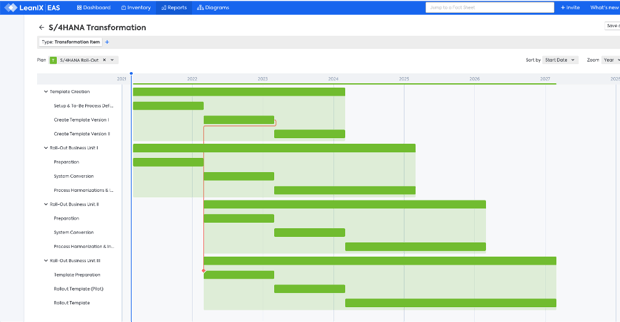 Deploy: Documentation roll-out
"In the Deploy Phase, once every checkbox is ticked and everything is ready, the business faces a temporary downtime as the new SAP system is deployed for usage to the business users. This is typically done during a weekend to ensure that customers have little to no effect due to the downtime."
After comparing transformation scenarios and visualizing changes to architectures at user-defined points in time, completed architectural changes can be confirmed by teammates in BTM and then instantly added to architectural documentation.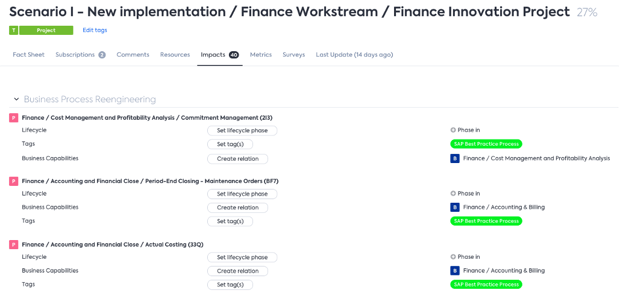 Run: Continuous landscape validation
"In the Run Phase, the customer project team are given only [one] task — to be updated with the latest innovation and technologies in SAP, especially in the product they have implemented by having a 'Continuous Learning' to keep up with the pace of technology."
LeanIX portfolio reports are matrix-based reports for grouping applications, projects, and providers according to specific attributes like an application's functional and technical suitability. These reports help users to faster identify applications, projects, and providers needing to be updated, replaced, or removed altogether.
---
For the results of LeanIX's SAP S/4HANA survey, download the report here. You can also use this poster to review the key phases of any SAP S/4HANA transformation and how EA plays a role in each step.