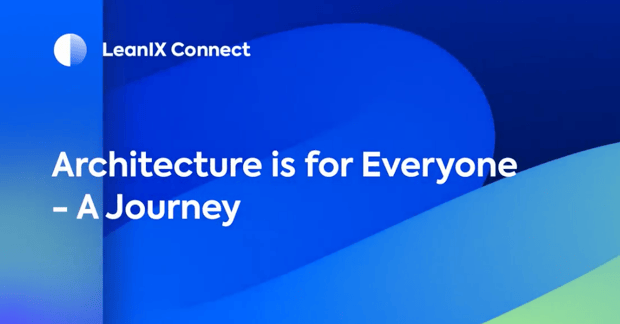 Architecture is for everyone.
This was the title of Venkat Udayasankar's talk at the LeanIX Connect Summit earlier this summer (watch it here on demand - free registration required). Venkat, Principal Engineer - Enterprise Architecture at Intuit, shared how the company executes an agile, cohesive, and EA-driven technology strategy across 15K employees and 20+ locations around the world.
A forward-thinking, collaborative approach to enterprise architecture is essential for companies focused on implementing digital transformation across the entire organization. As Forrester has pointed out with regard to EA: "[Customer] and employee experience research has shown us that the quickest way to deliver value is to co-create services with the intended stakeholders."
When companies lean into what Venkat refers to as the "art and science of enterprise architecture," it encourages people to come together, solve problems and deliver exceptional customer experiences. The result is not only digital transformation, but an organization capable of adapting to ongoing change (what we like to call "continuous transformation").
And while EAs and IT leaders often recognize the value in cultivating a collaborative approach to architecture, they're less sure about how to put it into practice. That's what we'll cover in this recap. By highlighting important insights from Venkat's talk, you'll see how Intuit uses architecture to successfully execute their integrated technology strategy. You will also learn how to apply the same principles at your own company.
Enterprise Architecture: A Technology Potluck
Many professionals turn to mission statements to answer questions about what their company does. According to Venkat, when it comes to corporate strategy, mission statements answer the what, technology and enterprise architecture answers the how. They represent the building blocks and framework that guide the execution of a company's mission-critical strategies.
"Strategies", you'll notice, is plural here. By nature, large enterprises such as Intuit serve different customer segments with different needs across their product/service portfolios. As a result, their enterprise architectures include a great number of technology components that vary in relevance and importance to teams across the organization.
Keeping those moving parts integrated and coordinated can pose real challenges. Venkat compared it to planning a potluck dinner:
"You want everyone to get a balanced meal and you want everyone to have a happy experience. That's what building software with 15,000 people is like. You're trying to put a meal together that's cohesive and caters to all of the different needs."
If you don't have a plan for your potluck, however, you're likely to "end up with 10 boxes of hummus, and there's no meal," he said.
Without a single, guiding EA framework, your "10 boxes of hummus" will be a bunch of disparate technologies that can't be leveraged to their full potential.
Capability Maps as a Driving Force
Intuit's long-standing solution for this challenge has been a capability map that represents the "technology how" of their execution strategies. The map covers the key business capabilities provided by their suite of well-known products like Mint, TurboTax, Quickbooks, and Credit Karma.
Each of these products serves a different customer segment and fulfills a different need, but they all use the same capability map in order to leverage Intuit's over-arching enterprise architecture.
To take advantage of a capability map when implementing digital transformation at your organization, think about the following steps Venkat outlined for using business capability maps:
Someone in the organization identifies a business problem or need.
Your EA team partners with people in the relevant department to explore your tech portfolio via the capability map.
Together, the EA team and business leaders evaluate the strengths and weaknesses of existing tech solutions with regard to the problem at hand.
Together you make an informed decision about next steps (i.e., use an existing solution in the tech stack, build a new one in house, pursue M&A opportunities, find an industry vendor, etc.).
At Intuit, the capability map continually evolves to align with new and changing business needs. Even as it evolves, however, you need a single source of architectural truth always available for anyone to consult in support of key technical decisions. That's where you EA platform comes in.
Intuit's business capability map makes it possible to provide consistent and quality experiences for both internal stakeholders and end users across a huge organization. According to Venkat, the map sits between their technology and business strategies as the manifestation of exactly how they solve all of the problems their products address.
Creating Empowered Teams with Enterprise Architecture
The unified and holistic enterprise view provided by a collaborative EA strategy has benefits beyond practical execution. It empowers teams to be solution-oriented, creative, and innovative in daily practice.
As we know from LeanIX CEO André Christ's keynote at the summit, there are three first principles to innovation: standardization, simplification, and collaboration.
The integrated strategy and business capability mapping that Intuit has implemented facilitates all three.
Intuit has taken a fairly common tool — the capability map — and used it to transform the way their employees approach problems and find solutions. The constant translation of customer needs into business capabilities drives efficiency and demonstrates how everyone has a role to play.
At Intuit, architecture really is for everyone.
Venkat outlines three key underlying elements that make this possible, elements you can prioritize for your own company:
The capability map serves as an accessible resource that teams use to own and understand how they contribute to the overarching business strategy.
Teams are entrusted to continuously transform. Leaders allow them to plan, collaborate, adapt, track value, and mature on their own.
Everyone at the organization stays focused on customer needs to ensure the value of what they are doing.
With these elements in place, collaborative enterprise architecture becomes more than just a strategy, creating a culture embraced across the organization. As such, it serves as a common practice in which everyone participates and everyone is equally invested in its success.
If you would like to watch Venkat's talk in its entirety, you can do so here. [Free registration required].