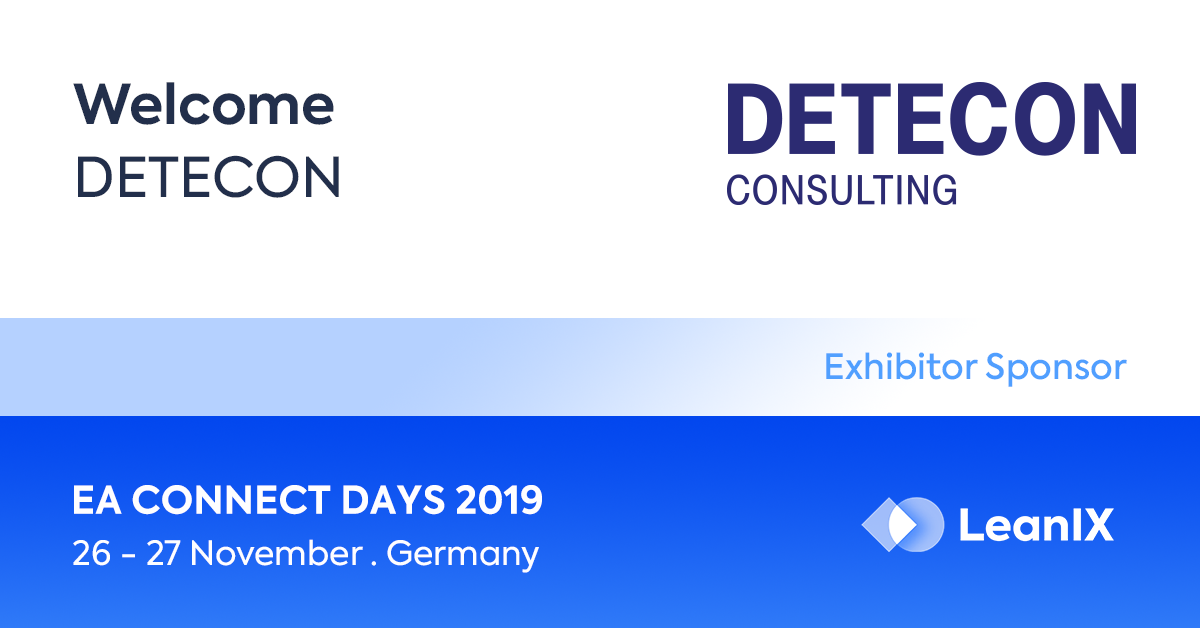 LeanIX is pleased to announce the addition of Detecon to its Partner Ecosystem.
As one of the world's leading management consulting companies, Detecon is very active in LeanIX's use case areas of expertise; including Agile Transformation, Application Portfolio Management, Enterprise Architecture Management, Risk, Security, Compliance, and IT Strategy.
Detecon has developed a business-driven approach that puts a future business model at the center of its focus for the SAP S4 Architecture roadmap. Detecon uses top tools on the market, strategy, and consulting to enable their clients to create a business-oriented roadmap, supplemented by the technological prerequisites to achieve a changeover that generates positive business value.
With over 15 years of project expertise in EA, Detecon offers a tailored approach with lean & agile EAM and EA as a Service while addressing digital trends like IoT, Data Analytics and SAP S4 Hana. Detecon demonstrates to their customers how to successfully use EAM to preform a transformation. Detecon has been a member of the TOGAF Group since 2005, and is also an accredited TOGAF training provider.
Detecon has developed a Master Data Management approach that addresses the key challenges of digital transformation. With combined architecture expertise as well as extensive experience in the field of MDM, Detecon provides a procedural model that offers an EAM-compatible approach to the specific problem solution, an MDM maturity check, and comprehensive training for master data management.
Detecon adds LeanIX to its broad, tried-and-tested EAM advisory portfolio. Detecon brings effective, innovative approaches to deal with the challenges of digital transformation. Their aptitude for advising and implementing solutions based on the use of information and communications technologies is shown by their growing international client base.
We look forward to our joint growth. Click here to visit Detecon International's website.