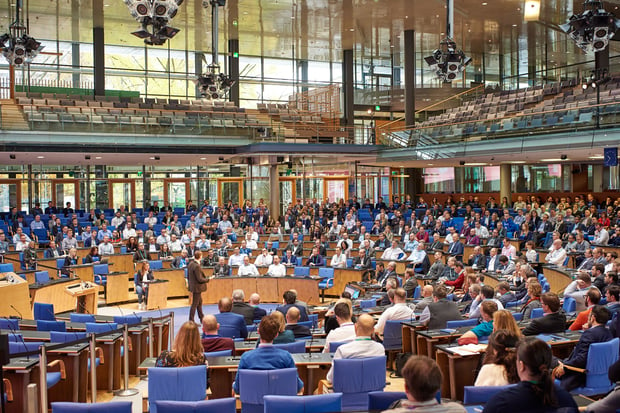 We don't say this enough, but LeanIX's global network of Certified Partners— 43 in total from 10 countries—is fundamental to our company's growth. It's the not-so-hidden secret behind how we deliver our cloud-native Enterprise Architecture solutions to the number of companies we do and contribute to so many digital transformations worldwide. Based on a combination of technology enablement (online certifications, full product access, etc.), sales enablement (proof-of-concept and demo support, sales workshops, etc.), and general partner enablement (access to an evolving resources library, a dedicated LeanIX Partner Manager, etc.), our partners are able to use our tools to their fullest—and in turn, so do their clients.
This process is nonetheless underscored by tremendous hard work and creativity, so at the 2019 LeanIX EA Connect Days, a series of awards were presented to recognize achievements in our partner ecosystem.
And these were the recipients:
Delivery Partner of the Year: Lean42
This award was given to Lean42, a LeanIX Certified Partner who contributed to making the LeanIX platform a co-operative and beneficial ecosystem via co-marketed and use case-driven content efforts that accelerated customer implementations, sales efforts, and consulting.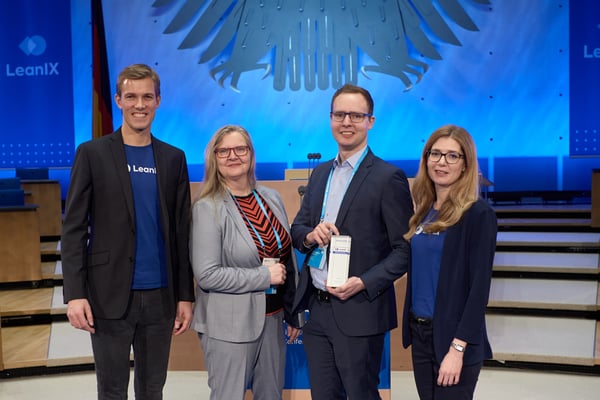 Lean42 recipients: Inge and Sebastian Hanschke
Regional Partner of the Year: LoQutus
LoQutus, a Belgium- and Netherlands-based leader in digital insights and analytics, spent much of 2019 assisting their regional customers with LeanIX. Of note, LoQutus also embraced LeanIX as their own standard solution for enabling their customers' Enterprise Architecture practices.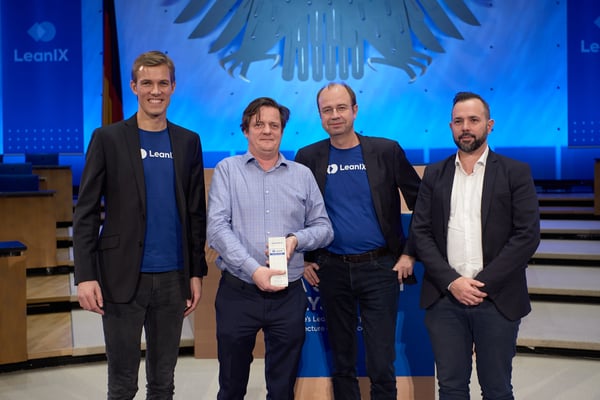 LoQutus recipients: Pedro Meuleman (left) and Alexander Borry (right)
Technology Partner of the Year: Signavio
Our products would not be as useful as they are without the integrations we build alongside our technology partners. Awarded this year to Signavio, the achievement highlights the best in technical cooperation and co-innovation for bringing LeanIX to the next level of service excellence.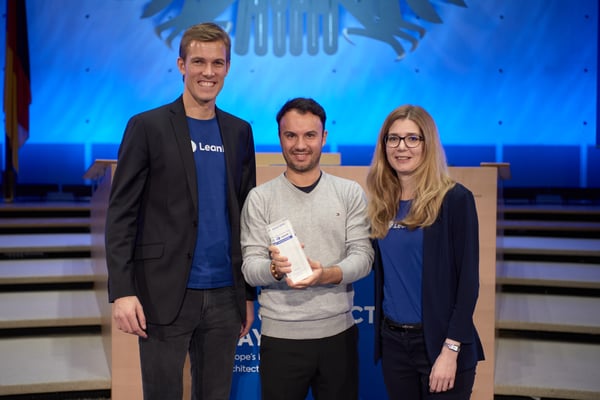 Signavio recipient: Daniel Marques
New Partner of the Year: Cognizant
As the title suggests, The New Partner of Year is awarded to a recent LeanIX partner who demonstrates outstanding engagement with the LeanIX Academy platform and completes a thorough certification in their early months of the program. Cognizant took home this year's honor after having exceeded the expected use of all available learning resources.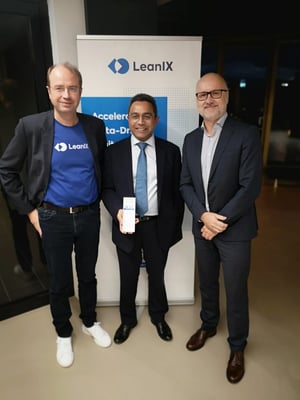 Cognizant recipient: Dilip Parmar (left) and Alexander Broj (right)