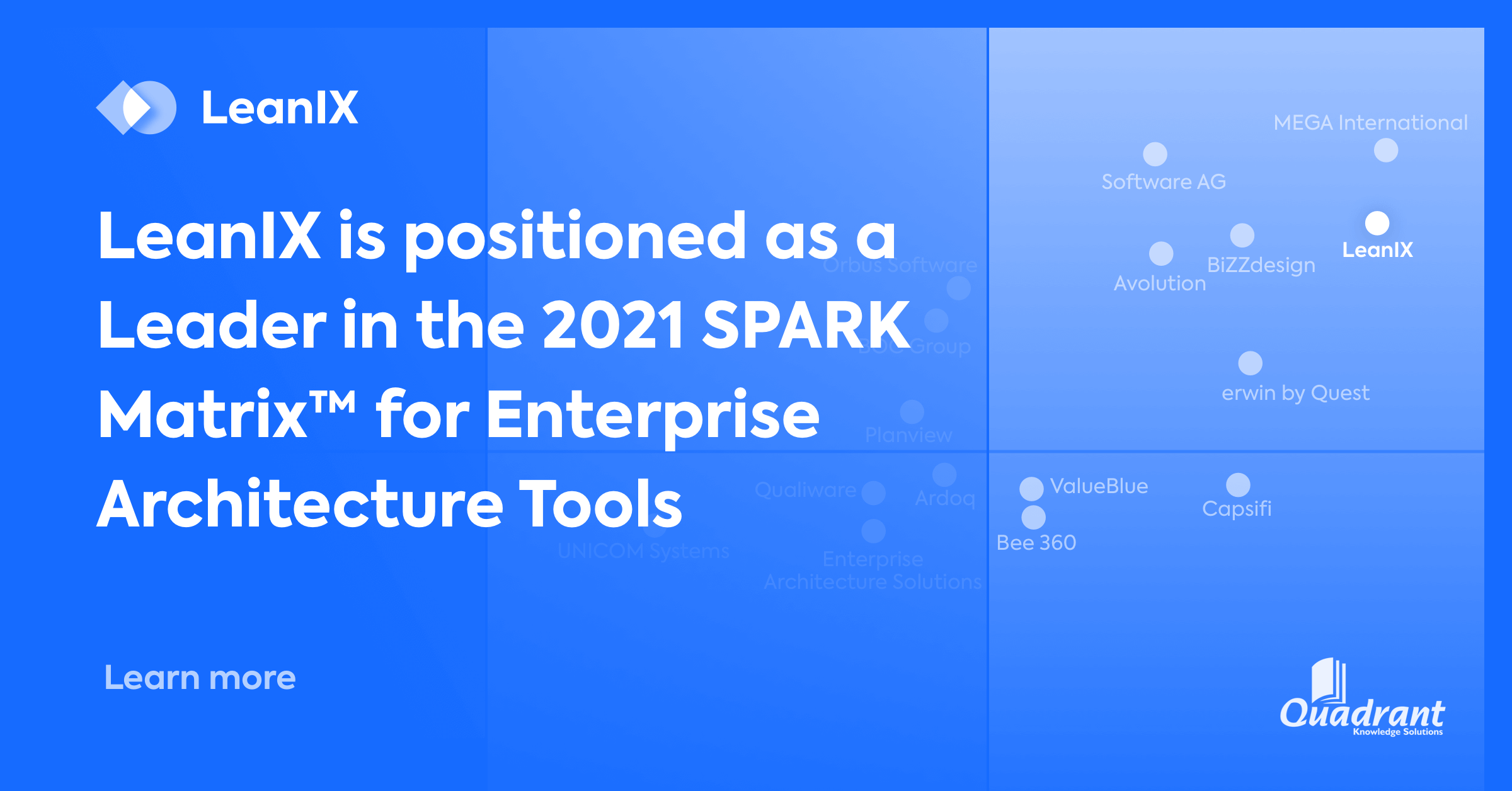 Quadrant Knowledge Solutions has named LeanIX a Leader for its SaaS-based solutions for enterprise architecture (EA), SaaS, cloud, and DevOps management.
As part of the research company's evaluation of the global enterprise architecture tools market, SPARK Matrix: Enterprise Architecture (EA) Tools, 2021, analysts from Quadrant Knowledge Solutions put LeanIX's products under the microscope. Among other focus areas, their analysis focused on how EA tools like LeanIX improve business agility and create innovation-driven cultures.
"LeanIX implements the data-driven enterprise architecture approach to keep up with the pace of the changing technological advancements," said Shrikant Mahadik, Senior Analyst at Quadrant Knowledge Solutions. "With its robust technology platform, comprehensive functional capabilities, and compelling product strategy and roadmap, LeanIX is well-positioned to expand its market share in the global Enterprise Architecture (EA) Tools market."
It's LeanIX's first external analyst review since its acquisition of Cleanshelf's SaaS management platform — and the release of LeanIX Microservice Intelligence, an automated solution for collecting metadata across the DevOps toolchain and building microservice catalogs.

The full report can be downloaded below, but here's a summary of what Quadrant Knowledge Solution considered in their LeanIX evaluation.
Application Portfolio Management and Technology Risk Management
Analysts highlighted two of LeanIX's modules — Application Portfolio Management and Technology Risk Management — as being effective ways to unlock strategic overviews of application landscapes and end-of-life IT components therein. These solutions offer reports which group applications by business capabilities to help users evaluate, in clear terms, risk across technology infrastructure. Contextualized visualizations like these make it easy for even non-IT stakeholders to make informed technology assessments.
Business transformation
Over the past year, LeanIX has refined and expanded its offerings for continuous transformation and improving collaboration between Product and Corporate IT. Since its 2020 release, LeanIX's Business Transformation Management Module, a solution for monitoring IT change initiatives from ideation to implementation, has been widely adopted by its customer base for accelerating use cases such as post-M&A harmonization, ERP transformation, and cloud migration. Similarly, the recent arrival of LeanIX Microservice Intelligence has given DevOps engineers, CTOs, Site Reliability Engineers, and other technically-minded users a solution for automating the cataloging of service landscapes and consolidating development metrics across DevOps toolchains. Information in Microservice Intelligence is presented in color-coded and configurable dashboards, inventories, reports, and diagrams – much like in the LeanIX EA Suite.
Security
At the foundation of LeanIX's innovation efforts is unwavering availability, security, and compliance. Of note, its cloud-native SaaS platform is ISO27001, SOC 2, and Cyber Essentials Plus certified.
Database and integrations
Analysts at Quadrant Knowledge Solutions note LeanIX EA Suite's best practice data model, out-of-the-box technology integrations, and multi-modal databases (e.g., Postgres, ArrangoDB, and InfluxDB) as "key differentiators". Also mentioned are LeanIX's Open APIs — REST and GraphQL — for connecting to and simplifying data exchanges with other tools in the IT ecosystem like Signavio, Atlassian, and Lucidchart. Information exchanges with tools like these help users populate EA data repositories with cross-organizational data, thereby improving tool value and adoption rates for new users.
Geographical presence and industry focus
With an emphasis on the manufacturing, healthcare and life sciences, retail and eCommerce, and energy and utility industries, the report's authors remark upon LeanIX's cross-industry value. This is largely due to the global demand for LeanIX's core product use cases (e.g., APM, Integration Architecture, Cloud Migration, Business Transformation, Technology Risk Management, and SAP S/4HANA transformation) and its collaboration-based approach to aligning IT and business during architecture planning.
Strategy and technology roadmap
Since its 2012 founding, LeanIX has consistently filled its technology roadmap with new EA product capabilities. The report's authors specify several of LeanIX's current innovation areas, including SaaS discovery, business architecture, customer journeys, and value streams. Expanding LeanIX SaaS Management Platform, for example, is a primary focus area in order to give users more access to the full depths of their application portfolios via real-time visibility across SaaS ecosystems. The tool integrates to all leading financial, expense, contract, HR, and Single Sign-On systems, and offers an additional 4000+ direct vendors integrations.
Additional resources: