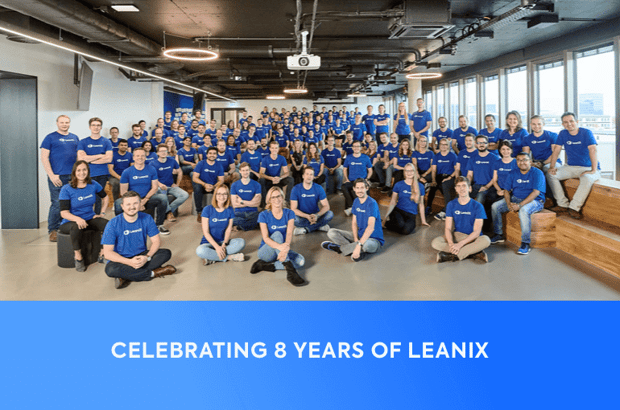 Today LeanIX turns eight! It's been a rollercoaster to get to this point, starting from a bootstrapped company of two founders to a global business with more than 180 employees on three continents.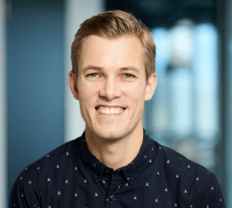 When I co-founded LeanIX eight years ago with Jörg in 2012, I didn't know what to expect. We both had met at the largest logistics company in the world and during that time we observed many organizations struggling with similar challenges and questions. Why does every project need to collect the same information about the IT landscape again? How to accelerate decision making? How can technology investments improve the business processes? But, to our surprise, many enterprise architects (EA) were busy keeping up to date on all the numerous frameworks and had little time to wrestle with this issue.
They needed a way to analyze and make decisions simply and efficiently using a data-driven approach. It took time, but we knew we were on to something when we developed a "lean" tool that, for the first time, gave an understandable overview of the IT landscape to a much larger audience and expanded the reach of enterprise architects. They could also move away from static and inefficient methods of managing their application inventory and lifecycle repository just in spreadsheets or drawing it manually in presentations.
We released our first version of LeanIX in August 2012. It was a tight three years as we launched our product without external funding. But we dug deep and persevered. Of course, we suffered from many sleepless nights, but it was worth it.
Indeed, in a few short years, some of our more memorable milestones are the following: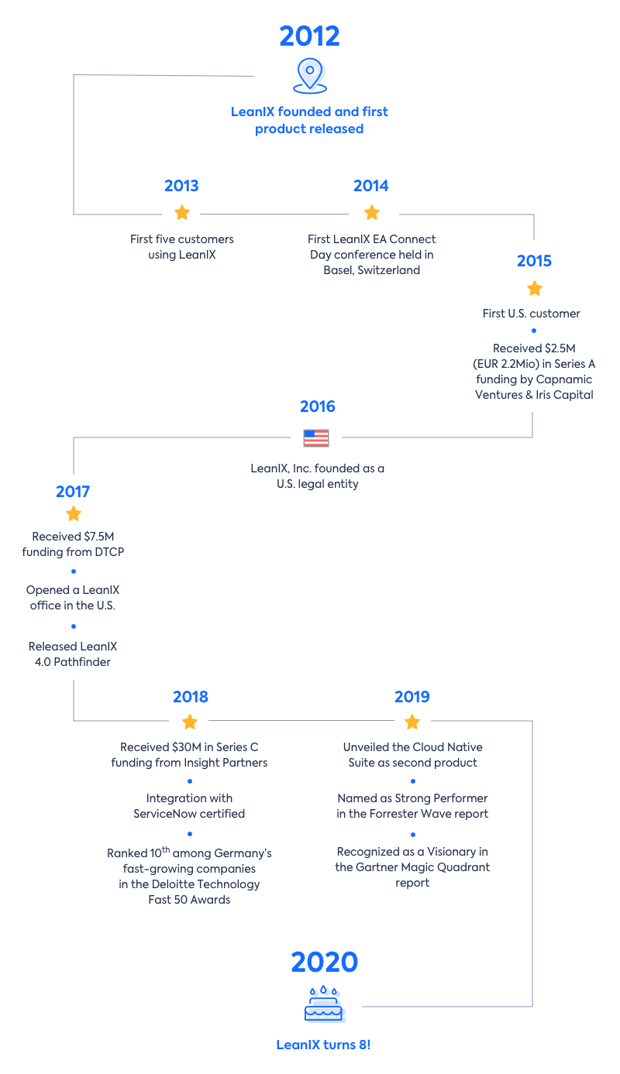 Seven years after releasing our first product, we know we're on the right track. As the increase in digital complexity for enterprises explodes from digital transformation and technologies such as robotic process automation (RPA), Internet of Things (IoT), cloud, and microservices, the importance of a well-managed Enterprise Architecture has dramatically increased.
Indeed, in our Enterprise Architecture Insights 2019 survey of over 1,800 global respondents, we asked them what they thought would be a solution to resolve the IT complexity. It turns out EA tools and investment into EA programs were at the top of the lists.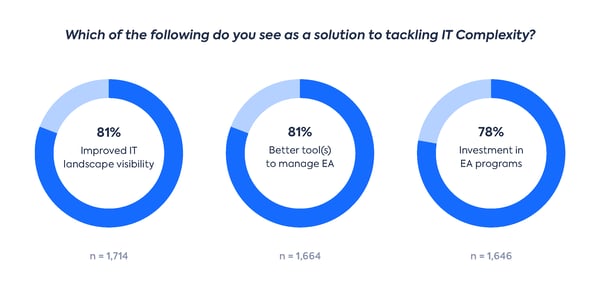 Source: LeanIX
2019 – Customers first
I'm truly proud to say that at the end of 2019 more than 250 businesses all around the world trust in our Software-as-a-Service. Thanks to the great customer feedback we continued to deliver product innovation and improved our services. We always understood ourselves as a customer-centric, data-driven organization. At our high growth rate of > 100% the Net Promoter Score (NPS) of > 60 and a 4.6 star rating in the Gartner Peer Insights reflects that our team is going the extra mile to achieve customer success. I'm very thankful for this close relationship with all our customers and partners.
Several milestones also cemented LeanIX as an up and coming leading company in EA:
But with all our products and milestones, one of the most important things I appreciate are the fantastic people who work at LeanIX. In 2019, we were named as one of the Great Place to Work in Germany and as a Top Company by Kununu. Not only did we grow from two people in a small office in 2012, we now have over 180 employees globally and continue to expand as we scale our business to support our explosive growth.
2020 vision
LeanIX will continue to shape the category of Enterprise Architecture tools. Helping our customers to achieve tangible and quantifiable business outcomes is top of our list. That's why our product roadmap consists of three themes:
Excellence in detail
Build-out the platform
Expand scope
Excellence in detail. This is highly important to us because we have a strong commitment to our core use cases in Enterprise Architecture. One key example is self-service configuration, the ability to easily evolve the out-of-the-box data model in a What-you-see-is-what-you-get (WYSIWYG) way. While our data-model is fully configurable since our LeanIX 4.0 release "Pathfinder" in 2017, we now hand over the power and increase the speed to add-in more use cases as organizations roll-out LeanIX.
Build-out the platform. We made the important architecture decision to ensure our new product, the Cloud Native Suite, runs on the same technology as our core product, the Enterprise Architecture Suite. Every investment into the platform will benefit both products. One key topic is to turn architecture decisions in real action and, as such, we will introduce configurable workflows in 2020.
Expand the scope. Together with the early adopters we will make our Cloud Native Suite one that will enable organizations to establish smart governance processes for all their resources deployed into the cloud. We believe that it is important to preserve the agility and speed of cloud native organizations and not constrain them by restrictive cloud management platforms. Instead, our approach is to provide true-up visibility and embed violations and their mitigation in developer friendly processes. Therefore, one key item is the launch of Microservice Intelligence, to increase specific visibility in Kubernetes environments.
Also, in this quarter we will launch our professional services team to round out our customer success offerings. This new team will have a strong outcome focus, using a product mindset and deliver projects with consulting expertise. In close collaboration with our existing partner network, we will offer discovery, implementation, and optimization services to level up the EA practice and strengthen the path to a cloud native organization.
Thank you to all our customers, partners, readers and LeanIX employees for joining us on our journey and being part of our family. We're excited about our future together.
Happy Birthday, LeanIX!