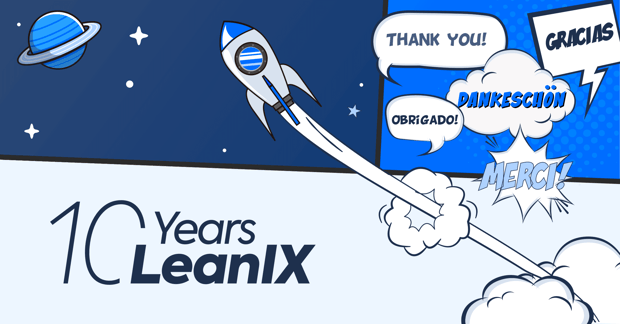 Today marks LeanIX's 10th anniversary. We've come a long way over the past decade and as an organization have many accomplishments to celebrate. But we didn't get where we are today by focusing on ourselves. Instead, from the very outset we have concentrated on serving our customers and working closely with them to continuously refine our solutions to meet their needs. The trust these organizations have placed in us since 2012 has made possible all we have achieved since then.
For this reason, we would like to take this opportunity and express our deepest gratitude to our more than 650 customers and 150k users worldwide. These organizations include a wide range of the world's leading and best known brands, including DHL, adidas, Volkswagen, Porsche (and Bentley, Bugatti and Lamborghini), Southwest Airlines, Carnival Cruise Lines, Santander, Dropbox, Workday, PwC, Deloitte and many more.
It has been a pleasure and an honor to work with you. You inspire us every day to innovate, exceed your expectations, and grow with you. Thank you!
We believe that 2022 will be a big year for us. And we look forward to sharing our vision for the future in the coming weeks. Today, however, we want to keep the spotlight on our international customer community. Space does not permit us share all the amazing work this community does, but we hope these few examples will give you a sense of what we are able to do together:
KUKA
KUKA, a global manufacturer of industrial robots and systems for factory automation, has been working with LeanIX for several years to build out an EA practice capable of supporting their complex, international organization. Using LeanIX to apply Gartner's pace-layering strategy to their IT landscape, they have created an EA function that plays an active role in shaping business strategy.
Listen to Christian Schwaiger, one of KUKA's Enterprise Architects, explain how it works in this video:
Atlassian
Mergers and acquisitions present companies with a number of challenges when it comes to integrating and rationalizing different IT landscapes. To speed up this process, Atlassian, the maker of Jira, Confluence and numerous other project management tools, uses LeanIX to accelerate the integration process. Indeed, they have created and implemented a 90-day, phased approach to this challenge enabled by our solutions.
Atlassian's Phil Ziegler, an Enterprise Business Architect, provides an overview of their approach here:
OneMain Financial
Integrations take on a whole new level of complexity when software development organizations transition to a microservices architecture. Developers at OneMain Financial, the United States' largest lending-exclusive financial services company, rely on LeanIX Value Stream Management (VSM) to navigate this complexity. Maintaining a microservices catalog not only simplifies communication and documentation, according to OneMain's Donovon Simpson, but also improves visibility, resource allocation and the productivity of their DevOps teams.
You can see Donovon describing what OneMain Financial has done at the 2021 Enterprise Cloud Native Summit here:
Reckitt
Five short months after beginning work with LeanIX, Reckitt, a global consumer goods company whose brands include everything from Clearasil to Calgon, had over 400 LeanIX users and 2000 applications mapped. After 12 months, LeanIX had been rolled out to 3 different business units and trained over 1000 users. This speed is a testimony to Reckitt's digital-first mindset. It also shows how much employees appreciate access to a single source of truth that isn't Excel-based.
Here's a video of Reckitt's Kryzstof Kwiatek, Enterprise Architect, explaining how his company's uses LeanIX:
---
These are just a few examples of the amazing companies we have had the privilege of working with since we first embarked on this journey. We know there is much more we can do together. We also know that many other companies can and will benefit from the solutions we provide as well as our unflagging commitment to their success.
Thanks again and here's to another 10 years!
If you'd like to discover more stories from LeanIX's global user community, check out our Success Story page or YouTube channel. We're also attending and hosting many conferences in 2022, so find one that interests you and say hello!