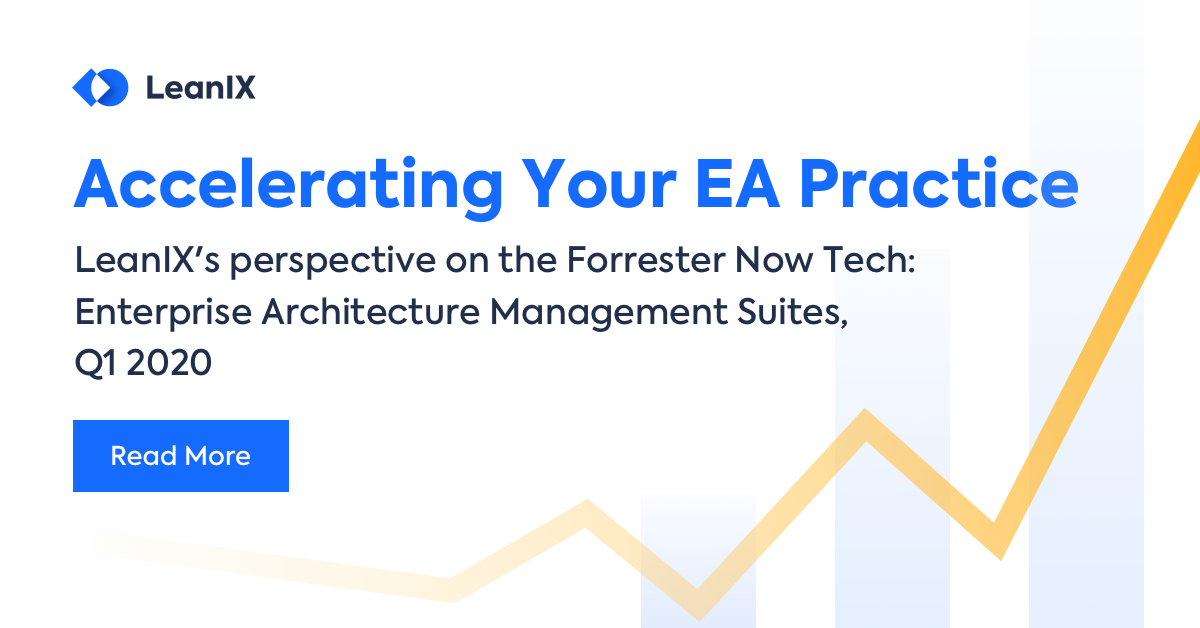 It's worth looking at the advice given in Forrester's recently published Now Tech: Enterprise Architecture Management Suites, Q1 2020. Why? Forrester emphasizes that EA professionals are increasingly relying on enterprise architecture management suites (EAMSes) to accomplish six primary challenges: modeling, strategy translation, risk management, financial management, insights, and change management.
But how is this actually different from before?
One word: speed. The productivity and configurability expected out of enterprise architects are pushing EAMS solutions to reach new heights of efficiency. Technology is changing faster than ever before, and at almost this same time last year, Forrester reported in its The Forrester Wave™: Enterprise Architecture Management Suites, Q1 2019 that "insights-driven" enterprises were leading EAMS vendors to go all-in on "near-real-time customer and operational" metrics via automated algorithms and enhanced integrations. It's since become redundant to say that EA professionals are accountable for keeping all technical elements in place to ensure a continuous supply of performance data on strategies and processes—a task that can only be securely orchestrated with a dedicated EA tool.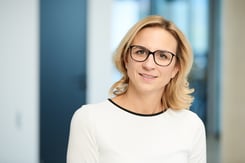 Put simply, more is at stake in the decision to purchase an EAMS solution, and EAs and executives alike are under incredible pressure to choose one based on how efficiently it can be implemented to manage their unique operational assets. In particular, Forrester's Q1 2020 Now Tech report recommends that companies assess the size and functionality of EAMS vendors and to consider the following:
"Identify the mandate of EA in the short and long term"
It may sound obvious but defining enterprise-wide targets for an EA program will determine the ultimate value of any EAMS. Forrester advises EAs to evaluate stakeholder needs and use these findings to cement how EA should be managed, measured, and controlled. For example, what skills and competencies are sought from an EA practice? What principles can realistically be applied through EA to curb IT complexity? Is there an innovation management process in place to analyze new technologies? Questions like these are regularly asked by LeanIX to help gauge the feasibility of EAMS for prospects.
"Use EA performance measures and metrics to validate EAMS value"
Forrester makes specific mention of choosing EAMS vendors by how well they might improve overall EA maturity and deliver tangible value to stakeholders. It's a topic that was at the root of LeanIX's 2019 EA Insights Study, a global survey fielded across 19 industries that found corollaries between EA maturity and that of digital maturity and economic value. Of note, most modern EA management tools are designed to provide both tangible (e.g., cost savings) and intangible (e.g., standardization) forms of business value—both of which help EA programs mature to the point where systemic organizational improvements can be made. Accessibility, integration and manageability are three of the most important traits in any advanced EA program, and unsurprisingly, leading EAMS vendors are now doing all they can to shape their UI and out-of-the-box reports to accelerate the diffusion of EA.
"Be selective in vetting EAMS vendors"
Quite practically, Forrester suggests a shortlist of "no more than 10" vendors in an RFI process. Though EAMS vendors are multiplying to satisfy a wider, general appetite for data-driven EA, there still exists only a handful of providers with a proven track record of helping customers across varied industries shape and manage bespoke modernization strategies. The report recommends that firms analyze their own EAMS capability needs, and certain EA Maturity assessment tools can be used to support this discovery and identify areas of improvement.
"Focus on the effectiveness of the broader EA ecosystem"
By itself, no EAMS has enough functionality to meet the diverse needs of an entire global operation. "A tool is just a tool," the report says, and without ready-made integrations to leading ITSM suites, BPMN design, agile planning software, and CMDBs, a tool-based EA program won't have the data nor the utility to solve the majority of complex scenarios. Put simply, an EAMS lives and dies on the strengths of its partnerships with leading software groups—the likes of Atlassian and ServiceNow—to help EAs gather diversified systems information.
As for the "must-have" EAMS items for EAs and their companies, Forrester lists three categories that EAs expect post-purchase:
"A holistic view of business demand impact"
Similarly expressed by McKinsey & Company, EAs and EAMSes must succeed in dispersing digital transformation initiatives across organizations as a whole. Innovation can't happen in piecemeal, one business unit at a time, and technological sea-changes require architectural leadership backed by the guidance of enterprise-wide analysis. Whether an EAMS comes with the shareable reports and collaborative functionality to dismantle organizational silos and uncover this information is the ultimate test.
"EA stakeholders to be more productive and effective"
It all comes back to working better together. EAMS tools are structured around a central repository built co-operatively with diverse stakeholders. The more information added, the better the results of the EA program. As such, Forrester stresses the importance of an EAMS tool's ability to tap into the resources of an enterprise's underlying EA ecosystem—a point that relates to the global trend of EA tools being used beyond conventional EA teams. Solution architects, IT leaders, business analysts, and all application owners are now seeing the value of working together via an EAMS platform to contribute to the digital progress of enterprises.
"Real-time insights into strategy and operations"
Though Forrester highlights using integrations to physical asset repositories like a CMDB, APM, MDM, BPM, and HR solution to deliver comprehensive insights, it's useful to also consider the importance of adapters to cloud platforms. LeanIX predicted in 2019 that the relevance of future EAMS tools will be contingent on the full-scale governance and monitoring of cloud transformation initiatives. Commercially available cloud management platforms are fast becoming pervasive, and EAs are counting on their EAMS vendors to expand their software offerings to meet the demands of granular IT assets.
To learn more about Forrester's research on LeanIX, download the free commissioned study conducted by Forrester Consulting: