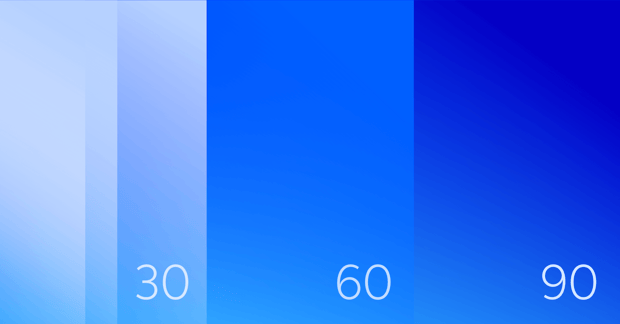 According to Glassdoor, if you're a new enterprise architect, you've got the #1 job in America. The EA role scores high for salary, opportunities, and satisfaction. What's more, EAs get to work on a variety of strategic projects and initiatives, meaning the job is never repetitive or dull.
As a new EA, you want to make your work count and feel like you're adding value from day one. The first 90 days are especially critical for an enterprise architect seeking to establish the right tone and get stakeholders on board for future EA initiatives.
In this guide, we'll walk through the essentials for succeeding in your first 30, 60, and 90 days as an enterprise architect, including what to expect on the job, important areas of focus, and the right actions to take at each stage.
Quick Takeaways
In general, enterprise architects must approach the job with a data-driven, flexible, and innovative mindset.
The first 30 days are best spent learning your company's IT infrastructure and culture.
Days 31-60 should be a planning phase, when EAs determine target states and build a roadmap for getting there.
Days 61-90 are when the first stages of execution occur. EAs should build on small wins and always emphasize the impact of the EA strategy.
Modern enterprise architecture strategies are most effective when supported by an EAM platform solution.
Why do companies hire enterprise architects?
The role of IT at the enterprise has evolved. Once primarily an efficiency driver, the value of which arose from technology's ability to digitize, automate, and optimize business business processes, IT now supports innovation and differentiation in everything from product offerings and operating models to employee engagement and customer experience.

No longer a mere business enabler, IT today plays a central, strategic role in a company's ability to achieve its goals. This means that the ROI of IT investments must be understood in terms of the impact on the business, not just in terms of cost savings (although that still matters) and efficiencies gained.
It's the enterprise architect's job to demonstrate all the ways that the organization's IT landscape supports the overarching business agenda, as well as how this landscape should evolve over time to keep pace with emerging business needs.
What makes for success in an EA role?
Enterprise architects bring a wide range of IT knowledge and experience to the table. They also tend to have a knack for communicating with stakeholders across the organization. The most successful EAs possess natural problem-solving abilities combined with the ability to both execute on the technical aspects of their work and demonstrate its value to decision makers.
Specific skills and responsibilities you'll find on an enterprise architect job description include:
10+ years of IT experience (this can vary depending on company)
Knowledge of software development methods and IT infrastructure principles
The ability to solve problems and think creatively with regard to IT solutions
Exceptional communication and collaboration skills
A data-driven mindset and experience with KPI-driven reporting
The ability to evaluate and optimize IT assets for higher ROI
This list is not exhaustive, but it does give you an idea of what's expected in an EA role. One certainty for enterprise architects is that their job won't look exactly the same every day — it will change and evolve with company goals and priorities.
For this reason, enterprise architects need a flexible mindset and a willingness to attack the problems and projects of the day/week/month (etc.) — while also keeping their mind on the big picture and how a given architecture should evolve and transform to meet future goals.
In the next section, we'll look at how new EAs can strike this important balance during their first few months in their role.
Your First Months as an EA: 30, 60, and 90 Days
30 Days: Getting the Lay of the Land
Your first 30 days in a new enterprise architect role are more about absorbing information than action. The goal is to learn everything you can about your organization — its business focus and the company's position in the market, the underlying IT infrastructure and IT's specific role in the company, the corporate culture, and, of course, who does what in the organization more broadly. Everything you learn, from business strategy to who serves as key internal influencers, will lay the foundation for informed action in the future.
Start with where you sit. Is EA a developed function within the organization or is it only now being built out? What are their expectations for this role? How do people see it contributing to organizational goals? How do different leaders and line-of-business owners want you to balance strategic vs. tactical responsibilities?
Since EAs play a role that touches every aspect of the business, focus on getting to know colleagues across departments. The more people you talk with, the more you'll learn about the range of daily responsibilities, goals, and challenges you'll be asked to support and address. The information you accumulate will arm you with the insight you'll need to make smart decisions later.
Naturally, the first month of your job will also involve getting up to speed on your company's current IT infrastructure and the maturity of the EA practice. Depending on the exact nature of your role within the organization, you may even be asked to complete a formal maturity assessment out of the gate.
The goal in these early days is to become a quick expert on your company's current state architecture and begin forming your own ideas for needed improvements, changes, and optimizations.
Finally, spend your first 30 days gaining as much insight as you can into organizational culture — it will play a major role in how successful you're able to make EA at your company.
Your understanding and familiarity with company culture will reveal how best to communicate with stakeholders, the level of resistance you may encounter for any given change, and ways to position initiatives for fastest adoption and acceptance.
60 Days: Making a Plan
As you move from the 30-day mark to the 60-day mark, you should have the lay of the land and be ready to start making action plans. This requires using what you've learned so far as a reference point for setting goals and mapping out your company's target architecture.
Almost certainly, you'll have multiple (and even competing) priorities to balance. Enterprise architecture roadmaps are a critical tool to help you articulate and maintain this balance.
Such roadmaps help you communicate, both visually and at a high level, how you'll get from the current state to the target one. Roadmaps often include:
Goals and objectives (and how they'll be prioritized)
Time and resource allocation
Projects, tasks, and responsible individuals/teams
Anticipated phases, milestones, and timing
Key metrics and KPIs for performance measurement
Business benefits and project ROI
Journey maps to share with all stakeholders
During this time, you'll want to keep your plans flexible, share them early with relevant stakeholders, and incorporate feedback. This is still a learning period, but it's also time to demonstrate your knowledge and expertise. Focus on showing how you can take the information and insight you've gathered and turn it into a smart, cohesive plan for improving company performance and IT's impact.
90 Days: Executing the Vision
As you move into your third month, you should be ready to start taking action. Change won't happen overnight, and trying to rush transformative IT change will likely lead to roadblocks and resistance. As you begin to execute your plan, stay flexible and continue to collect and apply feedback along the way.
Building on small wins and demonstrating value at every opportunity are essential here. You will certainly be able to demonstrate significant ROI as time goes by, but in the interim it will important to show incremental gains, either in cost savings (by eliminating duplicate applications serving the same business purpose) or process improvement. Focusing on value generation, both large and small, will build buy-in and develop champions for the EA cause across your organization.
Focus on your previously-identified KPIs; report progress frequently and publicly. When it comes to change initiatives in particular, showing real value to stakeholders is important. The better you communicate with those impacted by new changes, the smoother your execution plan will be.
Inevitably, you'll face challenges as you implement an enterprise architecture strategy. These challenges offer opportunities to be innovative, showing IT leaders that you are both a problem solver and a strategic thinker.
Why the First 90 Days are Critical
When you start any new role, first impressions matter. For enterprise architects — whose job success depends so heavily on strong professional relationships — this is even more critical. The first 90 days is when you establish your reputation and set the stage for future success.
As a recap, think about your first 90 days in your new EA role in three phases:
1- 30 Days: Learning Phase — Get to know stakeholders and assess IT maturity.
31-60 Days: Planning Phase — Build a roadmap to get to your target state and cultivate stakeholder buy-in.
61-90 Days: Execution Phase — Begin executing your plan, share early wins, and report progress using KPIs.
Enhance Your EA Strategy with LeanIX
To truly deliver value in a modern business environment, EA strategies must be supported by the right platform tools — tools that create a shared source of truth and drive data-driven decision making.
LeanIX's EAM platform gives the modern enterprise architect everything needed to build consensus, support business strategy, and grow an effective enterprise architecture practice.
Learn more about LeanIX Enterprise Architecture Management or schedule your free demo today!
Image credit: Jamie, used under Creative Commons License.