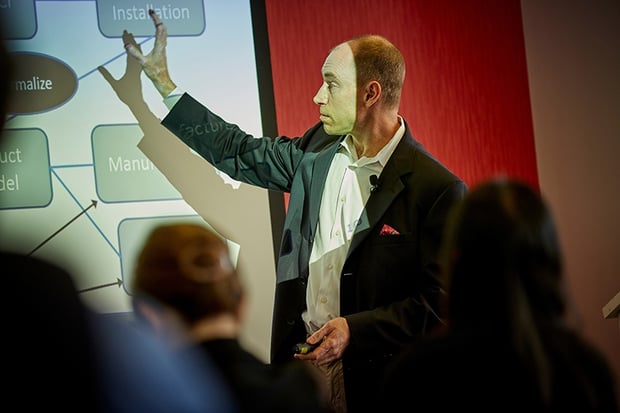 In an earlier post, we teased a ServiceNow integration use case - well, the wait is over!

During his talk at EA Connect Day New York, Horizon Blue Cross Blue Shield of New Jersey Enterprise Solutions Architect, Kevin McKee, discussed the organization's path to building a holistic technology catalog for use in developing canonical application architectures through a tightly integrated ITSM (ServiceNow) and EAM (LeanIX).
Horizons journey to build a technology catalog
Horizon's tech catalog is an intersection of ITops and enterprise architecture. The catalog outlines the intersection between LeanIX and ServiceNow with LeanIX owning infrastructure and ServiceNow owning enterprise architecture -- ultimately streamlining IT operations, enterprise architecture, tech planning, and governance. They also deployed a three-way integration with Technopedia to achieve a holistic integration across critical data sources.
Building canonical application architectures
Horizon's IT department uses the LeanIX software to generate evidence-based, data-driven visuals that support the application lifecycle. This aids in regulatory compliance, security policy compliance, and application development. Canonical architectures make visuals more consistent, picking canonical views of applications, taking data in CMDB and assigning it out to each of the boxes in the interface, and drawing pictures based on the data found. The visualization of the data joins architecture and operations -- as operations data is feeding the view of the interface. Horizon has five application types that categorize the thousands of applications that float through the organization: business applications, middleware applications, data store applications, IT tool applications, and platform applications.


LeanIX + ServiceNow Integration
Applications are the reason for all technology, such as hardware, software, etc., but business applications may include only some of the deployed technologies. Free-standing technology services such as transport, data stores, and service monitoring make up the rest. Horizon uses LeanIX to aggregate all applications across the organization. LeanIX enables the team to integrate connections between non-transport apps and build technology models within the platform. With this level of transparency, Horizon is now able to detect risks more quickly and create a path to strategically shifting the status of applications. Horizon uses ServiceNow's detail-oriented platform to source data from primarily discovery tools -- including historical data from legacy systems, and even humans. This builds relationships between technologies, creates technology instances, and steadily increases their value.
Horizon uses this integration to benefit from ServiceNow in IT Service Management, IT Operations Management, and Business Continuity Planning. Some LeanIX use cases include architecture analysis and planning, business capability planning, application, integration, and technology roadmaps, information architecture, and more. But, when you mix two things together such as LeanIX and ServiceNow, you get emulsification. ITIL and EA have different languages but both need to work together. Horizon solved this by assigning EA to plan and IT Operations Management to business services. Once IT OM deploys, EA assembles technology models to put in use for TPG to select the technologies, and IT OM to deploy tech disposition. IT OM then updates and EA gets tech versions which are then used in applications.

Hear more about Kevin's incredible deployment journey in his full presentation here.
Related resources
"The Definitive Guide to Integration Architecture"