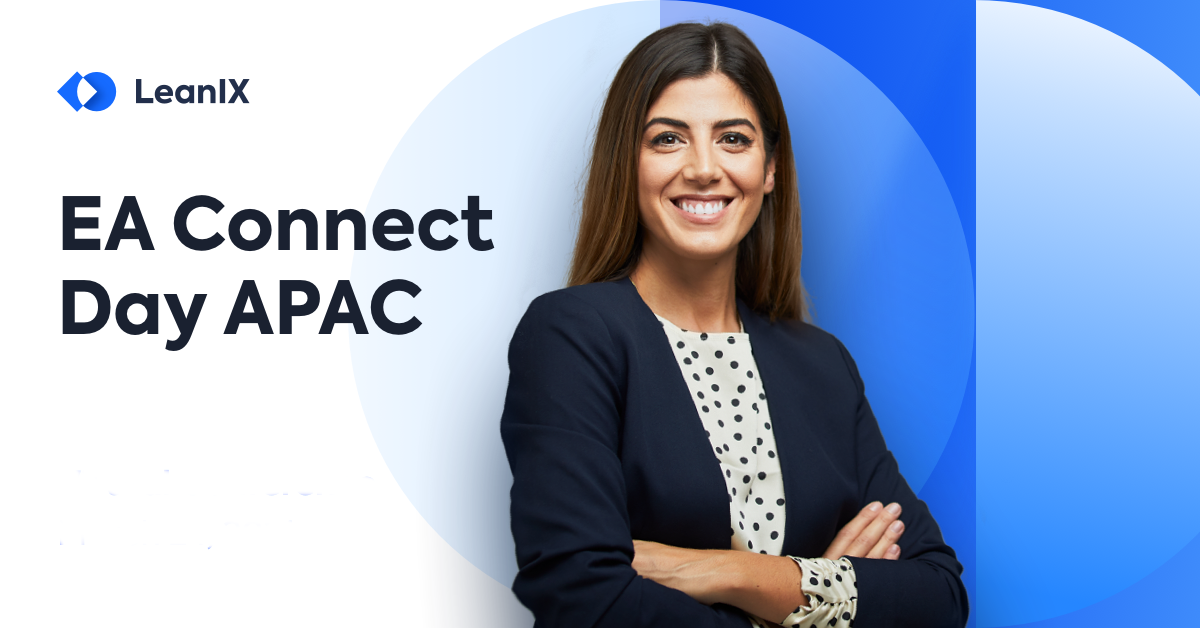 The first EA Connect Day APAC conference took place with a virtual audience of almost 600 IT professionals. LeanIX CEO André Christ kicked off the event with a keynote address and announcing the general availability of Microservice Intelligence (MI), an addition to his company's Continuous Transformation Platform.

The introduction of MI was a perfect backdrop to the event's speakers — all of whom based in different industries — as they discussed the challenges, priorities, and growth of enterprise architecture (EA) in their organizations/consultancies.
For those who didn't attend virtual EA Connect Day APAC 2021, here are recordings and summaries of the presentations.
Gerard Brown
,
Firstgas
"To live and work in IT, you have to be adaptable or you won't survive."

Gerard Brown shared how Firstgas, New Zealand's largest gas network, strengthened the IT-business relationship by switching from a solution-based architecture to a planned enterprise architecture (EA) practice. Business and technology alignment is the core of driving business value and cost efficiency for Firstgas, and an EA practice built atop an EA tool was used as a framework to ensure this occurred.
Firstgas's priorities with EA include:
Building trust between business and IT

Limiting shadow IT resulting from a culture of self-reliance

Controlling the complexity of landscapes composed variously from acquisitions, shadow IT, system duplication, and unsupported platforms to articulate their technology needs more efficiently

Using transparent overviews of IT to help balance short-term business objectives with longer-term technology plans
Brown explained that LeanIX, their EA tool of choice, helped Firstgas deliver fast time to value thanks to its low training requirements. The tool also features a pre-defined data model expected to support Firstgas for the foreseeable future. For its business stakeholders, LeanIX's interface is intuitive and does not require users to be IT specialists to draw relevant insights.

Brown made special mention of the support received from the Citadel Group, LeanIX's major partner in the Asia-Pacific region, who helped ensure the sales process was quick, regionally-based, and offered little nonsense. Above all else, Gerard's experience with an EA tool has reinforced the value of engaging broadly with his company's IT and business network.

Craig Stanley, Citadel Group
"The simplest way to get started is to develop a business capability model — even if just to an 80% level of completion — and then map applications that you are aware of so you have something to build and grow out in time."

1. Use a reference architecture

Craig Stanley of Citadel Group began his list of techniques for continuous transformation journeys by illustrating the value of reference architecture models. Reference architectures, Stanley explained, present a common vocabulary of reusable designs and industry best practices that function as constraints for more concrete architectures. Encompassing common patterns, principles, and building blocks, there are many reference architectures to choose. In our increasingly interconnected world, reference architectures can simplify efforts in connecting to standardized interfaces — a key way to fast-track and benchmark success during M&A activities, he noted.

2. Focus on business outcomes

In today's world of "everything as a service," IT organizations are forced to monitor technologies outside of their direct control. Many IT organizations are pivoting from maintaining centralized control of technologies to ensuring nothing goes wrong. To succeed with less restrictive forms of governance, a higher degree of communication and planning with the business is necessary.

Stanley believes that conversations with businesses must become outcome-based rather than technology-based. In his experience, many architects focus too much on delivering detailed models instead of actually showing how technology enables business processes. By including business and IT within the EA process (i.e., by promoting the so-called "democratization" of EA via accessible diagrams, models, etc.), EAs can help business users become consumers of new information. Self-service dashboards are a great example of this behavioral shift.

3. Deliver incremental value

Digital transformation goes hand-in-hand with agile transformation. Stanley illustrated that the ideas from the agile manifesto (e.g., individuals and interactions over processes and tools, customer collaboration over contract negotiation, etc.) relate to continuous transformation as well as modern EA. In particular, modern EA is outcome-driven and built to effectively engage with the business rather than just with a centralized IT department. The collaboration and democratization of EA has the potential to bring operational requirements out of the shadows and into the light.
Lance Altena, Queensland Department of Resources

"Add visibility and create awareness to the value you provide."
To deliver a minimum viable EA program, EAs must deliver early on three categories of stakeholder needs: Financial (e.g., executive committees), Complexity (e.g., project teams with a large transformation program), and Flexibility (e.g., any organization undergoing structural, strategic changes). Lance Altena from the Queensland Department of Resources explained how each can be addressed in five steps.

1. Use your current organizational chart
Organizational charts are about people and roles, but if EAs can convert this to departments and teams, they can rapidly create a functional model of the organization. In many case, Altena said, the organizational chart is actually a rough functional model of an organization.

2. Add an application portfolio

Initial application portfolios can be limited only to technology that's most critical for primary business functions. But if possible, assess these applications according to technical and functional status and detail their corresponding interfaces.

3. Link organizational/functional units to the applications

Whether in a spreadsheet or an EA tool, show the linkages between applications and core business functions. Teams can model these relationships in many ways (e.g., by drawing boxes on top of boxes — or whatever other way creates a visual impact).

4. Create a list of running projects and link them to applications being changed or impacted

Include new applications as well as old applications already shut down. Anything, basically, that is currently active or has been in the past six months. Mark applications based on whether they are being invested in, retired, or new.

5. Extract a company's vision, mission, goals, drivers, objectives, and measures from a core business strategy

Align key aspects of your application portfolio and IT projects to your company's business strategy. It is important to reuse as much of this information as possible.
Albert Yip, Signavio
"With Signavio, you can debate the validity of business processes with data rather than gut feelings."
Large-scale digital transformations require a leap of faith from the business side. However, for many IT groups, roadblocks to digital transformation include digital education and creating a business case.
Albert Yip from Signavio discussed that this difficulty isn't solely related to technology. For example, according to a 2020 survey from SAPinsider, the top three challenges to an S/4 HANA Migration (a bellwether for many other digitalization trends) include educating decision-makers, prioritizing, and building a business case. For business stakeholders, tangible results are wanted — be it financial, operational, or customer experience-based.

The challenge comes down to articulating IT vision, and Albert believes undertaking digital transformations with EA and business process management (BPM) is the right approach. Signavio, Yip's company, offers an integrated BPM solution for mining, modeling, executing, and optimizing business processes. Its unique value is by embedding information such as responsibilities, ownerships, risks, controls, and dependencies in the context of operations.
Processes are thereafter aggregated to enable the following:
End-to-end process landscape assessments

Cross-function collaboration and process-based discussions

Build business cases by comparing As-Is to To-Be scenarios

Deliver target state requirements with consistency wrapped with governance

Continuous monitoring for measuring outcomes and detecting further opportunities for improvement
When combined with EA, BPM overlays business processes with concrete technological details. This transparency helps business teams understand how they are involved in the digital transformation process and the iterative, interdependent improvements required for greater organizational change. This allows stakeholders to identify themselves as part of the broader transformation movement, which, as Yip remarked, is how real transformation occurs.


Kati Gholam, TUI
"Transform your business at the same time you transform your IT."
Kati Gholam from TUI explained that her company, an international travel and tourism operator, was comprised in 2019 of 400 hotels, 18 cruise ships, 70,000+ employees, and 28 million customers. These numbers declined in 2020 but TUI never stopped their digital transformation.
TUI's digital transformation proceeded despite the pandemic so they could move away from monolithic technologies, change organizational abilities for better scaling, and move from a project to product environment. Thanks to EA and their dedicated EA tool, TUI's business managed to do so by better prioritizing their needs from IT. Of note, Gholam discussed how TUI uses a data-driven, real-time language to focus its communication for remote-based design work.
Its trip event landscape has been consolidated on a global level and is modeled and documented via shared tools like LeanIX. Events are represented in the EA tool as integrations, and data flows and subscriptions are used to update stakeholders on changes. The tool's collaboration-based mechanisms are particularly leveraged to make interactions with business colleagues (many of whom on work furlough) simpler.
Diagrams have been created for each of the individual services across the 16 domains to simplify overly complex IT models. These diagrams illustrate to business teams what data is required for their services, and Gholam and her team use this information to describe how architecture underpins business activities (e.g., through sequence diagrams) in color-coded detail based on pre-configured, built-in integrations.
Gholam's experience with using LeanIX during the COVID-19 pandemic has reinforced the importance of the following practices during digital transformation:
Use EA to facilitate common understandings

Create a common language between IT & the business

Create visual cues and accepted names for everything that matters

IT should use diagram formats to tell stories and not be afraid of using them with the business

Automate everything
Daniel Roelink, New South Wales Government, Dan Gibbeson Wipro, Christian Richter, LeanIX
A discussion panel with Daniel Roelink (Director of Digital Strategies, New South Wales Government), Dan Gibbeson (APJ Lead, Enterprise Strategy, Wipro), and Christian Richter (SVP Customer Success, LeanIX) on the subject of EA skills took place. Below are abridged versions of their answers.

Q: How has the job of EA changed — what skills are now critical?
Daniel Roelink: There's been a massive disruption in the government sector — from an analytical, deep strategic-thinking governance sector to one that is now more customer-based. There's a greater need for human-centric design. In terms of gaps and needs, many companies require a better ability to consult with EAs
Dan Gibbeson: It hasn't changed but expanded. The role has increased to cover strategic advice to management — either to CIOs or business leaders. EAs need to improve on communication skills, and they must also choose the proper tools to deliver the right communications in order to stimulate action.
Christian Richter: The job of an EA has changed dramatically over the last years. We are now in a world of business outcomes and showing the value of IT. This has lots to do with cost, but speed to market is also important — and in these situations, EA is a great facilitator. Detached or hands-off EA is no longer valuable. EAs must travel across many levels of a company (e.g., engineering levels) and convey messages between teams and build bridges to assist in decision-making processes.
Q: How connected are EAs to company strategies? How much influence do they have on change? To support this, what level of leadership and creative skill is required?
Daniel Roelink: Most EA functions align to business strategies. Gaps typically arise when deciding how far EA has to go to achieve the outcomes. Leadership roles are critical, and a brand of leadership is needed to generate value and run a successful EA function.
Dan Gibbeson: Based on the more contemporary versions of strategy (i.e., using technology as an enabler), EAs have a different type of involvement. This requires a blending of both art and science depending on what project/project phase is being worked on and which stakeholder is being helped. It's about maintaining the traditional architectural functions but also adding new ways of interacting with strategy and leadership when required.
Christian Richter: EA teams can evolve depending on strategies and operating models. One of LeanIX's customers from the manufacturing business, for example, was heavily involved in re-defining the strategy and operating model during the pandemic. This customer expressed to me that they now have a seat at the decision-making table. EA is about influencing and directly shaping strategic change, answering key questions at hand with pragmatic solutions, and acting fast. EAs should be the drivers in this process.
Q: What is your perception of the role of EAs in organizations and how can EAs be more effective in their role?
Daniel Roelnik: There's an old perception of EA being slow and method-based rather than outcome-focused. It has always been known for assurance and quality control, but there's plenty of opportunities for growth given the current disruption of industries. Architecture skills are needed more than ever but nonetheless need to be supplemented by service-design and agile methodology.
Dan Gibbeson: It varies by organizations, but perceptions are based typically on how effective EAs have historically been at delivering value in their companies. It's also greatly dependent on where EAs and their teams are positioned within the management structure (e.g., whether or not an EA situated entirely in technological functions or positioned to affect organizational change).
Christian Richter: When it comes to being more effective, I've seen several approaches. When it comes to building taxonomies (e.g., business capabilities), speed is important and can greatly improve perceptions on EA. It is important for EAs to stay close to the business domains as well as the technology domains and to iteratively build out value.