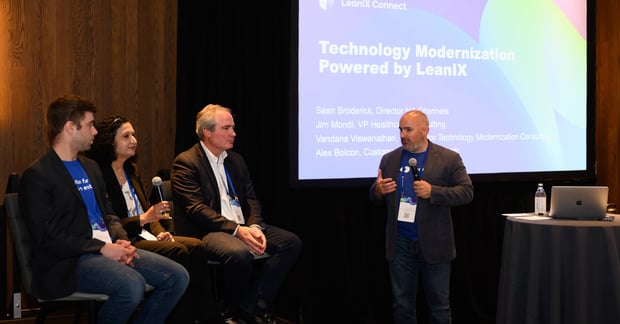 How does LeanIX (and EA in general) drive business process transformation? At the LeanIX Connect Summit in Boston this summer, we sat down with the team from Cognizant, one of our key go-to-market partners, to find out how they've seen transformation happen in the field.
In a panel discussion led by our own Director of Channels and Alliances, Sean Broderick, we heard unique perspectives from Cognizant's Senior Director of Tech Modernization, Vandana Viswanathan, and VP of Healthcare Consulting - Digital Strategy and Tech Modernization, James Mondi, as well as LeanIX's Associate Customer Success Manager, Alexander Bolcon.
The talk resulted in a number of insights concerning successful verticals for EA solutions, common use cases, customer success stories, and tips for companies just starting their transformation.
Let's explore 5 key highlights from the discussion.
Innovation Drives Business Process Transformation
LeanIX and Cognizant have worked together over the course of their 3+ year partnership to create a go-to-market strategy that drives business process transformation results for clients.
Why does it work? According to Vandana, success is driven by a commitment to key principles of innovation. What's more, a "fail-fast" approach allows Cognizant to deliver rapid value to clients while continuously improving throughout the transformation journey.
"It's always good to fail fast and learn from your failures, then quickly pivot and leap forward," shared Vandana. "We can then move to a full-scale lighthouse project and implement the solution for clients. This has been a great model that has worked very well [as] a go-to-market strategy."
Importantly, this approach meets customers where they are as they look to address the multi-faceted business challenges any transformation poses. When a company embarks on a transformation journey, it can be difficult to know exactly what is needed when. For this reason, a collaborative approach to defining a solution works best.
After all, as Sean put it, "A CIO doesn't wake up on a Monday morning, check their to-do list, and say 'it's time for that digital transformation tool.'"
Ultimately, clients want to solve business problems, not buy products. They reach out to Cognizant first for guidance. The particular tool then becomes part of their larger solution strategy. Throughout the process, LeanIX works with Cognizant to help clients identify their specific goals and begin to create a culture of continuous transformation.
EA Is Valuable in Highly Regulated Industries
The Cognizant team discussed three industries where they see EA making the biggest impact on business process transformation: financial services, healthcare, and energy/utilities. All three industries have one important factor in common — they operate in highly-regulated environments.
Cognizant's experience, industry research, and LeanIX's work with customers have all shown how EA can play a critical role in managing IT security and maintaining compliance with regulatory requirements such as GDPR, to name but one example.
By providing a holistic view of IT landscapes along tools designed to evaluate compliance, EA helps companies achieve the quality of governance, security, and risk management necessary to navigate complex regulations without sacrificing agility or the capacity for innovation.
Enterprise Architecture Use Cases Are Diverse
In practice, an enterprise architecture management tool like LeanIX can be applied to a wide variety of use cases. Vandana identified three of the top use cases they see in their work with clients:
Application portfolio management to perform rationalization assessments
Technology standards management and obsolescence risk management (particularly as it relates to navigating regulatory environments)
Maintaining a single source of truth throughout the application modernization and cloud migration process
Even this quick snapshot demonstrates how use cases can vary by customer need, industry, and maturity. Still, the number of potential use cases does not mean one should seek out and try to address all of them. "Bottling the ocean" (as Vandana put it) isn't the right approach. Instead, companies should seek out use cases that are the most relevant and likely to deliver the highest value.
Real-World Examples
Understanding the potential of enterprise architecture management to drive business process transformation often requires seeing how it's done in practice. The Cognizant team shared three real-world customer success stories to show how the collaborative go-to-market strategy between Cognizant and LeanIX has delivered transformative results for clients.
A top-10 U.S. health insurance provider implemented LeanIX to consolidate multiple data systems. They achieved new data reporting capabilities, evaluated obsolescence across their tech stack, and implemented an actionable risk management strategy.
A SaaS-based, top-tier cloud company used LeanIX to integrate four separate data systems, fill information gaps, and create a single source of truth to track IT inventory.
A financial services client leveraged LeanIX to reconcile their tech stack during an acquisition and keep the process moving smoothly from an IT perspective.
(You can read more about how LeanIX helps companies – including ones like yours – use EA to support transformation in our library of Customer Success Stories.)
Takeaway Tips for Business Process Transformation
For companies on business process transformation journeys or those considering a new one, the Cognizant team had valuable words of advice:
On knowing your goals
"Digital transformation is being used widely today and everybody says 'I want to transform,'" Vandana shared. "We go in and say: What are your goals when you say digital transformation? We really need to reel that in [and] decode what we mean by transformation and how we can use LeanIX for digital transformation."
The takeaway: Defining concrete goals for your transformation make it achievable.
On getting everybody on board
"Look beyond traditional constituencies," James advised. "The entire organization — the business, the C-suite, and others — [has] to change their day-to-day behavior [to] truly transform. Organizational change is a big part of the success you're trying to achieve."
The takeaway: You can't achieve transformational success with an IT team alone. Leaders across your organization must participate, and champion the initiative.
On taking things one step at a time
"I've seen customers come in and try to transform their whole business at once." shared Alexander. "We've found a lot of success in a customer coming in and focusing on one area of their business . . . Instead of focusing on every single one at one time, they pick the key business capabilities that make them a differentiator in their industry and work to modernize those."
The takeaway: Start simple and build on success.
If you would like to watch this talk in its entirety, you can do so here. [Free registration required].