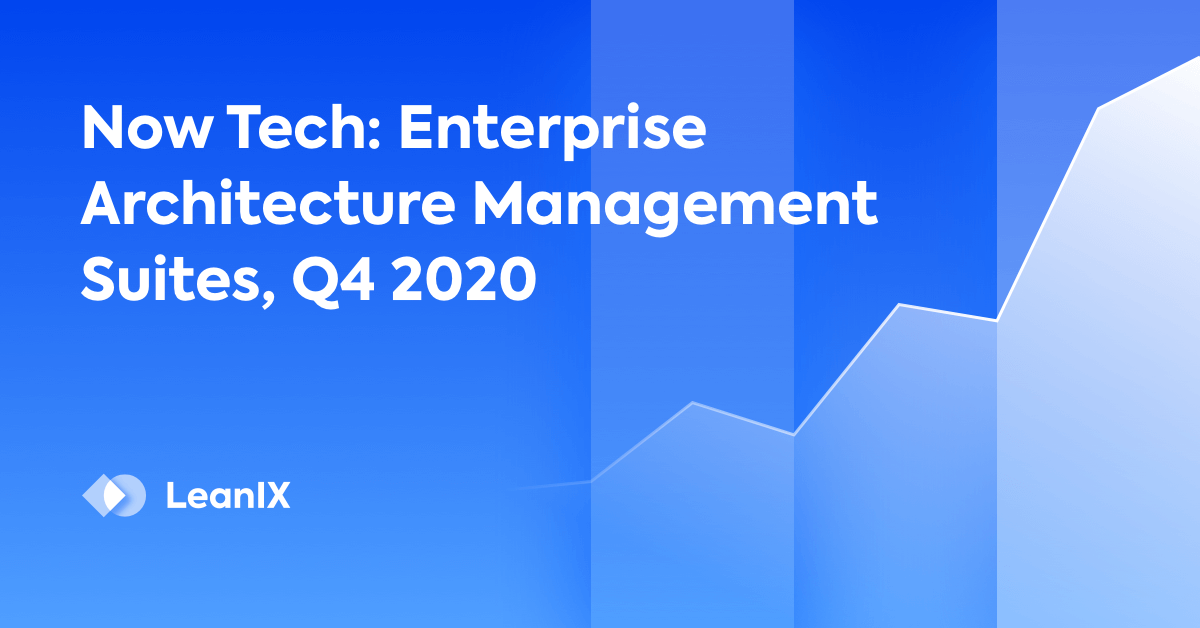 The enterprise architecture management suite (EAMS) market is growing swiftly and showing no sign of slowing down. Across industries, dedicated tools for performing enterprise architecture (EA) have become a necessary part of running a successful business and managing IT landscapes. Picking the right EAMS is a critical decision, and Forrester's recently published Now Tech: Enterprise Architecture Management Suites, Q4 2020, explains everything buyers need to know about the changing market.
With the market evolving before our very eyes, LeanIX has emerged as one of the largest providers of EA tools in terms of items like company revenue and global reach. This is a big jump from a couple years ago and is a great example of how quickly businesses can grow in the market.
In their report, Forrester lists some of the many benefits of having an EAMS, such as:
Gaining overviews on company landscapes to help drive business strategies with architectural guidance
Helping evaluate the performance of key enterprise functions
Connecting cross-organizational teams and individuals to improve workflow
As suggested in this report, the increasing sophistication of EA tools is finally giving enterprises the configurability they need to leverage EA at scale and succeed in making systemic changes. For example, the LeanIX Enterprise Architecture Suite enables both business and IT professionals.
This blog will cover some aspects of the report that might be particularly interesting to LeanIX customers and prospects. These include how to make the most of an EAMS, what to look for in an EAMS vendor, and insights into which EAMS features are beneficial for modern EA programs.
How to improve EA with an EAMS
According to the authors of the report, EA vendors have emerged as a proven way to help businesses get more from EA programs and faster analyze IT landscapes while contextualizing their architectural needs.
In particular, the report explains that today's EAs are always in need of more efficient ways of cataloging operational assets to faster aid business decisions. Upon implementing an EA tool, businesses can unlock improvements in productivity from key EA stakeholders by giving all participants access to real-time insights on operational and strategic performance. In particular, using an EA tool will help increase collaboration and improve workflow environments to accelerate productivity.
Increases in productivity from stakeholders go hand-in-hand with making it easier for teams to work together in custom-fit ways. The flexibility of modern EA tools accommodates different working styles and is a fundamental enabler of shared repositories, actionable insights, and productivity for all. 
What to Look for in an EAMS Vendor
Determine the future of your EA program
The demands faced by EA programs vary over time (largely based on its perceived value from business stakeholders and their corresponding needs). That being said, by collecting the requirements and expectations of these partners early on, companies will be able to better predict their needs from an EAMS tool and determine whether it is the right fit for business as a whole. In relation, preparing how to answer the top questions of stakeholders will accelerate the process of identifying their concerns and how a successful EA practice can address them.
Use EA performance measures and metrics to determine value
Actual or anticipated ROI shouldn't distract from other useful value considerations in an EAMS tool like usability and ease-of-access (i.e., what's required to make EA programs practical for more people to use and find opportunities for optimization). EAs should also consider how a tool can support the maturing of a business's EA practice, a topic that LeanIX similarly discussed in its 2019 EA Insights Report.
Consider what other tools are needed for an EA program to run
Forrester recommends that EA professionals focus on the effectiveness of the broader EA landscape when choosing an EAMS tool. Reason being, the strength of an EAMS is largely determined by its compatibility with non-EA software vendors such as Signavio and Apptio in order to collect diversified information.
To ensure that users have a full understanding of an EA tool, modern vendors usually provide a formalized training of the tool's capabilities or a dedicated agent for all stakeholders, much like LeanIX's onboarding and enabling process for customers.
Choosing vendors based on size and functionality
Forrester bases their analysis of the EAMS market into two sections within this report: functionality and market revenue. The three categories of market revenue are:
Large Players (more than $16 Mil, Ex: LeanIX)
Midsized Players (between $16 Mil and $0.5 Mil)
Smaller Players (less than $0.5 Mil)  
As for functionality, Forrester highlights the importance of efficiently building portfolios of business capabilities. To do so, they must directly map how IT entities relate to business processes and services, and wherever possible, make improvements to enhance services. Many vendors, such as LeanIX, even offer industry-specific templates to help businesses organize their capabilities.
Secondly, the Forrester Q4 Now Tech report details how many Forrester clients use EAMS vendors to help manage technology assets and effectively measure IT cost, complexity, and performance. By enabling the practice of Application Portfolio Management (APM), EA tools have evolved to even allow businesses to optimize cloud and hybrid cloud costs, enable cloud-native strategies, reduce IT complexity, and more.  
Finally, the authors of the report discuss the value of results-driven architecture, in particular, those that can deliver "outside-in" views of the enterprise architecture to support the increasingly specific aims of the digital world. EA tools that allow their users to have a complete view of product lifecycles in their organization will help businesses reduce risks while gaining transparency into their IT landscape to faster enable innovation.
Moving forward with your EA practice
Due to the large number of vendors in the EA tooling industry, it is imperative to have a full understanding of one's business needs to choose the correct EAMS vendor. That being said, it is also important to note that the scope of an organization's EA will change over time. EA professionals must work alongside EA stakeholders to determine the future of their architecture and choose an EAMS accordingly.