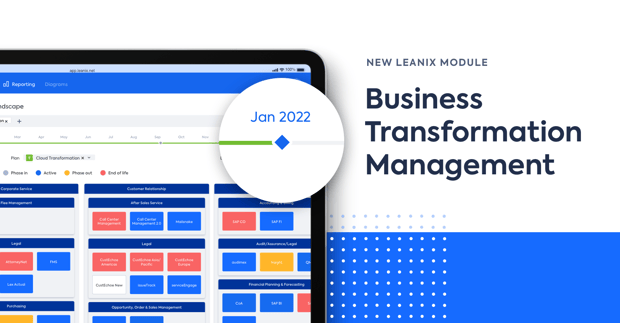 As announced yesterday at EA Connect Days, the upcoming release of the LeanIX Business Transformation Management (BTM) module is set to elevate the collaborative potential of business and IT teams when conducting modernization strategies. BTM is the third module of the LeanIX Enterprise Architecture Suite and presents enhanced functionality for modeling future-state architectures and ensuring the delivery of corporate objectives.
It's a practical approach to IT roadmap planning with roots in the agile practices of modern engineering and software development. In particular, BTM enables teams throughout the organization to collaboratively plan and model changes like in Github. Further, as made possible through a series of interactive timeline reports, application landscapes can be visualized at future points in time like with Time Machine to predict how IT and business environments will take shape at any stage during a transformation initiative.
With such transparency, LeanIX BTM extends all varieties of users the ability to:
Articulate short- and long-term IT goals
Accentuate business opportunities rather than tools and processes
Visualize end-to-end insights into how architectural changes impact business
Interact with and manage the progress of transformations and reduce costs where possible
Accelerate strategic IT decisions and inspire buy-in from the organization and leadership
The LeanIX BTM module stands out among other offerings from enterprise architecture (EA) tool vendors since it introduces responsive mechanisms to monitor change initiatives from ideation to implementation and identify constraints early — two of the main reasons why, according to McKinsey & Company, 70% of today's business transformations fail. But as opposed to just duplicating entire "As-Is" architectures and creating sandbox versions of application landscapes, LeanIX BTM resourcefully only stores what's being changed to the main architecture to ensure instantaneous modeling for enterprises with expansive IT portfolios.
How BTM works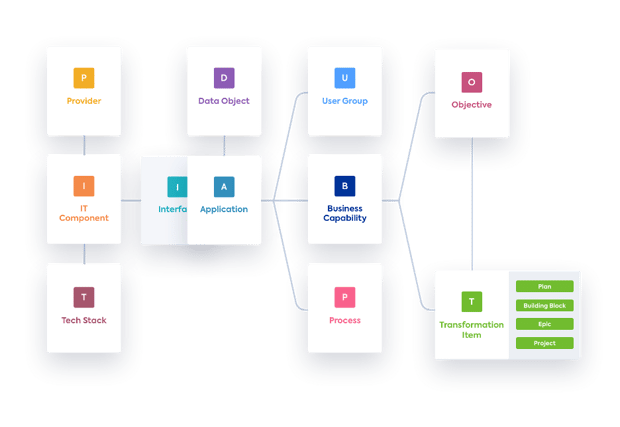 At its core, LeanIX BTM is powered by a business-centric data model with two new LeanIX Fact Sheet types: Objective and Transformation Item. Objective Fact Sheets allow for the high-level definition and progress tracking of transformation initiatives and can be linked to Business Capabilities. Transformation Item Fact Sheets, on the other hand, are used to plot detailed actions for achieving an Objective and as a way to model changes upon every other Fact Sheet in the wider LeanIX data model.
Here are some common examples of objectives and transformations to put BTM's data model into perspective:
In situations like the above, business and IT teams can use BTM to accelerate four stages of the transformation process:
By equipping users with improved functionality to evaluate current-state architectures in view of future-state goals, LeanIX BTM makes it convenient for teams to collect and store the data necessary to support their initiatives. Every strategic goal documented in an Objective Fact Sheet has configurable fields to document its lifecycle, its various dependencies (split via parent-child hierarchies), and what it is both improving (i.e., Business Capability) or being supported by (i.e., Transformation Item).
This information is used to populate unique IT landscape reports showing high-level overviews of strategies in progress, planned, or already completed. LeanIX BTM also offers reports to show how IT costs are spread across business capabilities in relation to company-wide roadmaps and seen in conjunction with variables like Implementation Risk.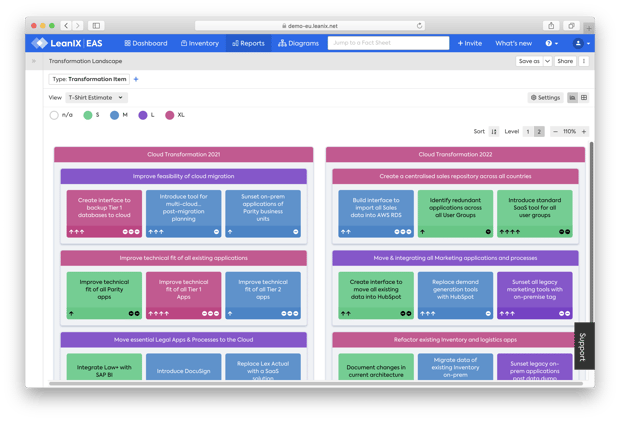 2. Scenario planning
LeanIX BTM takes the common elements of any strategic goal and offers the means to translate all into clear and operable IT initiatives. This is accomplished by sub-dividing Transformation Items into two further elements — Plan and Building Block — and using each to help define future scenarios to company-wide IT roadmaps.

These are the mechanics behind "Impact" management, a new way for LeanIX users to preview and contextualize the outcomes of IT initiatives without setting attributes live. Impacts range from transferring or creating relations, adding or removing custom tags, and setting technical and functional fit ratings plus business criticality scores pending a project status.
3. Building transformation roadmaps
To make it easier for IT and business teams to work together, two further executable entities are available in LeanIX workspaces — Epic and Project — to carry out architectural activities in manners that align to common approaches to business development. These items can be included in LeanIX roadmap reports and be seen in relation to items such as Objective and Business Capabilities. Color-coded visuals help identify overlapping items or those either blocking or contingent on the progress of another Transformation Item.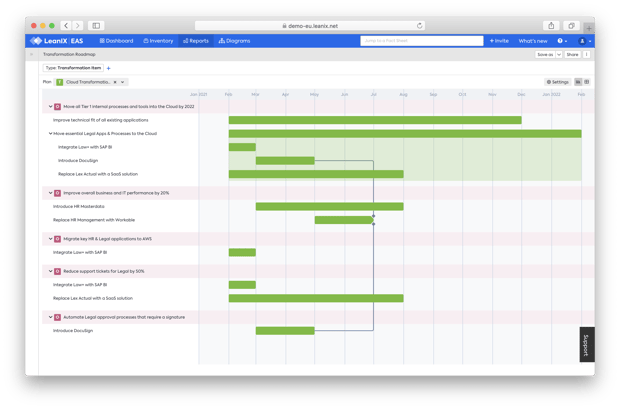 4. Visualizing and executing business transformations
Landscape, Matrix, and Portfolio reports in LeanIX BTM are embedded with an interactive timeline that can be adjusted to show the "To-Be" states of IT landscapes on command. Pre-configured views can be applied to add more dimensions to these displays, and as a result of a wider LeanIX UI change, the performance grades of applications and IT components (e.g., Current Maturity and Target Maturity, Functional Fit and Technical Fit) can be directly seen on icons.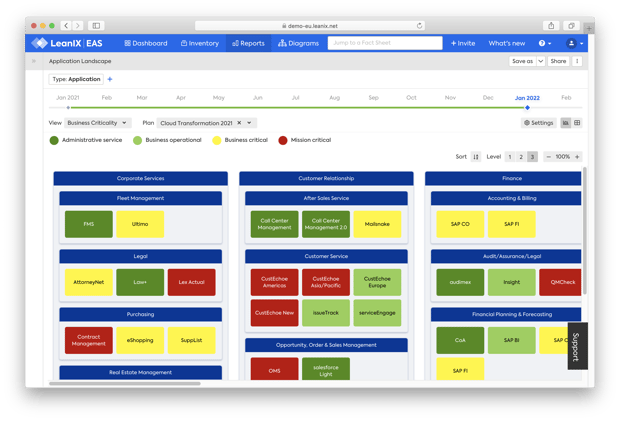 Last but not least, to ensure that updates occur as needed, team leads receive notifications when projects are completed and can use an Impact Summary to confirm, item by item, that everything modeled in advance has taken shape as expected.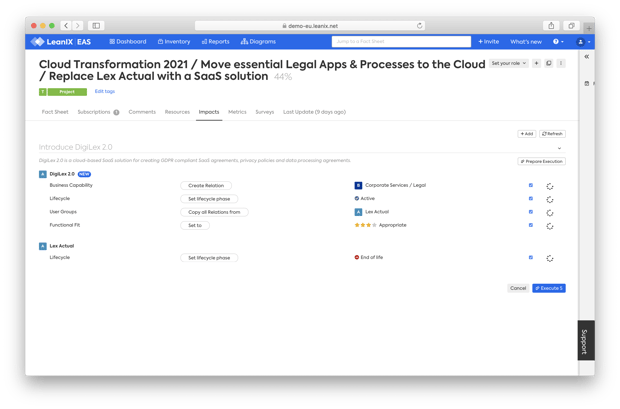 More information
The LeanIX BTM module will be available September 30. If you would like to request a custom demonstration, please reach out to us here: info@leanix.net.
As well, here's a white paper with even more information on the new BTM module: