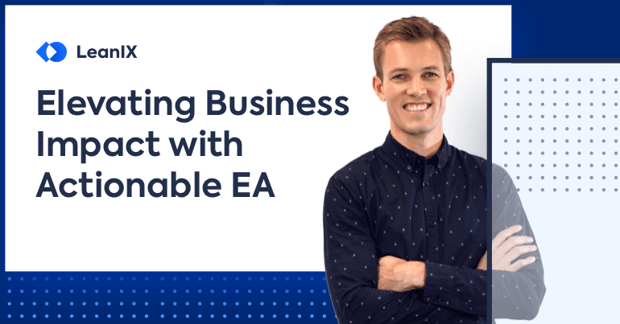 In my presentation at LeanIX's Virtual EA Connect Day, I discussed the incredible role of enterprise architecture (EA) in helping organizations faster realize the benefits of digital business models. Even before COVID-19 and this current period of accelerated modernization, it was clear for most organizations that EA was instrumental in mastering digitalization and making the shift to new employee experiences, stronger efficiency and risk control, and innovative technology-based work processes.
Recently, EAs have been tasked with hitting these targets much earlier than expected, and I am proud to say, LeanIX has made it possible for those throughout industries to condense years of planning and implementation into just a few months.
These two quotations from industry colleagues of mine express this development very well:
"EA is involved in more decisions than ever before. We finally have the seat at the table we were always looking for." – Head of EA, Manufacturing
"The EA tool has become the go-to tool to get an overview about ownership and responsibilities on business and technology." – Enterprise Architect, Financial Services
In a remarkable unfolding, senior management representing both business and IT are frequently depending on EAs when it comes to shaping new business models and securing critical capabilities. Much of this, I would say, is a result of LeanIX equipping EAs with the means to leverage the data and capabilities of EA in real-time.
The Rise of Actionable EA
LeanIX was founded eight years ago with the idea of evolving EA into a more collaborative practice that could involve more people than ever before. Over time, we came to refer to this approach as "EA for Everyone," a vision based on the following principles:
A departure from manual spreadsheets
Accessible and trusted data sources
Active involvement from those across distributed teams
Regulated data maintenance
Simplified data exchanges with other systems
Accelerated roll-outs and time-to-value
A higher focus on strategic decision-taking
These principles have been adopted by enterprises worldwide and have remained focal points of our tool throughout LeanIX's incredible rise to success. In the last 12 months alone, over 90 new customers have partnered with us to advance their EA practices in these exact ways, and as a further statement on the collaborative possibilities of our tool, LeanIX now logs over 18,000 users monthly. But just as important, we've continuously collected feedback from this broad user base to record, on a quarter-by-quarter basis, a 60+ Net Promoter Score — the collected insights of which have helped us innovate in precise ways while attracting new expertise for our teams.
Now, having witnessed that LeanIX can help brands throughout the world in times of an unprecedented crisis, I am convinced more than ever that EA has the potential to engineer both future and immediate advantages for organizations. It's all evidence of the value of "Actionable EA," a movement led by LeanIX and set to be accelerated thanks to current and upcoming innovations relating to the following:
Easy-to-use self-services
The LeanIX Self-Service Portal
The cornerstone of any actionable EA program is the ability to let as many user groups as possible use architectural insights to faster solve their precise needs. With the release of the LeanIX Self-Service Portal, available for free to all LeanIX customers, LeanIX admins can configure dedicated web portals with links to up-to-date architectural data to streamline IT support and software/hardware orders. These portals serve as a central location wherein EA stakeholders can access overviews of approved and available-for-order software, educate themselves on IT matters or perhaps make direct requests for the expertise of others, and increase the throughput of support requests for IT helpdesks. Of note, admins can create as many dedicated LeanIX Self-Service Portals as desired based on needs variously related to applications, APIs, or technology catalogs.
Rationalized applications & IT cost
The LeanIX-Apptio Integration
LeanIX's technology partnership with Apptio, the world's leading IT financial management (ITFM) solution, is a way to create more practical links between IT and finance leaders. In particular, whether using IT data to perform cost calculations on general (e.g., OpEx, CapEx, the total cost of ownership, etc.) or application-specific (e.g., application run costs, application development costs, application cost savings, etc.) concerns, this connection offers unparalleled benefits when determining the business value of IT investments. Because of automated data exchanges between LeanIX and Apptio, users of both of these services will become more effective when aligning executions during application rationalization and cloud transformation.
Available now to all LeanIX customers at no additional cost, LeanIX is Apptio's first EA partner, and everything you need to know about the partnership and the integration itself can be found in our latest white paper on the subject: "Integrate IT Financial Management and Enterprise Architecture."
Turning architecture into real solutions
The LeanIX-Lucidchart Integration
Further supporting LeanIX's mission to transform architectures into real solutions, our technology partnership and the recent release of LeanIX's out-of-the-box integration with Lucidchart — a leading diagramming solution for modeling and visualizing IT data — is available to LeanIX and Lucidchart subscribers at no additional cost. This integration enables users to model complex EA data with the full functionality of Lucidchart's state-of-the-art diagramming solution and its template library, making it very simple to interpret data flows alongside technical and non-technical stakeholders alike. Lucidchart documents can be imported into LeanIX and linked directly to Fact Sheets, or alternately, LeanIX diagrams can be converted into Lucidchart and become elevated via the platform's rich feature set for styling.
The LeanIX-Lucidchart partnership contributes to enhanced transparency and shared architectural understandings for all parties affected by large-scale IT transformations. Of note, the integration can be utilized by data architects and enterprise architects, and by making EA data available in many ways, it will accelerate the rates of cross-departmental collaboration to improve systems.
Making plans & transformations actionable
The LeanIX Business Transformation Module
We've created a dedicated LeanIX module to model IT transformations — from planning to execution — in order to make IT strategies more traceable and business-oriented. Called the LeanIX Business Transformation Module (BTM), the module allows users to categorize modifications to architectures within specific containers while performing a detailed impact analysis, at any user-defined point in time, on changing IT assets. With added functionality for use cases like TIME-based reporting and change identification, all transformation plans, objectives, building blocks, and projects can be easily represented within LeanIX reports in order to visualize future-state IT landscapes and secure business capability-based planning.
BTM is scheduled for release in September 2020 at our European edition of LeanIX EA Connect Day. In the meantime, if you'd like to hear more about it, here is a link to a video presentation from LeanIX's SVP Product, Jan Puzicha.
Automated visibility into cloud native
LeanIX Microservices Intelligence
To support our continuing efforts to automate visibility into cloud-native environments, I am proud to announce that LeanIX Microservices Intelligence, the second of the three planned modules of the LeanIX Cloud Native Suite, is now available. LeanIX Microservices Intelligence allows users to capture data from Kubernetes, CI/CD pipelines, and security environments to give developers and other stakeholders a unique 360-degree view of their IT portfolio. Just as DevOps and FinOps have narrowed the gap between operations teams and key engines of business, I believe LeanIX Microservices Intelligence is instrumental in the emerging field of "ArchOps," an evolution of IT management focused on building tangible relationships with decentralized architectures.
In conjunction with LeanIX Cloud Intelligence, LeanIX Microservices Intelligence has widened the potential of the overall LeanIX Cloud-Native Suite when it comes to generating faster and more contextualized insights into cloud services. It has been referred to as the "CMDB for the cloud," a practical line of sight into cloud components for solution architects and cloud architects, and LeanIX's own 65+ engineers/product managers use it to oversee LeanIX's 30+ Microservices and 10 Kubernetes clusters across four regions. Here's a video presentation from LeanIX's SVP Customer Success, Christian Richter, for more insights on how LeanIX itself uses the Cloud Native Suite to manage its infrastructure.
Conclusion
To sum it up, LeanIX's commitment to actionable EA has inspired us to innovate and form partnerships with those who can make our solution an especially viable aid during IT transformations. Thanks to our direct engagement with the EA community — the likes of which will again be on display in September at our European edition of EA Connect Day — and our customer success program, I am confident that LeanIX's evolution is occurring in ways that will continue bringing value to organizations for years to come. This is a belief I've maintained for eight years, and current events have only emboldened my outlook.
Make sure you subscribe to our blog for updates on the IT industry!