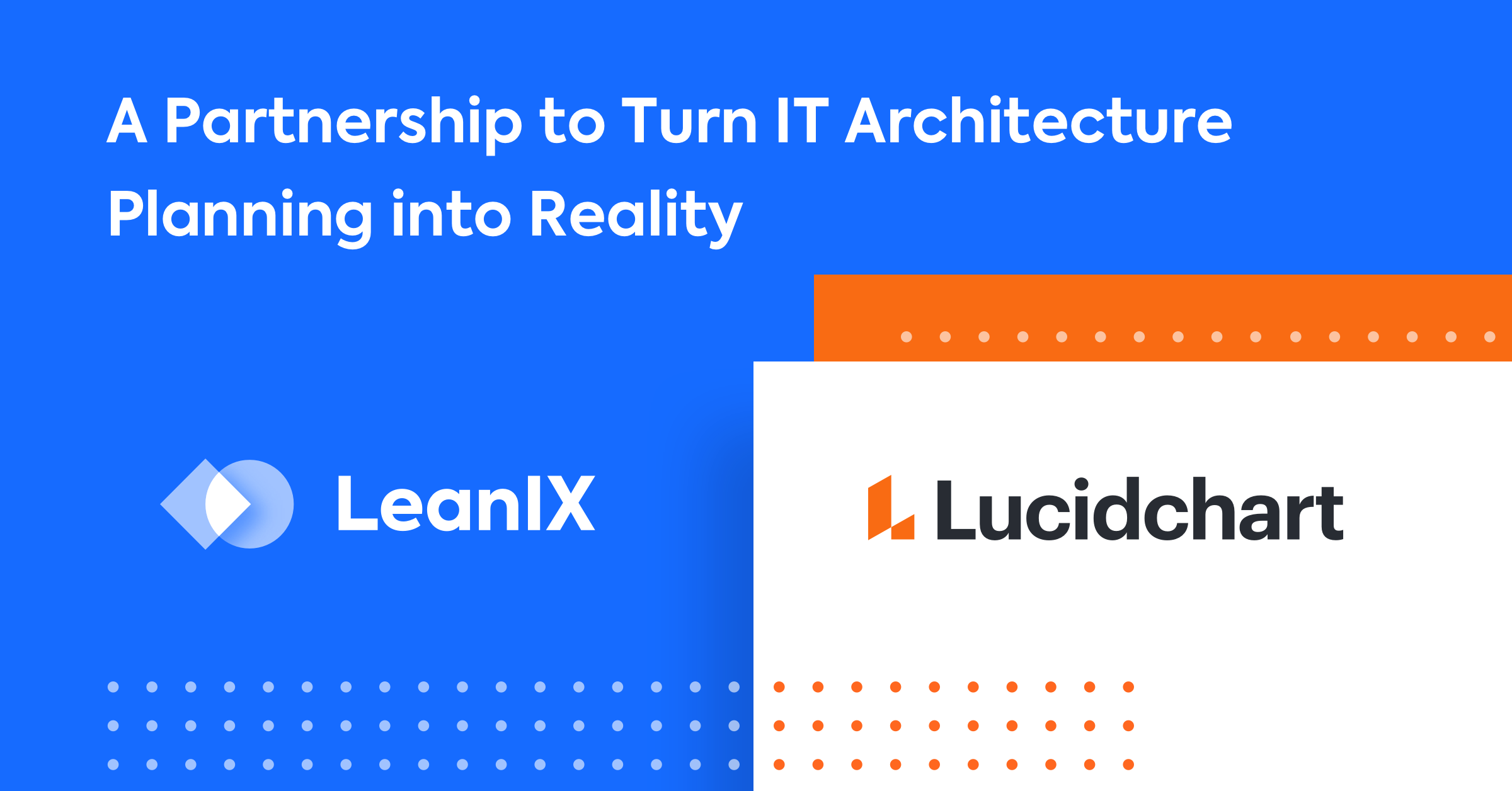 Enterprise architects and solution architects at any level understand the importance of visualization. With businesses and their operating technologies moving faster than ever, taking a step back to better understand processes and data flows aids in revealing redundancies, mitigating risks, and identifying growth opportunities. It's also an essential piece of the puzzle in communicating technical issues to non-technical business leaders. That's why we're so excited to bring architecture modeling capabilities to a whole new level.
Announced May 20, 2020, at Virtual EA Connect Day, LeanIX is now the enterprise architecture partner for Lucidchart. This powerful integration empowers users to model their complex EA data with the full functionality of Lucidchart's state-of-the-art diagramming solution. It is available to current LeanIX and Lucidchart subscribers (Enterprise & Team licenses) at no additional cost. And, LeanIX customers not yet subscribed to Lucidchart can access the platform with a 7-day free trial.
Out-of-the-box integration with Lucidchart
Previously, LeanIX users could translate their EA data into visuals using our Free Draw or Data Flow functionalities. Now, enterprise architects have access to a third diagram type to more easily visualize and collaborate on documents.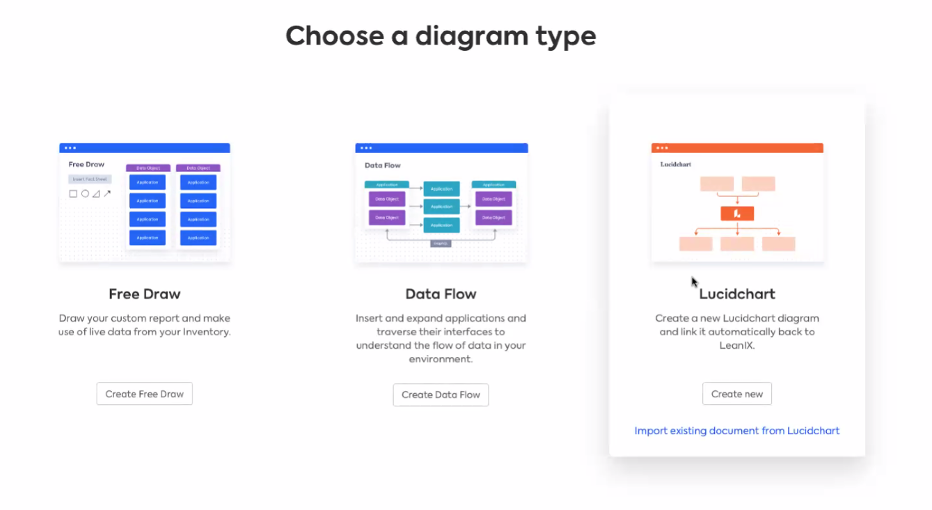 The LeanIX-Lucidchart integration fosters continuity across workspaces by allowing users to:
Select Lucidchart as an available Diagram type in their LeanIX workspaces
Import existing Lucidchart documents into LeanIX and link them directly to Fact Sheets, LeanIX's proprietary EA data source
Convert existing LeanIX Diagrams into Lucidchart documents and apply Lucidchart's rich feature set for styling visualizations
Preview, open, and edit LeanIX documents in Lucidchart
The power of collaborative EA
For remote teams working to drive their business and technology landscapes, the integration between LeanIX's top-rated enterprise architecture tool and Lucidchart's prolific diagramming software provides cloud-based, real-time collaboration in both arenas. Additionally, these integrations span to other collaborative project management software including G Suite, Atlassian, Microsoft Office, Slack, GitHub, etc.
Enterprise architects using LeanIX now have access to hundreds of Lucidchart templates and shape libraries, making it simple to:
Improve systems and architecture
Visualize processes, understand information, and interpret data flows
Design and document complex applications and systems
Share their vision of systems and networks with strategic, non-technical stakeholders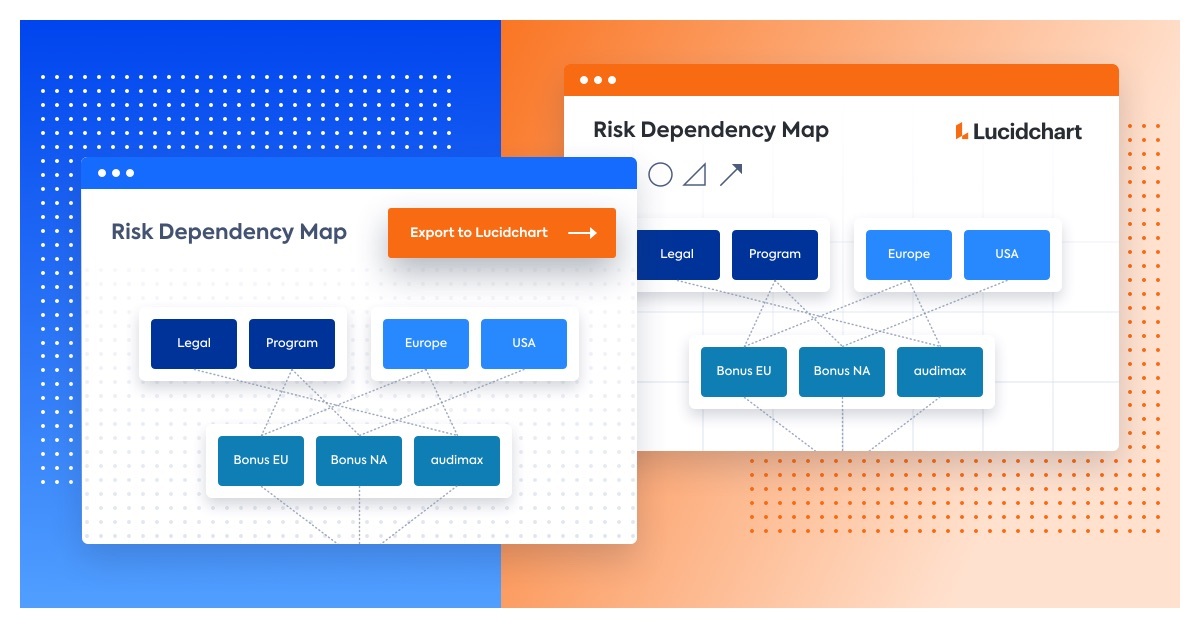 Try it for yourself
Creating a future-proof enterprise architecture is evermore challenging in these times of rapid change. Solutions that help business and technical leaders visualize and collaborate on complex systems are essential to accelerate the pace of innovation and drive better decision-making. An integration with Lucidchart's state-of-the-art visual workspace offers a dynamic tie between the data stored in LeanIX and Lucidchart's extensive range of diagrams, to further enhance collaboration and transparency across the organization.