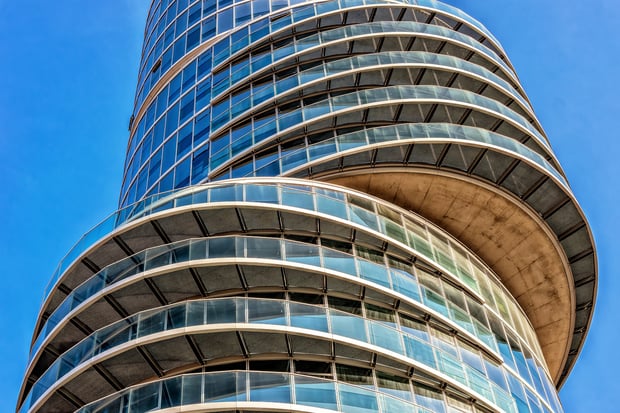 The variety of data repositories required by the average Enterprise Architect to inventory and maintain IT landscapes is enough to put the value of LeanIX's integrations into perspective. Since most organizations employ a multiplicity of processing and storage tools to carry out specific enterprise functions, one of the most time-consuming tasks for Enterprise Architects is consolidating information from these disconnected sources to accurately see how IT is situated in a business.
In addition to LeanIX's collaborative, distributed approach to Application Portfolio Management, IT inventories run on and managed by the Enterprise Architecture Management tool are connected to the most comprehensive information databases on the market—all of which to automate the transfers of data from scattered locations into a single source of truth. These integrations encompass products relied upon by businesses to define technical assets and organizational processes but which rarely get used in combination to build a single overview of enterprise strengths and limitations.
And by positioning LeanIX's dynamic inventory system and out-of-the-box reporting mechanisms as a foundation, Enterprise Architects can leverage data from locations like the following to develop actionable insights into how IT underpins core enterprise functions—and then share their findings with other stakeholders to create improvements.
LeanIX Integration: Technopedia
Flexera's Technopedia integrates with LeanIX to give Enterprise Architects a standard catalog of up-to-date technology product information. Information from Technopedia regarding technology vendors and product metadata sync directly with relevant LeanIX Fact Sheets—the individual datasheets that make up the tool's reporting network—and serve as a basis for a pro-active management of risks related to technology obsolescence.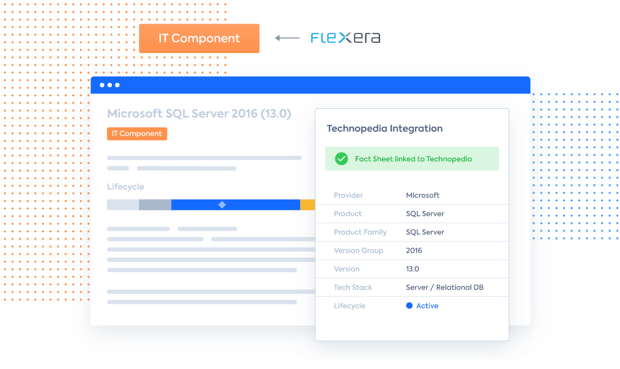 AMAG, a Swiss-based car importer and dealer that achieved sales of 4.6 billion in 2018, relies on LeanIX's Technopedia integration when updating their extensive IT landscape with technical details on the technologies running their business. The group uses an Enterprise Architecture Management tool to create transparent overviews and shareable reports on their organization, and thanks to the extra security of Technopedia, they see exactly where their IT landscape is at risk from end-of-life assets.
Said Andreas Puke, Solution Architecture Manager at AMAG: "Always having current information available exactly where we need it means a significant reduction of our risk due to outdated technology. With the Technopedia information available in LeanIX, [AMAG] can evaluate technology information in the context of business impact."
[How AMAG uses Enterprise Architecture to support Agile transformation]
LeanIX Integration: ServiceNow
LeanIX's real-time connection with ServiceNow's IT Service Management Solution simplifies one of the most difficult tasks of running successful Enterprise Architecture programs: continually gathering and aligning systems information. Such labor-intensive work is automated using data already stored in ServiceNow's Configuration Management Database (CMDB), and because ServiceNow collects the data from the servers and endpoints itself, the information remains current.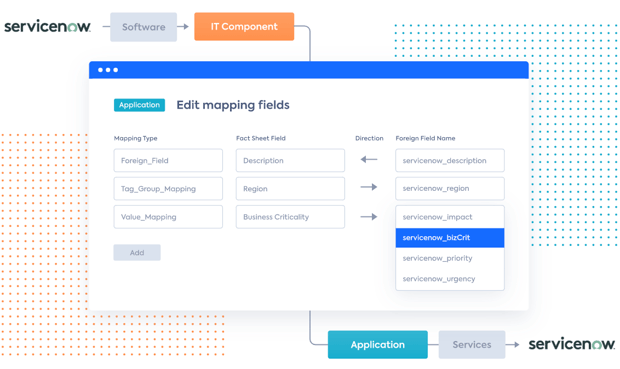 Horizon Blue Cross Blue Shield, a New Jersey-based health insurance group, connected their LeanIX Enterprise Architecture Management tool with ServiceNow's CMDB to create a holistic technology catalog in order to unlock more accurate regulatory and security compliance measures. Their LeanIX-ServiceNow pairing was an effective way to develop a Canonical Application Architecture, and by contextualizing information on technologies sourced from the CMDB with that of the dependencies held by LeanIX on IT and Business, the company now generates a completely data-driven environment that interlinks IT operations with Enterprise Architecture.
LeanIX Integration: SAP Signavio
The integration between SAP Signavio's Business Process Management tool and LeanIX allows business departments and IT divisions to each use the tools of their choice while maintaining shared views of company processes and the corresponding IT support for them—all of which to ensure that business and IT departments operate in unison. Further, in exchange for giving BPM teams a more sophisticated way to model and mine their business processes to all IT Applications, LeanIX users are able to use SAP Signavio to re-direct these exact same fully-realized company processes back to their IT inventory to enrich its content.
The benefits of the LeanIX-SAP Signavio integration were highlighted at EA Connect Day 2018 in a presentation by Thorsten Düvelmeyer, a Solution Architect turned Cloud Ambassador from Hermes. A company of 15,300 worldwide employees and 2,000 varying suppliers, Düvelmeyer said two of Hermes' requirements for such an integration were easy configuration and no extra effort for Process Modellers. Thankfully this basic yet frustratingly elusive need was met by a LeanIX-SAP Signavio integration, and as a result, Hermes has since been able do the following:
Create social networks by co-operating with different business units and teams while supporting specific views and reports.
Create a company-wide data model that offers a single point of truth with many levels of detail.
And all as a result of using a flexible and automated integration that eliminates data sources and gives stakeholders the ability to use the tools they want.
[How to configure SAP Signavio with LeanIX]
LeanIX Integration: Confluence
LeanIX reports can be pasted to or opened directly from within Confluence documents and then interacted with as if users were still inside the Enterprise Architecture Management tool. Whenever information about your IT landscape is changed in either LeanIX or Confluence, the updated content will immediately be mirrored on the other platform.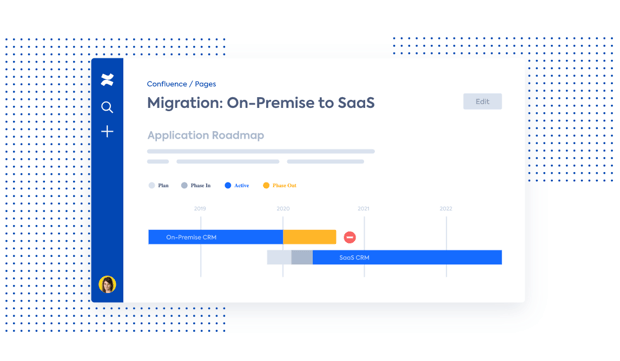 One of the integration's commonly-cited use cases is to generate faster and more collaborative project planning, and as reported by Helvetia Group, an international insurance group founded in 1858, dialogue generated from Confluence and LeanIX was instrumental in aligning on target architectures following an IT merger. In particular, the integration let the group link documentation about applications to Confluence projects, and the discussions that occurred in this space offered insights into the data flows, interfaces and technology revealed by the LeanIX Data Flow Visualizer.
LeanIX Integration: Apptio
Enterprise architects can help CFOs and CIOs better control IT spending and connect costs to data in IT landscapes with Apptio's IT Financial Management solution. The integration enables enterprise architects and other enterprise stakeholders to schedule periodic data transfers from LeanIX to Apptio to support cost calculations and allocations. The integration empowers stakeholders at all levels of the organization to make more data-driven decisions about their IT investments by uniting their company's technology business management (TBM) and enterprise architecture framework. Users can unlock the full potential of their IT data by syncing it to Apptio to reveal the true financial impact of their IT landscape. In turn, as a result of total cost transparency, more pathways for cross-departmental collaboration can be established as well as a shared language for discussing deployed technologies.
[How Innogy SE uses LeanIX and Apptio to enable cost transparency]