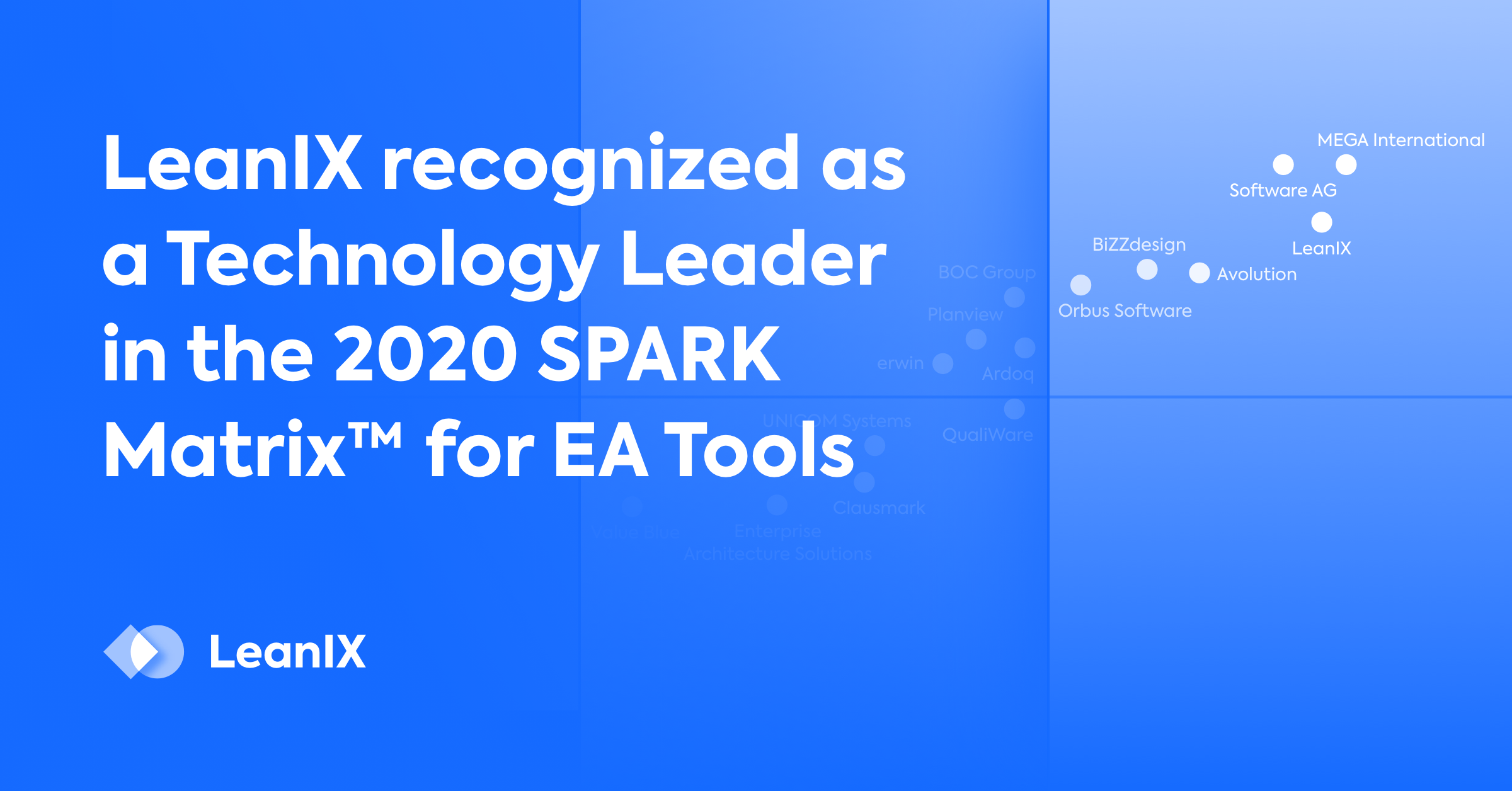 It's award season in the world of enterprise architecture, and global consulting and advisory firm Quadrant Knowledge Solutions has named LeanIX a 2020 technology leader in the enterprise architecture tool market.
The designation is part of the firm's annual SPARK Matrix™ coverage, a series of competitive analysis reports on the technology most vital for business growth, and LeanIX's SaaS-based enterprise architecture and cloud governance solutions are recognized as strategic tools for recovering from the economic hardships of COVID-19.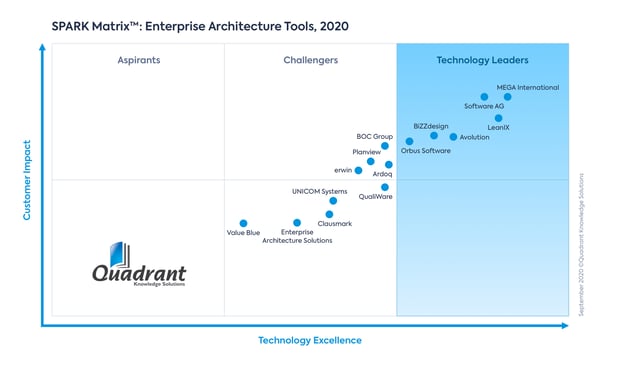 In particular, Divya Baranawal, Research Director at Quadrant Knowledge Solutions, attributed part of LeanIX's leadership position to these three key aspects:
Flexible data model
LeanIX's flexible data models and unique Fact Sheet structure makes it possible for those across all industries to document fast-scaling business and IT environments with any combination of user-directed queries. Though the data models can be re-configured based on an organization's individual requirements, technology portfolios stored throughout LeanIX's EA Suite and Cloud Intelligence (the first module in the evolving LeanIX Cloud Native Suite) are separated out-of-the-box according to every possible variety of IT entity.
Collaborative workflow capabilities
A key task for enterprise architects and cloud architects is to maintain inventories of data sourced throughout every corner of an organization. However, since LeanIX's pricing model is not based on the number of users within a workspace, unlimited participants can collaborate together in LeanIX to maintain data and help increase time-to-value for EA programs. Anyone in a company can be assigned varying degrees of ownership over IT entities (e.g., Observer, Accountable, Responsible), and subscriptions can be sent via e-mail or directly within LeanIX itself. This diversity of users is relied upon to streamline technology evaluations on matters such as business criticality, functional fit, and technical fit so IT departments can work faster with business units to resolve performance gaps.
Open APIs
LeanIX's Integration API gives users the ability to import and export data with tremendous flexibility — much of which a result of its generic LeanIX Data Interchange Format (LDIF). Developers do not have to understand the LeanIX data model in order to connect to other vendor systems nor do they need to map logic directly within code. However, though variables and exceptions can be defined using JUEL expressions, there are a series of benefits that go beyond the LDIF structure, such as: not needing a direct REST connection; flexible error handling (unwanted data is simply omitted from transfers); and making allowances for integrations even when external systems don't allow direct access.
---
To learn more about LeanIX and to schedule a customized demo, contact us at info@leanix.net or press the button below!